Inside Blue Ivy's Relationship With Her Dad Jay-Z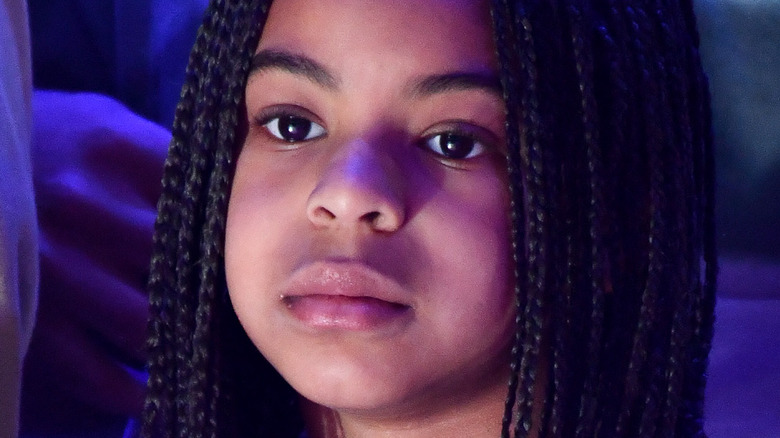 Allen Berezovsky/Getty Images
Blue Ivy Carter may be the child of superstars Beyoncé and Jay-Z, but these days she's pretty iconic in her own right, despite her young age. It's safe to say that Blue Ivy has been stealing the spotlight from her parents since her birth in January 2012, whether she's attending award shows with them or appearing in their music videos. It also helps that Blue Ivy is already a success in the entertainment industry too, having won a NAACP award, the BET HER award, and even a Grammy! 
In fact, at just nine-years-old, Blue Ivy became the second youngest Grammy winner in history in 2021 for her part in "BROWN SKIN GIRL," which was a song that was featured on "The Lion King: The Gift" album. If that's not enough, she even narrated the audiobook for "Hair Love," and appeared in Beyonce's movie, "Black Is King." With that said, it shouldn't come as a surprise that her parents wanted to trademark her name. Yet Jay-Z explained to Vanity Fair, "People wanted to make products based on our child's name and you don't want anybody trying to benefit off your baby's name," adding, "It wasn't for us to do anything."
While Blue Ivy is often seen doing things with her mom, Beyoncé, she's seemingly just as close with Jay-Z. The two appear to have their own special father-daughter bond, which is made obvious from how the rapper gushes about her. So let's go inside Blue Ivy's relationship with her famous dad.
Jay-Z wrote a song for Blue Ivy right after her birth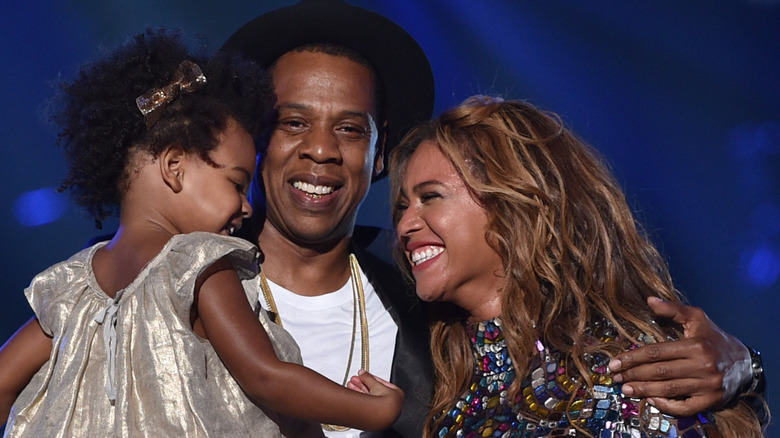 Mtv/mtv1415/Getty Images
It's pretty clear that Jay-Z was smitten with Blue Ivy from the moment she came into this world considering that he released a song about her just two days after her birth in 2012. He seemingly used the song, "Glory," as a way to announce his daughter's January 7th birth since he put it out before he and his wife, Beyoncé, delivered an official statement. "Her birth was emotional and extremely peaceful, we are in heaven ... it was the best experience of both of our lives," Jay-Z later posted on his website.
The proud papa also used "Glory" to gush about his daughter and the joys of parenthood, similarly to what Stevie Wonder did on his song, "Isn't She Lovely." That's because Jay-Z rapped, "The most amazing feeling I feel, words can't describe what I'm feeling for real / Baby, I paint the sky blue. My greatest creation was you." He also made it a point to shout out Blue Ivy's mommy too, by rapping, "You're my child with the child from Destiny's Child."
Jay-Z even got super personal by suggesting in "Glory" that Blue Ivy was also a rainbow baby by revealing that Beyoncé had previously suffered a miscarriage. In the lyrics, he explained, "Last time the miscarriage was tragic / We was afraid you'd disappear, but nah baby you're magic." From the sound of the song, Jay-Z has had a super special connection with his miracle baby from the very beginning. 
Blue Ivy inspired Jay-Z to learn to swim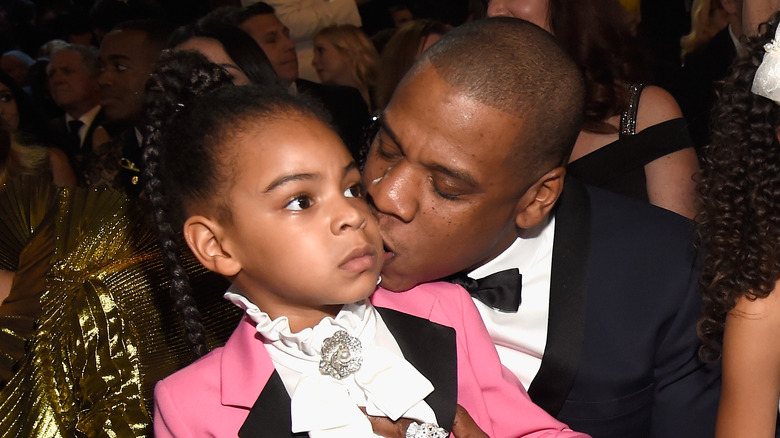 Kevin Mazur/Getty Images
Blue Ivy doesn't just inspire her dad, Jay-Z, to write music in that she inspired the "99 Problems" rapper to learn an important life skill as well. Jay-Z admitted on the HBO Max show, "The Shop: Uninterrupted" that he realized he needed to learn how to swim once his daughter was born. He shared that tidbit when discussing fatherhood, saying, "It's amazing. It's a very grounding thing... I didn't learn how to swim until Blue was born."
Jay-Z went on to explain why it was Blue Ivy specifically, who made him want to learn to swim at the age of 42 because he hadn't taken the time to do so ever before. He dished, "This is a metaphor for our relationship. If she ever fell in the water and I couldn't get her, I couldn't even fathom that thought." Like most fathers, Jay-Z clearly wanted to make sure that he would be able to always protect his daughter, which presumably makes Blue Ivy feel safe in return.
It seems Jay-Z had put his new swimming skills to the test a year after Blue Ivy was born, when the family was on vacation on a luxury yacht in 2013. That's because at the time, the new dad was caught by paparazzi diving into a pool with his wife, Beyoncé. Unfortunately though, fans roasted Jay-Z online for his awkward plunge afterward, presumably not knowing that swimming was a new thing for the rapper.
Jay-Z encourages Blue Ivy to speak her mind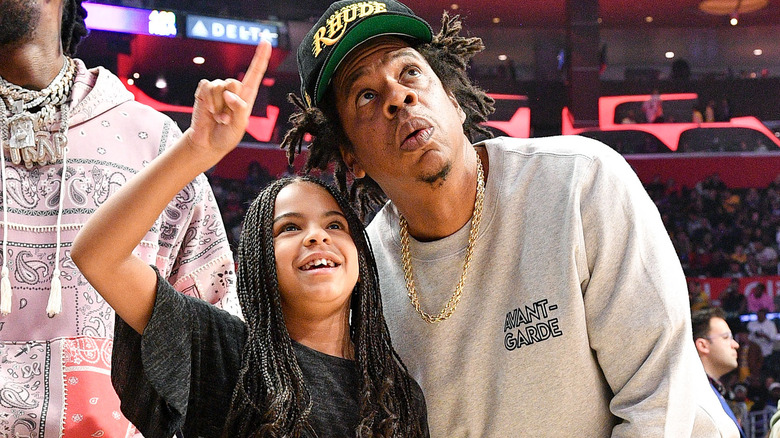 Allen Berezovsky/Getty Images
It definitely seems like Blue Ivy is encouraged to speak her mind by her dad, Jay-Z, since he once praised her for letting her feelings be known. He detailed that incident to David Letterman on the Netflix show, "My Next Guest Needs No Introduction," when discussing how his upbringing is much different than his children's. He recalled, "I told her to get in the car the other day because she was asking a thousand questions." He continued, "I just hear a little voice. 'Dad?' I turn around and she said, 'I didn't like when you told me to get in the car the way you told me. It hurt my feelings.'"
If you think Jay-Z got mad at Blue Ivy for that, think again, because he said he replied, "That's the most beautiful thing you've ever said to me." The "Hard Knock Life" rapper was apparently so pleased that his daughter was comfortable enough to speak out and share her feelings that he apparently didn't care that he got called out by the then six-year-old.
That wasn't the only time that Jay-Z encouraged Blue Ivy to let her voice be heard. He appeared to lovingly push her to ask Lebron James for the autographed basketball that she wanted when she was being shy at an NBA game, per ESPN. He could be heard telling her, "I can't do it. If you want it, you gotta tell him. You almost got it out. Yeah, just do it."
Jay-Z supports Blue Ivy no matter what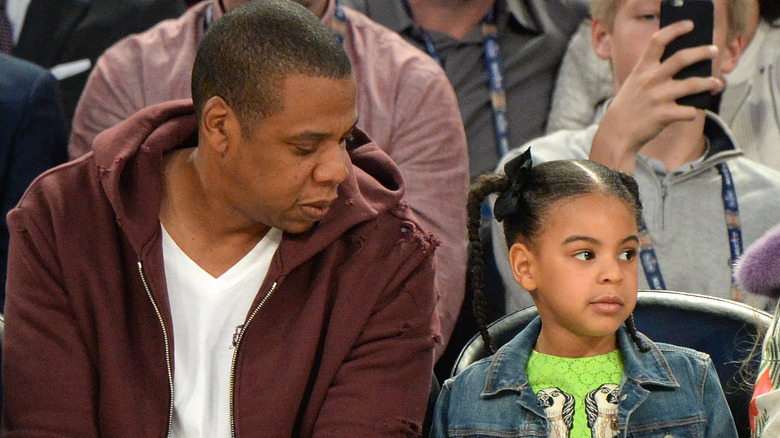 Kevin Mazur/Getty Images
No matter what Blue Ivy wants to do in life, she apparently has the support of her father, Jay-Z, even if she doesn't want to follow in his footsteps by pursuing fame or taking over one of the family businesses. He explained to The Sunday Times, "Feeling loved is the most important thing a child needs. Not 'here's this business that I'm going to hand over to you, that I'm creating for you.'" He elaborated on the reason that's important to him, adding, "What if my child doesn't want to be in music or sports? ... But as long as your child feels supported, and feels loved, I think anything is possible."
From the looks of what Blue Ivy has accomplished so far though, it does appear that she has interest in performing like her parents. A source told Hollywood Life that she has a knack for dancing in particular, dishing, "Blue Ivy is a natural performer and, unsurprisingly, she's also very talented." It helps that she's gotten to hone her skills in a major way like when she danced in her mother Beyoncé's, 2022 Oscar performance. "Beyoncé and Jay-Z really nurture her talent," an insider dished, adding, "She's always been included in everything her mom and dad are doing."
Yet just because Jay-Z nurtures her talent, doesn't mean he'll push her into anything. He asserted, "It's easy for us, as human beings, to want our children to do certain things, but we have no idea. We're just guides."
Blue Ivy is a fan of her dad's music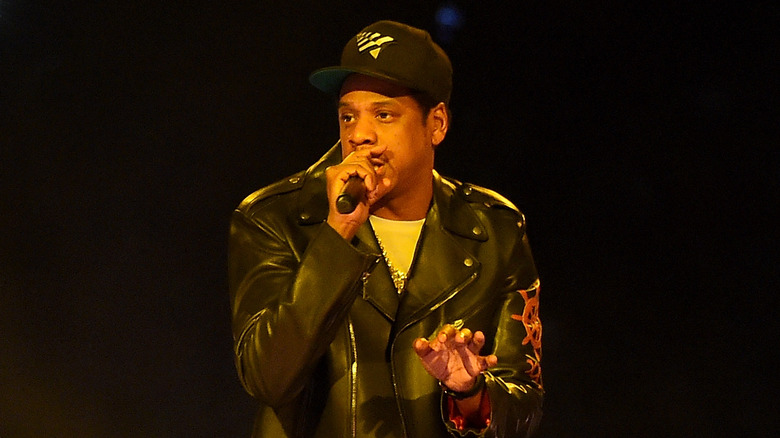 Kevin Mazur/Getty Images
While it's obvious at this point that Jay-Z supports Blue Ivy, she does champion her dad in return, in that she's apparently a big fan of his music. It's something the "BROWN SKIN GIRL" singer has been into ever since she was a baby, with Jay-Z revealing in a 2013 Vanity Fair interview that she first heard him rap at 18-months-old when he played one of his albums at home. While he said he didn't usually play his songs around the house, he explained, "This album was new, so we played it. And she loves all the songs. She plays a song and she goes, 'More, Daddy, more.... Daddy song.'"
For Jay-Z, that's all he seemingly needed to hear for him to feel like his album was a success. He gushed, "She's my biggest fan. If no one bought the 'Magna Carta' [record], the fact that she loves it so much, it gives me the greatest joy."
Blue Ivy continued to support her dad's music as she got older too, especially when she was able to watch him perform live in concert. In 2018, for example, she was in the audience for his and her mom Beyoncé's "On the Run II" tour, dancing to both their hits. However, Blue Ivy was said to be extra enthusiastic for her dad's songs, even throwing up the Roc-a-Fella hand gesture, which is a known nod to Jay-Z and the record company he founded.
Blue Ivy and Jay-Z go on daddy-daughter dates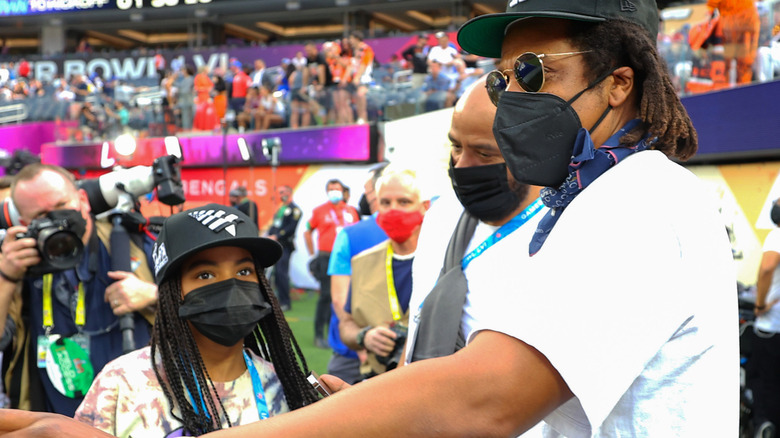 Kevin C. Cox/Getty Images
Just when you think that Jay-Z and Blue Ivy's relationship can't get any cuter, they apparently go on daddy-daughter dates. The two have been spotted on multiple outings alone together without Beyoncé or Blue's younger siblings, Rumi and Sir. One of those excursions was when they went to Disneyland in March 2022. While Jay-Z and Blue Ivy appeared to be the only members of the Carter family there, they were accompanied by fellow celebrities Dakota Johnson and Chris Martin, who were there with his children.
Blue Ivy also seems to share a passion for sports with her dad, considering that she and Jay-Z have been seen sitting court side together at several basketball games. In 2020, for example, the twosome were noticed at a Lakers game. They chatted up Lebron James there, who told Blue Ivy, "You want a ball from me? Okay, I got you." Yet Blue Ivy and Jay-Z aren't just Lakers fans, since in 2022 they watched The Golden State Warriors at the NBA finals too and were greeted by star player Steph Curry.
It's not only basketball that Blue Ivy and Jay-Z enjoy together either, since they've seemingly gone on many daddy-daughter dates to football games as well, including a Los Angeles Rams game in 2022. If that's not exciting enough, Jay-Z has also brought Blue Ivy to at least two Super Bowls, with them being photographed together on the sidelines in both 2020 and 2023.
Blue Ivy still gets embarrassed by her rapper dad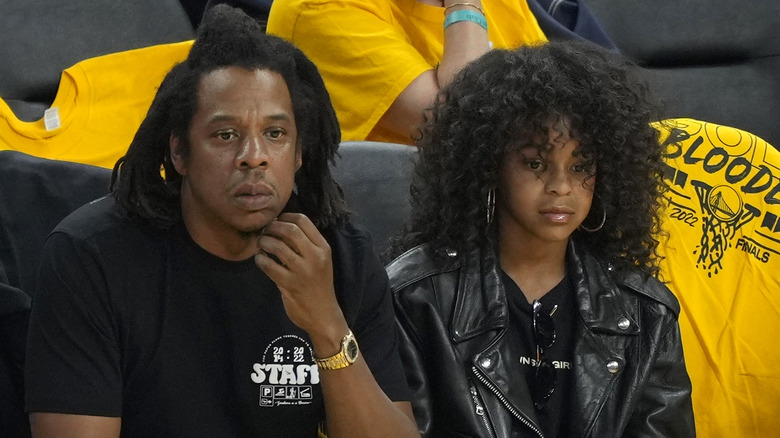 Thearon W. Henderson/Getty Images
Like most kids, Blue Ivy is occasionally embarrassed by her dad, Jay-Z, even if he is a world famous rapper. In 2018, for example, a fan caught Blue Ivy grossed out by a video interlude that was shown on he and Beyoncé's "On The Run II" tour. The then six-year-old was spotted at one concert covering her eyes and using a barrier as a shield when the video showed her parents in bed together.
That wasn't the first time that Blue Ivy was embarrassed by Jay-Z and Beyoncé either, in that she apparently felt that they acted too enthusiastically at that year's Grammy Awards after Camila Cabello's speech. Blue Ivy was caught on camera gesturing to both her parent's to calm down, suggesting that she was over their clapping. Of course, that later became an internet meme, with one person tweeting, "Blue Ivy really just hushed her parents, I'm done."
However in 2022, Blue Ivy made it clear that she was mortified by her dad, in particular, when he put his arm around her and kissed her cheek when given a shoutout at an NBA Finals game. She not only cringed, but looked miffed too when Jay-Z seemingly almost messed up her look. That's because it looked like she said to him, "Not my hair." That moment was undoubtedly adorable with a fan tweeting, "To us: Jay Z, the all time rap legend. To Blue Ivy: embarrassing dad."
Blue Ivy has been involved in Jay-Z's work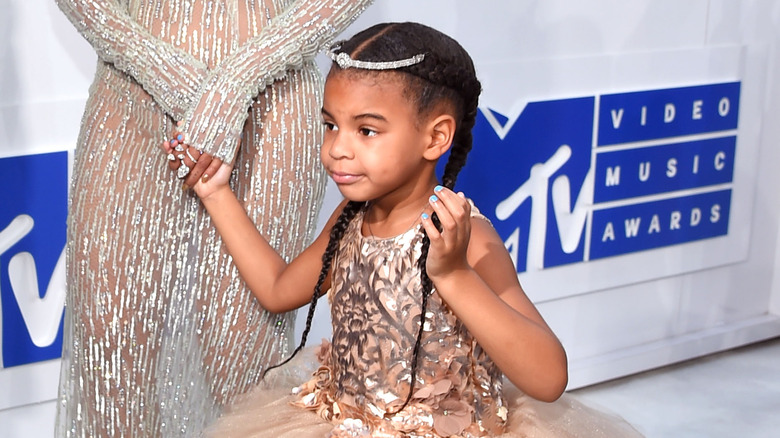 Larry Busacca/Getty Images
It's safe to say that Blue Ivy has been involved with her father, Jay-Z's work, ever since she was born, considering she started appearing on his tracks as a newborn. We're talking about the song, "Glory," which Jay-Z didn't just write about his baby daughter at the time, but even included her cries on the track. That wasn't the only time Blue Ivy served as Jay-Z's inspiration either, in that, per Billboard, she was also her dad's muse for his songs, "Blue (Daddy Dearest)" and "Heaven." He explained in "Jay-Z Blue," "[Blue's] something that we both created; we still marvel her." He added, "For me, my idea of heaven is in your daughter's laughter."
Later in 2017, Jay-Z used Blue Ivy's voice again on his song, "Legacy," where she could be heard at the beginning of the track asking him, "Daddy, what's a will?" What may be even cooler though is on the bonus track for that same album, "4:44," Blue Ivy proves she inherited her dad's talents by rapping on the song, "Blue's Freestyle."
Blue Ivy has been part of her dad's work outside of music too, because she also appeared with him and her mom, Beyoncé, in a commercial for the high-end jewelry store, Tiffany's & Co. You could even suggest that she stole the show in the ad when she's seen jokingly jogging behind their car, before she gets in to cuddle a puppy.
Blue Ivy made Jay-Z an Instagram Dad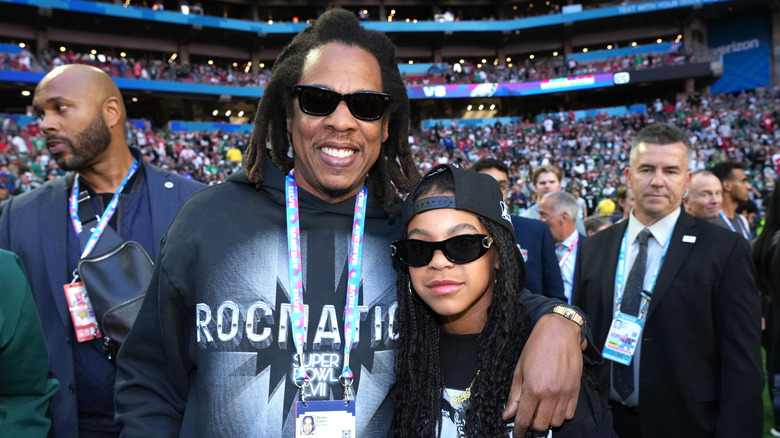 Kevin Mazur/Getty Images
Blue Ivy may be famous with superstar parents, but at the end of the day, she's still also a preteen. So like many girls her age, she probably wants to get a good photo when she's somewhere cool like the Super Bowl. That could be why Blue Ivy's dad, Jay-Z, was seen taking multiple photos of her on the sidelines of the big game in 2023. A video of that moment was posted to Twitter by Fox Sports: NFL where they wrote in the caption, "​​Jay-Z is in dad mode."
Fans apparently loved to see this normal side of the Carters, with many joking that Blue Ivy had turned Jay-Z into a typical "Instagram Dad" because of how he had to snap photos of her at different angles. It was suggested by many that he may be a better rapper than photographer too, considering that Blue Ivy didn't seem pleased by the photos he took. She can be seen shaking her head when looking at them on his phone, before asking "Was it live?" A fan even teased in a tweet, "blue ivy needs a new photographer cause i don't think whoever this is, is cutting it."
Perhaps Blue Ivy's photoshoot suggests that she might have a secret Instagram or TikTok account for her inner circle because it looked like she wanted some premium content. Either way, we can't blame her for wanting to show off her fashionable outfit, giving girls everywhere outfit #inspo at just 11-years-old.
Blue Ivy is sometimes spoiled by Jay-Z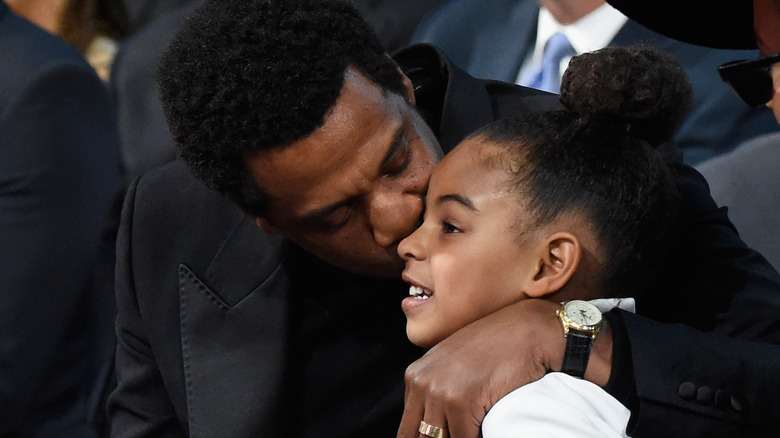 Kevin Mazur/Getty Images
It's no secret that Blue Ivy has to be at least a little spoiled even if she is a really good kid. Her dad, Jay-Z, seemingly admitted it himself when she was just a baby, saying on "Oprah's Master Class: Special Edition," "I just know I'll probably have the worst, spoiled little kid ever" (via People).
That may be why Blue Ivy has gotten backlash a few times for being a diva, like when she turned her 2021 Grammy award into a sippy cup for a photo. What some of those who criticized her may not have known though was that she apparently did it as a nod to her dad, who once said in his own Grammy acceptance speech, "I want to tell Blue, 'Daddy got a gold sippy cup for you.'" However, Blue Ivy still made headlines for being overindulged, like when she attended two different auctions. Some found fault with her placing high five-figure bids both times, once on artwork and the other on diamond earrings.
Additionally, Blue Ivy's dad, Jay-Z, dished that she does have her sassy moments with him. He recalled on "The Shop: Uninterrupted," "I was taking Blue to school... She walked away and I was like, 'Yo! I can't get a kiss? I'm in the Hall of Fame!'" adding, "She was like, 'bye, dad.'" Spoiled or not, it's obvious that Blue Ivy has a great relationship with her father, which has to be more special than anything fame can bring.