Here's How Princess Anne Got Her Honorary Military Titles And Medals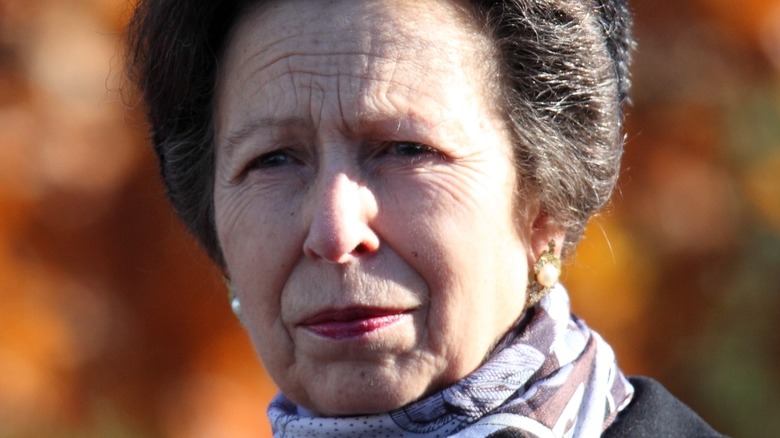 Art Babych/Shutterstock
In the glitzy, scandal-ridden world of the British royal family, Princess Anne — the oldest daughter of the late queen Elizabeth II and the younger sister of King Charles III — is easy to overlook. While her early romances sparked some speculation and gossip, and her courtship with her second (and current) husband, Sir Timothy Laurence, set the tabloids into a momentary frenzy — the two were found to have been romantically involved before her divorce from her first husband had been formalized — Princess Anne has mostly stayed under the radar by intentionally keeping her private life private. Thus, she is more likely to appear in a local news release about a ribbon cutting than splashed across the front page of a tabloid.
But don't mistake her low-key public persona for laziness though. Princess Anne is widely acknowledged to be the hardest-working member of the royal family if work is measured in the number of public appearances. In 2021, the then-70-year-old princess made a grand total of 387 public appearances. And while she never had the star power of Princess Diana or even her mother, royal watchers in Britain and the Commonwealth deeply respect her work ethic and dedication to representing her country. This dedication to country and duty has earned her dozens of honorary military titles and medals. Here's the story behind some of these.
Princess Anne was never actually in the military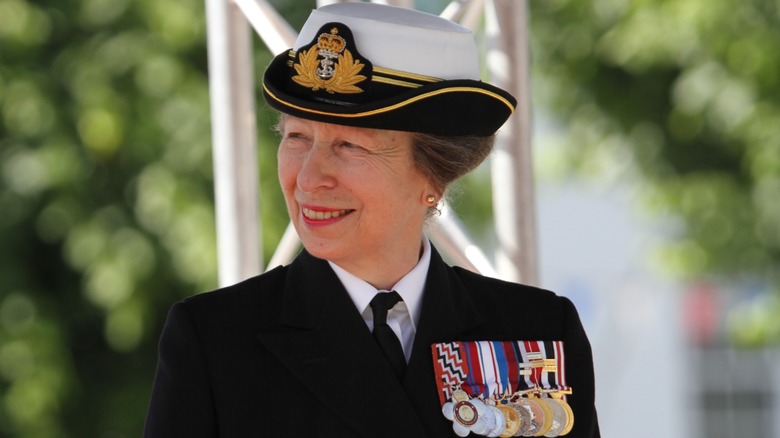 Simon Ward Photography/Shutterstock
Like her male relatives, Princess Anne frequently wears a military uniform at formal public events. But while two of her brothers, King Charles and Prince Andrew, as well as her nephews, Prince William and Prince Harry, did serve active duty in the armed services (and some even saw active combat), Princess Anne never did. As part of her royal duties, however, she has served as a patron and supporter to numerous military units and has received numerous honorary military titles from these units as a gesture of appreciation. By tradition, working members of the royal family have the right to wear ceremonial military uniforms even if they never served themselves. 
This tradition has led to some controversy, however. During the preparation for Prince Philip's funeral in 2021, disgraced Prince Andrew, who had his military titles stripped in wake of sexual abuse allegations, announced he wanted to wear his admiral's uniform to the ceremony. To quash the conflict, the royal family decided none of them would wear military garb. But the issue re-emerged during Queen Elizabeth II's funeral. Some wondered about the appropriateness of Princess Anne, who had never served, wearing a military uniform, while Prince Harry (who had stepped down from active participation in royal duties) and Prince Andrew were not allowed to do so, despite both having seen active combat.
A recent promotion by the Royal Army and Royal Air Force was a 70th birthday present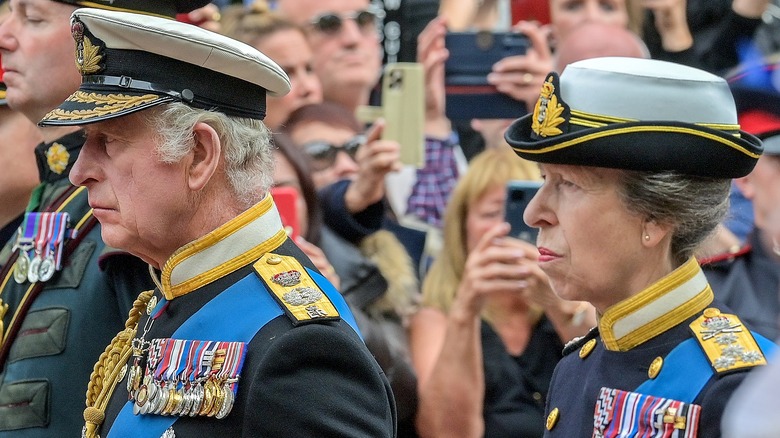 Sean Aidan Calderbank/Shutterstock
For working soldiers and sailors, promotion is usually the culmination of years of hard work and paying one's dues. And for civilians and retired military in Great Britain, an honorary military title is typically a way of honoring distinguished achievements or exceptional service to a military unit. For British royals, though, getting an honorary military title seems to be a bit easier. The title of royal colonel, for example, is bestowed by the monarch at their discretion. For instance, Catherine, Princess of Wales, was recently granted the title Colonel of the Irish Guards and Camilla Queen Consort gained the title Colonel of the Grenadier Guards — no actual military experience needed.
For this reason, Princess Anne managed to acquire numerous honorary titles over the years and has even been granted promotions from titles previously given. In 2020, the Royal Army promoted her to general and the Royal Air Force promoted her to air chief marshal.  These promotions gave her honorary ranks in the Royal Army and Royal Air Force equivalent to the honorary rank she already held in the Royal Navy. And the reason for these promotions was simple — they were meant to honor her 70th birthday.
Her many promotions by the Royal Navy also coincided with her birthday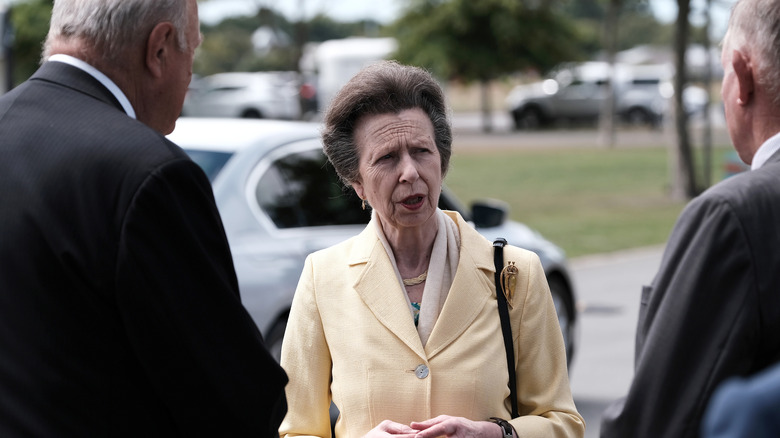 Rob Ball/Getty Images
While Princess Anne holds honorary military titles from a diverse range of units and service branches, her highest and most visible ranks have been with the Royal Navy. Her interest in naval affairs is consistent with her longstanding personal interest in sailing, and she often makes appearances to support members of the Royal Navy and their families. In addition, she has been a patron of the Royal Navy and Royal Marines Charity since 2007. "As Patron, I take great interest in the many activities the Royal Navy and Royal Marines Charity undertakes for the wellbeing and welfare of all ranks and rates, serving, resettling and retired, as well as their families," she said (via The Royal Navy and Royal Marines Charity).
The Royal Navy, in turn, has been glad to honor her for honoring them, granting her a string of honorary naval ranks, starting in 1993, when she received the honorary rank of Rear Admiral. Since then, she's not only made regular visits to naval units and actively supported their causes, she's received regular promotions over time, becoming Vice Admiral in 2009 and Admiral in 2012. Notably, all of these were awarded on the same date — August 15, her birthday.
She was awarded military titles abroad before earning them at home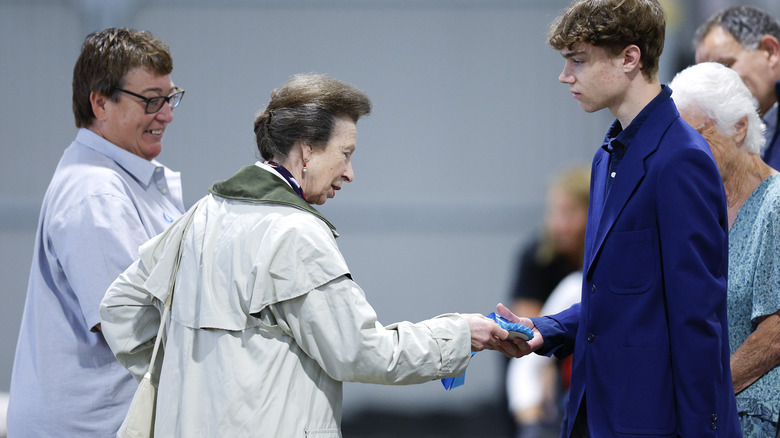 Hagen Hopkins/Getty Images
Military titles and medals are almost by definition rewards for patriotism and service to one's own country. Thus, some observers may be puzzled to learn that many of Princess Anne's honorary titles come not from home, but from other countries. This quirk is a reflection of the United Kingdom's history. Her many foreign titles and patronages all come from Canada, Australia, and New Zealand, former British colonies that are still part of the Commonwealth. These countries thus continue to have strong historical and cultural ties to Great Britain.
These ties include strong connections to the royal family. For instance, one of Princess Anne's earliest honorary titles — predating her Royal Navy titles by 20 years — was bestowed by a Canadian unit that was itself named after a royal family member — the 8th Canadian Hussars (Princess Louise's), Canada's oldest armed regiment. The unit gave Princess Anne the honorary title of Colonel-in-Chief in 1972, and she has visited the regiment many times since as part of its celebrations. Besides providing moral support, her presence as a royal celebrates and reinforces the former colonies' longstanding ties to Great Britain.
Her titles represent a standing commitment to the regiments that bestowed them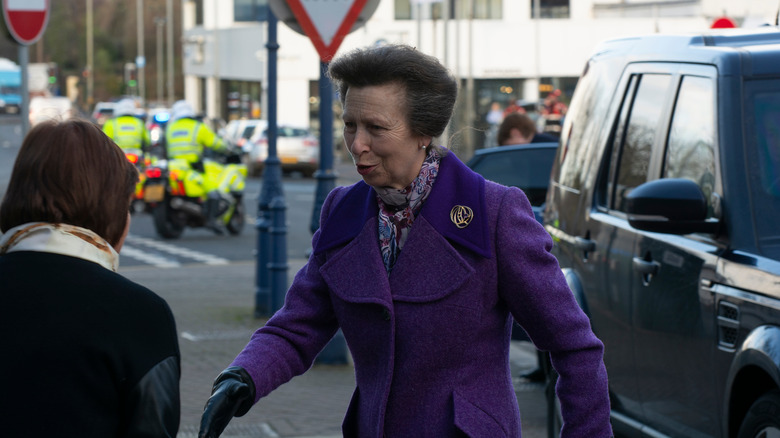 Atlantic Lens Photography/Shutterstock
From the way honorary titles are doled out to royal family members, it sounds like getting a title would be a pretty good deal — just be fortunate enough to be born into — or marry into — the family, and a title can be yours, no combat experience needed. So in principle, Princess Anne could have simply accepted all her honorary titles with a smile and never engaged with the regiments that awarded them again. And with all the gossip and drama surrounding the more visible members of her family, chances are that only hard-core royal watchers would have noticed.
But Princess Anne is not one to shirk her duties — she has often been called the hardest-working member of the royal family, undertaking more public engagements than her other relatives, and taking on increasingly important ceremonial and administrative roles following her mother's death. These responsibilities include maintaining regular ties with the regiments from whom she'd received titles. 
She regularly travels overseas to visit the regiments she supports in the former British colonies, which are much anticipated and appreciated by the troops. "Many of our signallers here today would be too young to remember the last time Her Royal Highness visited Australia in her capacity of Colonel-in-Chief RASigs back in 2000," said Brigadier Gregory Novak, Head of Corps for RASigs (via Australian Government Defence).
Many of Princess Anne's medals commemorate the queen, not her own accomplishments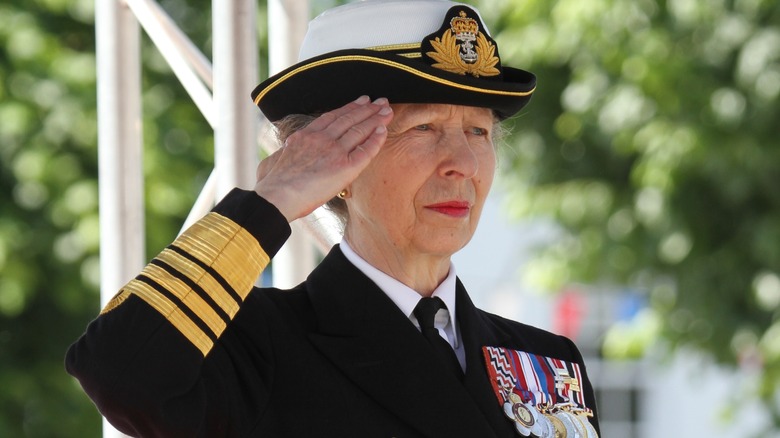 Simon Ward Photography/Shutterstock
Besides her many honorary titles, Princess Anne earned a number of prominent service medals. These — along with similar medals held by other royal family members — were on prominent display during the memorial service for Queen Elizabeth II, where Princess Anne and her high-ranking male relatives wore them with their civilian mourning suits. The medals sparked curiosity from spectators with many wondering what these medals represent, and how did these royal family members earn them? 
While some of Princess Anne's medals represent her own service and accomplishments, a surprising number of them do not, but instead, commemorate her mother, Queen Elizabeth II. These medals — the Coronation Medal, the Silver Jubilee Medal, the Golden Jubilee Medal, and the Diamond Jubilee Medal — all honored the queen's long tenure on the throne. The latter medal, honoring her 60th year as queen, was not only awarded to royal family members, but to members of the royal household along with members of the prison services, armed services, and emergency services.
Her Long Service and Good Conduct medal recognizes her dedication to public service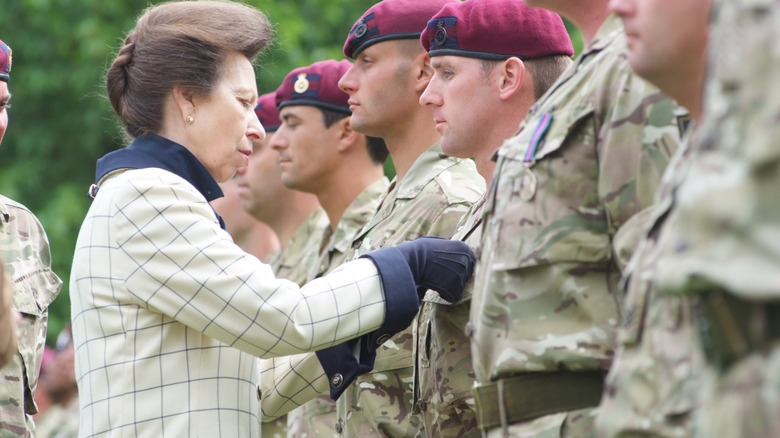 Foto Juice/Shutterstock
Besides their commemorative medals honoring their mother, King Charles III and Princess Anne have another prominent medal in common: the Long Service and Good Conduct medal. This military honor has taken numerous forms over the years, first being awarded to soldiers for 21 years of exemplary service, with the required period of service shifting over time from as little as 12 years (during World War II) to its current period of 18 years.
Princess Anne's medal, which was awarded by the Royal Navy, seems well earned. The 72-year-old princess began her long years of public appearances and service activities at age 18, when she presided over the opening of an educational and training center in Shropshire. Since then, she has been an active supporter of numerous charities, including Save the Children UK, where she has served as president since 1970. As for the "good conduct" part of the award, Princess Anne, unlike many of her relatives, has made a point of keeping her personal life private . Thus, apart from a minor scandal early in her relationship with her current husband, Sir Timothy Laurence,  she has given her country's infamous tabloid press little reason to write about her. And when it comes to royal reputations, no news is good news.
Her Queen's Service Order medal was actually awarded by New Zealand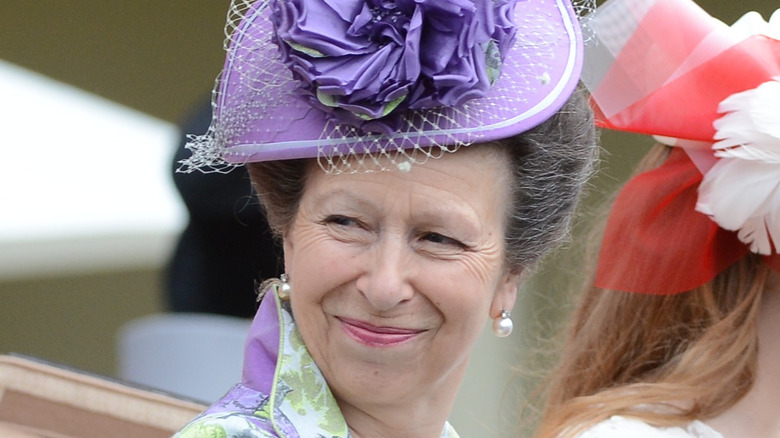 Featureflash Photo Agency/Shutterstock
A potentially confusing detail about many of Princess Anne's honors and decorations is that their names and the entities bestowing them don't always seem to match. An example of this is her Queen's Service Order medal, which common sense suggests should have been given to her by Queen Elizabeth II as a reward for good service — and this would have made lots of sense, since Princess Anne was known to be a dutiful daughter and as committed to her royal responsibilities as her mother was.  But in reality, this wasn't the case. The medal was actually bestowed by New Zealand.
The Queen's Service Order of New Zealand was established in 1974 specifically as a way to honor civilians for exceptional community service, and members of the military are ineligible for membership. The order was named in honor of Queen Elizabeth II, whom New Zealand as a commonwealth country, recognized as its queen as well. The Queen's Service Medal, which is separate from membership in the order, can also be given to citizens of countries other than New Zealand and other commonwealth countries.
Some of her titles honor her fondness for horses and other animals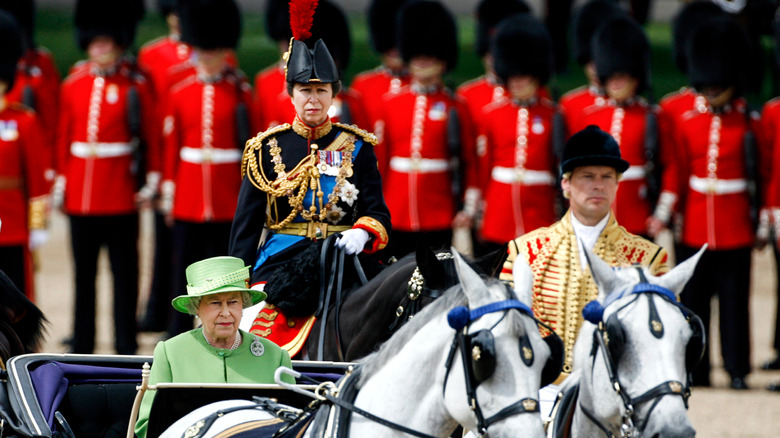 Alessia Pierdomenico/Shutterstock
Besides her work ethic, Princess Anne is probably best known for her horsemanship skills. She inherited her lifelong love of horses from her parents as her mother, Queen Elizabeth II, was a dedicated horse lover, and her father, Prince Philip, was a serious polo player. Princess Anne entered her first riding competition at age 11and quietly continued to rise through the competitive ranks, becoming the first royal family member to compete in the Olympics in 1976.
Since then, she's dedicated part of her time to serving the equestrian and sporting communities that had helped nurture her skills. For instance, she served as a British representative on the International Olympic Committee, and played a major role in bringing the summer games to London in 2012. Thus, several of her honorary military titles reflect her interest in horses and other animals. She is an honorary Colonel-in-Chief for the Royal Army Veterinary Corps, which trains horses and dogs as well as their trainers for military service. In addition, the unit provides equestrian training and training in stable management. Princess Anne is also known to visit the unit to offer continuing support to its troops and animals.
Several of her titles reflect her advocacy for women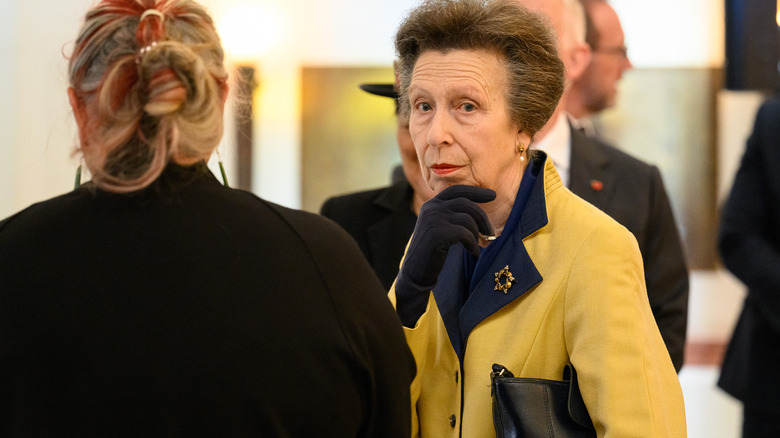 Mark Tantrum/Getty Images
While Princess Anne publicly rejects being labeled a feminist,  she spent much of her early career as a public figure pushing back against the limited roles women were allowed to play in public life. During a royal visit to Australia when she was 19, she decided she had enough. "I still got the feeling that there were women at that end of the room and men at this end of the room," she told Australian Women's Weekly (via The Telegraph). "I didn't go for that, so I just annoyed the men at the other end." She was pleased to discover that the men weren't annoyed by her move and were, in fact, happy to talk to her. Being a member of the royal family, of course, probably helped.
Her advocacy for women's causes is also reflected in her charitable work, such as in her role as patron for the Women in Science and Engineering campaign and the Women's Royal Naval Service as well as her patronage of several other women's charities and military units.  She holds the honorary title of Admiral and Vice Admiral Chief Commandant for the Women in the Royal Navy and the honorary title of Colonel-in-Chief in the historically female Royal New Zealand Nursing Corps.