Using Highlighter As Eyeshadow Can Give Your Lids The Prettiest Subtle Shine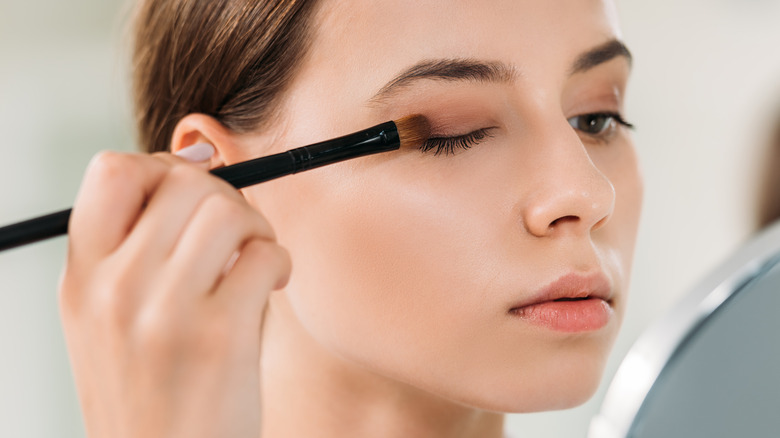 Lightfieldstudios/Getty Images
The universality of certain beauty products can't be denied. While we've recently seen blush and bronzer being used to sculpt the face, and even both worn as eyeshadow substitutes, it's apparently time for highlighter to have its moment to shine — quite literally. There is something so satisfying about achieving a complete makeup look with only a few products on hand. 
Embracing a more minimalistic makeup routine and lifestyle, in general, is just the motivation many people need to integrate this latest hack into their routine. Others may be traveling with limited space or simply interested in a quick makeup look for a busy day out on the grind. Regardless, using the same product in multiple ways may be the answer you've been looking for.
Of course, you don't have to compromise on aesthetics. In fact, highlighters are actually being touted as amazing alternatives to eyeshadow because of their versatility. With highlighter palettes, it's easy to integrate multiple shimmery shades onto your eyelids and create the perfect look that really makes your peepers pop. Likewise, there are also liquid, powder, and cream highlighters to choose from, so there are many options to figure out what's right for you. 
Social media demonstrated this makeup hack
Highlighting the brow bone or the inner creases of your eyes has been a popular makeup technique for a while because it helps to define the eyes and creates a lifted effect, making them appear brighter. However, others have found that using a single highlighter over their entire lid creates the perfect amount of sparkle and shimmer for their look.
Social media users are actively sharing the ways they use highlighter as eyeshadow, with many TikTok accounts demonstrating how beautiful Selena Gomez's Rare Beauty powder highlighter is on the lids of the eyes, for instance. Since these powdered highlighters have a hint of color along with their natural shine, it offers the ability to warm up your eyes quickly and easily, while keeping that "glass-like" glow.
Application is also a key part of the process, with some people choosing to use specific eyeshadow brushes to pat on their highlighter, similar to their typical eyeshadow routine. Others simply rub some of the powdered highlighter onto their fingers and use their hands to apply the product to their lids for a simple but striking look. 
Say goodbye to eyeshadow creasing
Liquid highlighter has also gained more prominence in recent years and it hasn't been left out of this makeup trend either. Since liquid highlighters often dry down on the skin, the pigment and shine won't rub off onto your hands or clothes. This also makes it an appealing product for the eyelids since it will stay in place all day.
Most liquid highlighters come in multiple shades for various skin tones with warm or cool undertones. Oftentimes there are shades of pink and peach, as well as cream and brown hues too. This actually makes liquid highlighters extremely versatile when it comes to creating a multi-faceted eyeshadow look. Putting the darker highlighter on the outer wing of the eye can create that smokey look while placing lighter colors in the inner corners will help with brightening.
Of course, nothing can ruin an eyeshadow look quite like creasing. Eyeshadows typically crease because of the excess oils seeping through, which is why many people reach for primers and powders both prior to and during the application process. However, since highlighters are designed to stay in place despite naturally occurring face oils, they are the perfect eyeshadow alternative.