Need To Save On Your Wedding Budget? Try Crafting A Bridal Bouquet With Grocery Store Flowers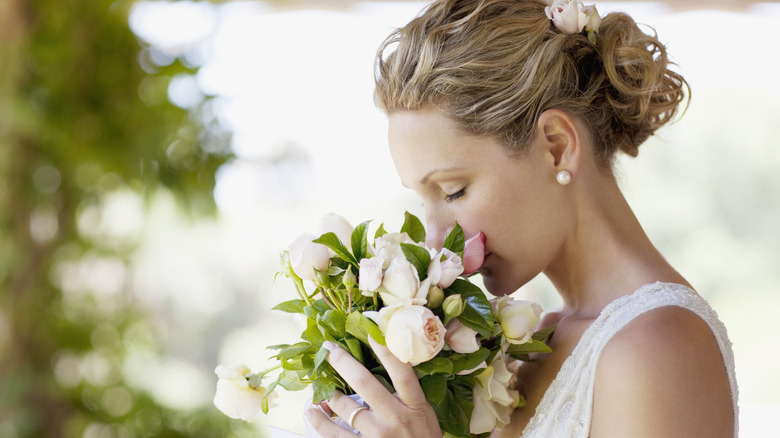 Tom Merton/Getty Images
Flowers symbolize joy and love, which is why they are essential to your wedding day. However, they can cost you a significant chunk of your wedding budget. The Knot estimates that while the cost of floral arrangements could vary, many couples can expect to spend a fortune on their fancy plants. With the cost of weddings already nearing $30,000, most people are looking to cut spending where they can.
Luckily, we are living in the age of do-it-yourself. Thanks to TikTok and YouTube, one of the biggest DIY projects for engaged couples has been constructing their own floral arrangements — particularly the bridal bouquet. Married couples across social media have documented their homemade bloom designs, which have saved them at least a few hundred dollars. A grocery store will rarely have enough flowers to decorate your entire reception, but there is sure to be plenty to create a bouquet for the lucky bride.
If you've been to your local grocer recently, you know flower selections can fluctuate depending on the time of year. You may notice vibrant pink and orange tulips in March or April. If you're looking to make a bridal bouquet in winter, you might see poinsettias or other festive options. There is no guarantee the supermarket in your area will have the exact flowers you've stumbled across on Pinterest, but we're confident you can craft a finished product you love.
Be open-minded with your flowers of choice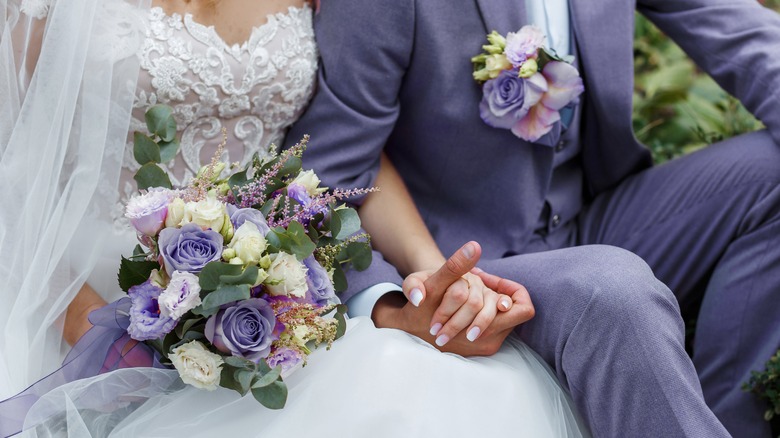 bearmoney/Shutterstock
Be mindful that flowers in the grocery stores typically don't come arranged the way you want unless you ask in advance. Even then, grocers aren't florists, so their skillset is limited. However, grocers such as Costco have you covered. They offer a gorgeous Soft Grace Wedding Package, which includes the bouquet and other pre-made floral arrangements. If the selection in this package doesn't suit your needs, it's time to get creative.
You'll need to grab a variety of flowers from the supermarket to make your bouquets pop. Unfortunately, this is not the time to think too deeply about color schemes. One common flower found in grocery stores is roses. Since this classic is commonly available in red, pink, and white, you can go for a timeless uniformed look for your bouquets that doesn't require you to be a plant expert. Keep in mind that this is only your focal flower. You'll want to grab greenery, a statement bud — which should be a bit taller — and some filler flowers to complete your bouquet.
After securing your budget flowers, it's time for the fun part: arranging your bouquet. During a trip to the craft store, you'll want to head to the floral aisle, where you'll find specialized tape, ribbon, scissors — to cut your stems evenly — and pins to keep your arrangement in place and show off your creativity.
Make your bouquet construction a group date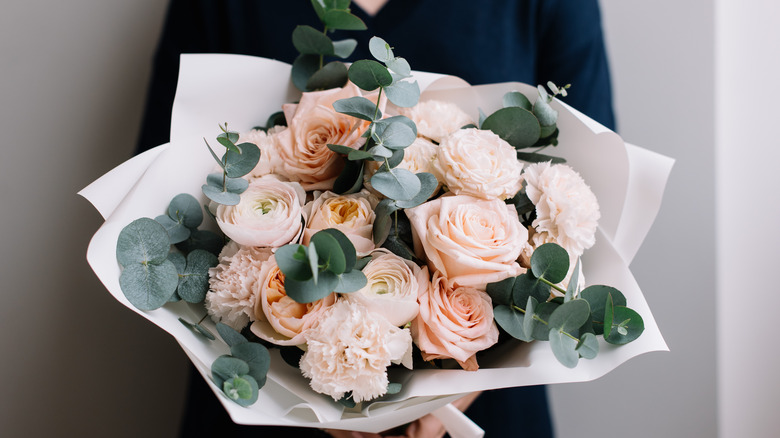 AnastasiaNess/Shutterstock
We know DIY projects can be tedious, which is why it can be helpful to make your bridal bouquet crafting a group project. Gather your bridesmaids, groomsmen, or closest friends and have a bouquet party. This will provide you with moral support and can help ease pre-wedding anxiety around time management and the stress of checking everything off your to-do list. In fact, a 2018 review of studies published in the Behavioral Sciences journal found that participating in creative arts can decrease negative moods and improve mental health.
We know getting flowers anywhere other than a florist for your big day sounds intimidating. Nevertheless, creating your own posy should be a delightful venture. Most importantly, it will help you have some wiggle room in that growing wedding budget. You may not get every flower your heart desires from the grocery store, but in the end, you will walk down the aisle with a beautiful creation made with love.