Is Pre-Wedding Anxiety Common?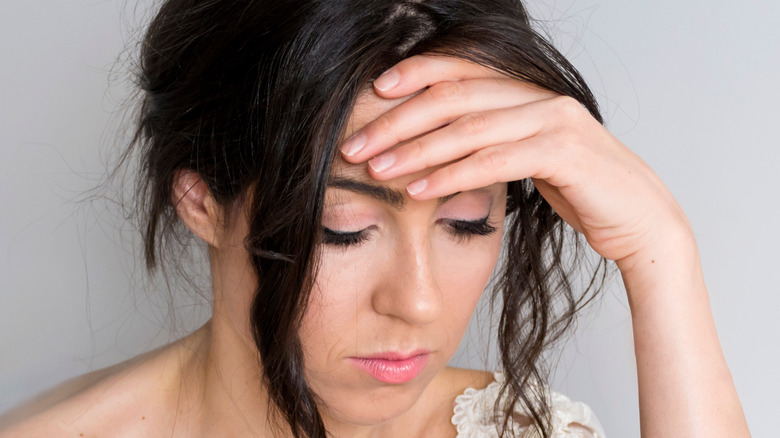 Boryana Manzurova/Shutterstock
The waiting is over, you're engaged! All the stress and worry about if and when your partner will pop the question — or whether or not they'll say yes — is over and you can focus on enjoying your engagement and planning your wedding. But even after you get the engagement ring you've been dreaming about, it's not always smooth sailing to the altar.
Love is strong, but sometimes, anxiety is stronger. Navigating the world of wedding planning is stressful enough, not to mention the familial expectations, deadlines, and financial worries you will inevitably feel as your big day approaches. Even the most relaxed and connected couple can feel strained by all the stress, which can lead to doubt and anxiety about not just the wedding, but the marriage in general. Rest assured that pre-wedding anxiety happens to the best of us — but if you're experiencing cold feet before your wedding day, check in with yourself and don't ignore the signs.
Even the strongest relationships might have their doubts before the wedding day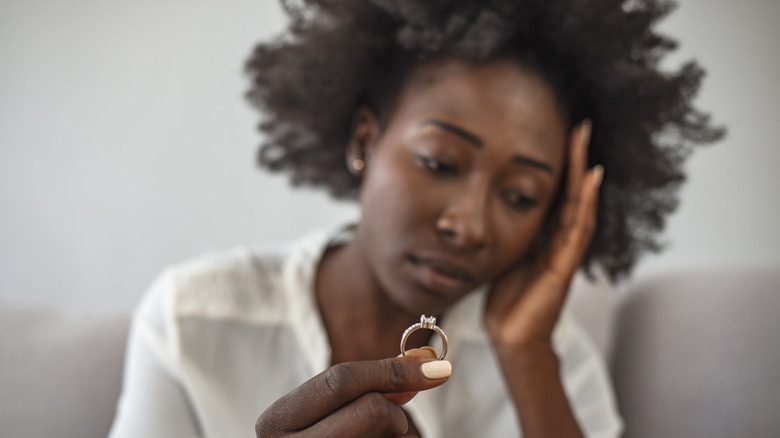 Dragana991/Getty Images
Before you start doubting all your wedding plans or even your spouse-to-be, it's important to know that some pre-wedding anxiety is very common. Clinical psychologist Jocelyn Charnas told Brides that feeling anxiety prior to your big day is perfectly normal and expected. Not only is planning a wedding a huge undertaking, but such a huge life change often comes with a feeling of uneasiness and worry. Moments of doubt are usual, but strong, looming worries about your relationship can be a sign of something more serious.
If your stressors are extreme and you begin doubting your choices entirely, you may be experiencing pre-wedding anxiety as a response to something unsafe or unsettling happening within your relationship dynamic. According to WebMD, many experts advise listening to your anxiety and finding the root of your worries, then deciding whether or not it is stemming from small stress like drafting a seating chart, or something larger like your long-term compatibility with your future spouse. Wedding planning can bring out difficult conflicts and conversations between couples that shed light on what your life together will be like after the post-wedding glow has faded.
How to manage pre-wedding anxiety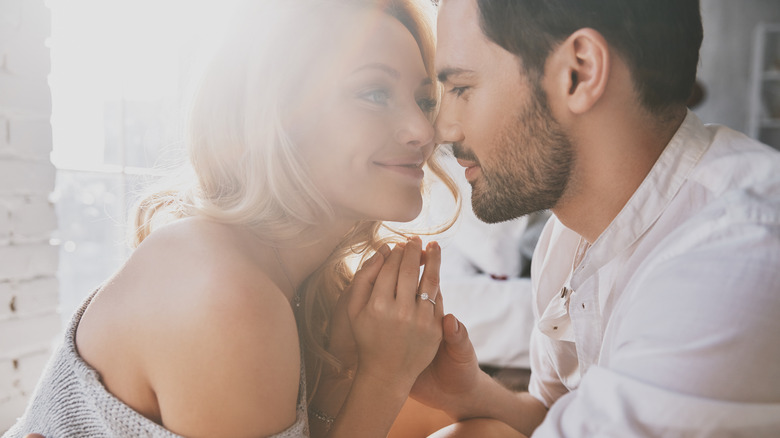 G-stockstudio/Getty Images
If the idea of marriage and this big life step is making your stomach turn, there are ways to manage the symptoms of your pre-wedding anxiety. Marriage suggests daily mindfulness practices to help ground you and keep you present rather than worrying about future plans. Spending quality time with your fiance outside of wedding planning is another great way to remind yourself why you said yes in the first place.
If you're feeling pre-wedding anxiety due to the stress of planning, try delegating tasks to your loved ones who are willing to help. But be careful when letting others in on your planning process. Once you start planning your wedding, you'll quickly discover that everyone has an opinion about what you should and shouldn't do at your wedding. It is easy to feel overwhelmed by outside expectations and opinions — manage your stress levels by setting boundaries with those close to you about what input you're comfortable receiving.
If you are already a more anxious person, you may even begin to feel anxiety over pre-wedding anxiety. HuffPost writer Elli Thompson Purtell shared that she experienced physical sickness because of her worry about worrying less than one week before her wedding. She found that sharing her worries with her loved ones, including her fiance, helped her release her anxiety and be reassured by those closest to her.
No matter how you manage your pre-wedding stress, remember that a little anxiety is a normal and common part of your journey into marriage.