General Hospital Star Chad Duell Is About To Become A Dad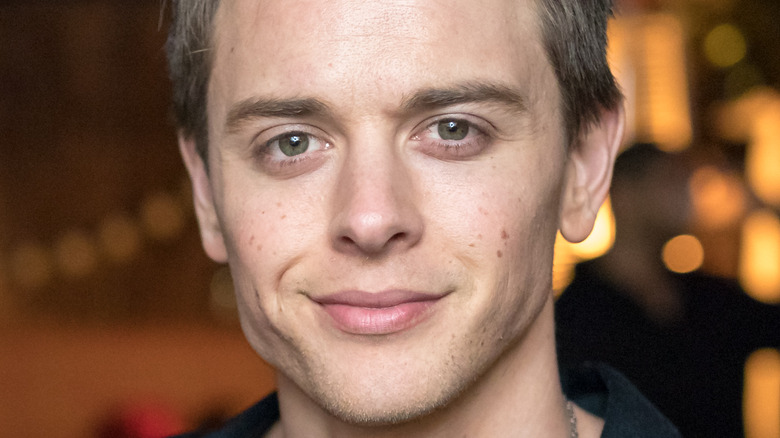 Greg Doherty/Getty Images
Actor Chad Duell has had his hands full portraying Michael Corinthos' bad luck with women on "General Hospital." In fact, most of his partners have wound up dead. The fan-favorite character first struck up a romance with stripper-turned-businesswoman Abby Haver (Andrea Bogart) in 2010. However, their fate was sealed when she was killed in an accident on a business trip. Michael's next girlfriend was the supremely compassionate Sabrina Santiago (Teresa Castillo). Unfortunately, she was strangled by psychotic district attorney Paul Hornsby (Richard Burgi) in 2016.
Michael then found love with Kiki Jerome — first played by Kristen Alderson, whom Duell dated in real life, before the role was recast with Hayley Erin. Their on-screen personas were only together for a short while before breaking up, and the poor girl was stabbed to death by serial killer Ryan Chamberlain (Jon Lindstrom) in 2018. Michael's next partner, Nelle Benson (Chloe Lanier), had a secret agenda, trying to destroy the life and family of Michael's mother, Carly Spencer (Laura Wright). When Michael finally realized Nelle was unhinged, it was almost too late, as she had taken off with their newborn baby. Luckily, Michael was eventually reunited with his son, and Nelle ended up plummeting off a cliff after a skirmish with Carly and is now presumed dead.
Fortunately, the actor's real life isn't quite so dramatic. Duell was in a relationship with fellow soap star Courtney Hope for several years, though the couple broke up in late 2021. Now, Duell has shared some fantastic news with his loyal fans.
Duell surprised fans with his announcement
On the heels of his breakup with actress Courtney Hope (Sally Spectra, "The Young and the Restless"), "General Hospital" star Chad Duell explained that he'd been in one relationship after another throughout his adult life. On costar Maurice Benard's YouTube series, "State of Mind," in January 2022, he explained that he felt the need to find out who he is while not part of a couple. After several months, Duell confirmed that he'd begun a romance with Brazilian model Luana Lucci.
His lovely girlfriend recently posted an announcement on Instagram, writing, "We are adding a new member to the Duell family. WE ARE HAVING A BABY BOY!" The post was accompanied by a photo of the couple holding a baby reveal sign that read, "Baby Duell. Boy or girl?" splattered with blue paint. While some fans were taken by surprise, one lovingly replied, "The beautiful energy that you two project together is perfect. Congratulations on this wonderful adventure." Duell also posted the pic on his own Instagram page, sharing, "Lil' Duell coming September 2023...stay tuned." The love poured in from everyone, including one observant fan who noted, "Congratulations on a Baby Boy! That's so cute you guys did paintball balloons to reveal the gender." Duell's "GH" costars Laura Wright, Kirsten Storms (Maxie Jones), and Sofia Mattson (Sasha Gilmore) also commented with excitement and well-wishes.
We're excited for Duell and Lucci and wish them both congratulations!