Inside General Hospital's Chad Duell's Relationship With Soap Opera Actress Courtney Hope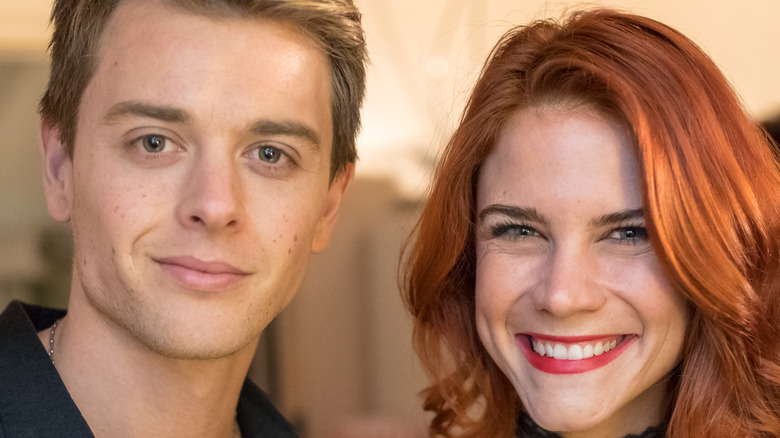 Greg Doherty/Getty Images
On ABC's "General Hospital," Chad Duell plays spoiled rich kid Michael Corinthos Quartermaine, now a 20-something man who is still as spoiled but at least has matured enough to raise young son, Wiley, while using his money and power to bribe politicians into doing things they shouldn't just because he wants them to, per Soap Central.
Across the dial on CBS' "The Young and the Restless," Courtney Hope brings scrappy, fiery redhead Sally Spectra to life. The niece of the original knock-off design maven, also named Sally Spectra (Darlene Conley), the character began life on "The Bold and the Beautiful," a soap centered in the L.A. fashion industry. Sally then made her way to the fictional Wisconsin town of Genoa City in 2020 (via TV Insider) to get a fresh start in life and is dancing around a romance with Adam Newman (Mark Grossman).
Off-screen, Chad Duell and Courtney Hope are beaming newlyweds, but how did the pair meet and fall in love?
Courtney Hope and Chad Duell can thanks soaps for bringing them together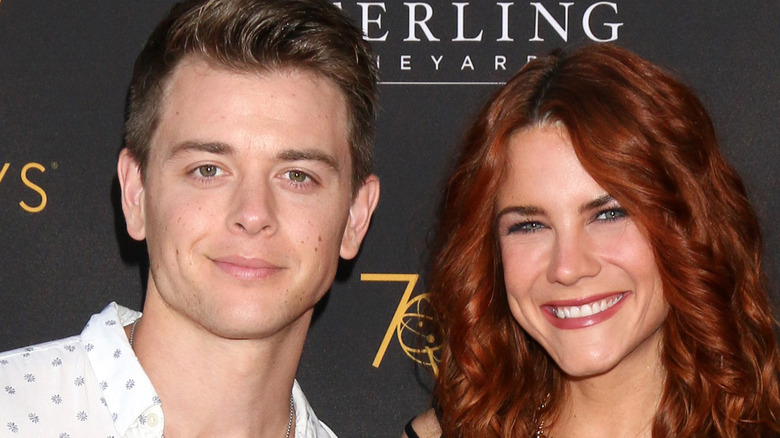 Kathy Hutchins/Shutterstock
Courtney Hope and Chad Duell comprise one of soaps' most popular real-life pairs. While they have yet to appear on a soap screen at the same time, it almost happened, and the story goes back to how they met when a mutual friend introduced them at a party back in 2016.
"I wasn't even going to go! I had been working all day and I was really tired. My mom convinced me to go and I'm glad she did because I don't think I would've met him otherwise!" Hope told Soap Opera Digest, while revealing she was about to do a screen test for "General Hospital." Duell explained the rest.
"She was actually testing for my love interest on 'General Hospital,' so I was giving her a little bit of advice," Duell said. "The cool thing was, we mostly just talked about regular things, like about the fruit trees I was planting in my backyard. It was a Hollywood party and we were talking about real stuff. That's not normal!"
Hope didn't get the role, but she did get the guy as she and Duell soon began dating.
Courtney Hope and Chad Duell become engaged and get married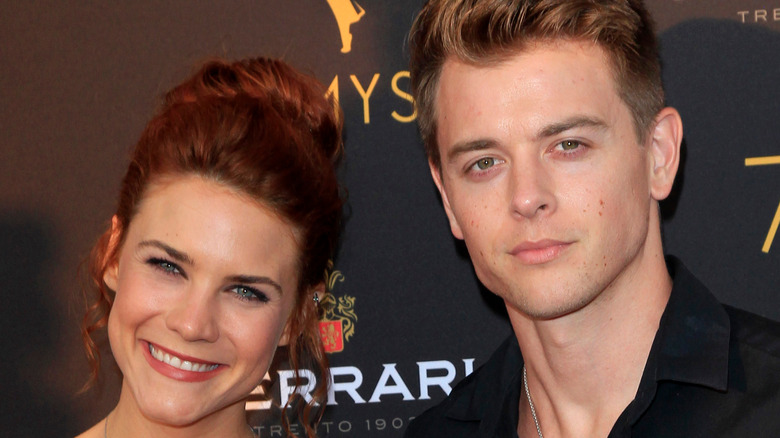 Kathy Hutchins/Shutterstock
In February of 2021, Courtney Hope took to Instagram to announce that she and Chad Duell had become engaged "Yesterday was a good day ... Forever with this man is a dream come true," Hope posted next to a photo of the pair, with Hope sporting her gorgeous engagement ring.
"I am so excited for so much about our future," Hope told People. "Just getting to create memories forever, our future children and family, the places we'll travel and all the laughs we'll have makes me so thrilled to think about. I enjoy every day with him, so each present moment is beyond fulfilling."
Duell was just as excited to marry Hope and couldn't wait to start planning their wedding, telling People, "It's fun to say fiancée and plan a wedding," says Duell. "It's a whole new step and a lot of excitement for our future. I get to call her my wife! I'm excited for a lot: our future kids, new adventures, a new home and having my best friend to grow old with."
On October 23, 2021, Courtney Hope and Chad Duell donned their finest red and black and walked down the aisle with their friends, family, and co-stars in attendance for a Till Death-themed wedding with steampunk attire, according to People.