Why You Might Want To Avoid The Lipstick-As-Blush Hack If You Have Sensitive Skin
Lipstick can make us feel an array of positive feelings, including power and confidence. It's no wonder that in times of economic difficulties, the "lipstick effect" is in full swing. The "lipstick effect" demonstrates that people will still purchase lipstick and other cosmetic goods regardless of finances. Apart from its role in providing a dose of color to the lips, lipstick is exceptionally versatile. It can be used as an eyeshadow, concealer, contour, and highlighter. The latest social media trend involves using lipstick as blush. While some apply lipstick on the cheeks, others use lipstick, specifically red lipstick, all over their face to create a flawlessly flushed look.
Nonetheless, you don't have to go all out to try this trend. You can put on your lipstick as usual, but instead of dabbing off the excess with a tissue, you can use a brush on your lips and then use that brush on your cheeks, and bam, lipstick as blush. The appeal here is creating an easy monochromatic look that gives the illusion that you put more effort into your makeup than you actually did. This makeup technique is a runway favorite and contributes to a fresh-faced appearance. However, experts warn that using lipstick-as-blush could ultimately do more harm than good.
Lipstick as blush can cause acne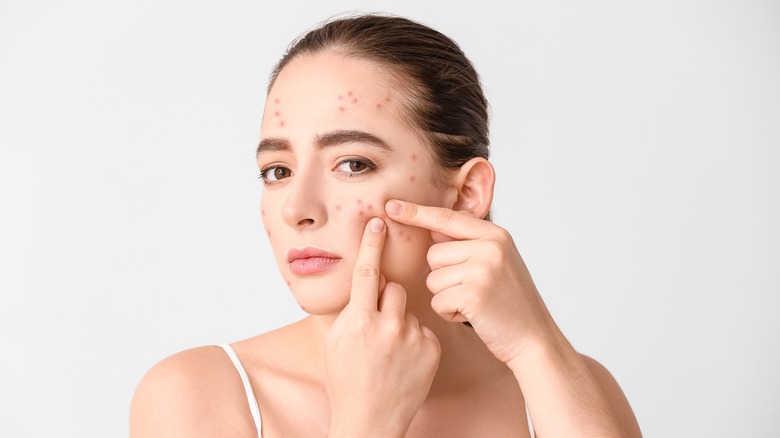 Pixel-Shot/Shutterstock
Makeup artist Aimee Connolly told Women's Health, "Applying lipstick as blush is not too dissimilar to applying a cream blush. Although, usually a lipstick will have slightly more pigment to it, so it's a good idea to start small and gradually build it up to your desired intensity." But as it turns out, these pigments, especially darker ones, can also be your skin's downfall. In other words, lipstick should probably stay on the lips. For example, using lipstick on your cheeks could darken existing spots on your skin. Likewise, using lipstick as blush could cause eczema, skin discoloration, and acne.
This is especially true if you already have sensitive or acne-prone skin. Dermatologist Dr. Melissa Kanchanapoomi Levin explained (via Skincare), "Lipsticks are made from different waxes, such as beeswax, candelilla wax, and ozokerite, as well as various oils and fats, such as mineral oil, cocoa butter, petrolatum, and lanolin." Levin notes that these substances can clog your pores and lead to breakouts. There are other reasons why you might want to avoid using lipstick as blush. Some lipstick has weird ingredients you are probably unaware of, such as heavy metals like lead and aluminum, which could also cause issues to your skin.
Tips for using lipstick as a blush
If you want to try the lipstick as blush hack, there are ways to prevent skin problems. Consider spraying sanitizer on your lipstick before placing it on your cheeks or taking the top layer of your lipstick off. You can also choose a lipstick that is less pigmented. Makeup artist Jay Artistry explained his technique for using lipstick as a blush to Makeup. He said, "I suggest smiling, swirling your lipstick on the apples of your cheeks, then using your fingers to warm up and blend the color towards your temples." Artistry added that he loves using lipstick as blush because of its buildability.
Similarly, TikTok user tigs.ti places her lipstick on her hand before applying it on her cheeks with a brush. However, Dr. Melissa Kanchanapoomi Levin warned (via Skincare), "If you do notice new breakouts on the cheek after using lipstick as blush, discontinue use and see if the acne resolves." It's perhaps a good idea to keep track of your lipstick's expiration date before using it on your lips or cheeks. On average, lipsticks are good for 8-12 months. If the texture or appearance of your lipstick changes, it's time to toss it out. Nevertheless, experts note that to avoid skin issues, you should purchase cream products for cheeks rather than use lipstick as blush.