Why King Charles Is Reportedly Considering Special Coronation Rules For Prince Andrew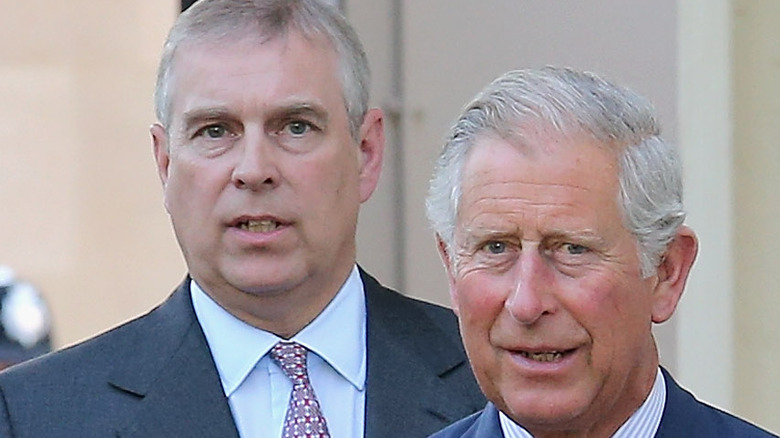 Chris Jackson/Getty Images
As details for King Charles' coronation finally get confirmed, and May 6 is only two months away, it's clear that many plans for the historic event are officially in place. We all know enough about the rigidity of the royal family to know that there are plenty of rules King Charles will be forced to follow at his coronation. And, in the wake of the myriad scandals plaguing the monarchy, it's safe to say that a few more regulations will surely be put in place.
Among the skeletons in the Buckingham Palace closet is Prince Andrew, Duke of York, King Charles' younger brother who's been wrapped up in a sexual abuse scandal associated with Jeffrey Epstein (via the BBC). Since this news broke, Prince Andrew's HRH title has been removed, and he is no longer a working royal. 
Despite Charles' clear stance on keeping his brother away from the monarchy, even removing his name from the royal family website, Andrew is still unarguably a member of the royal family. Charles certainly wants to put his best foot forward for his coronation and allow the ceremony to set the tone for his reign as monarch. So, what will Prince Andrew's role in the coronation be?
King Charles must decide if exceptions will be made for his brother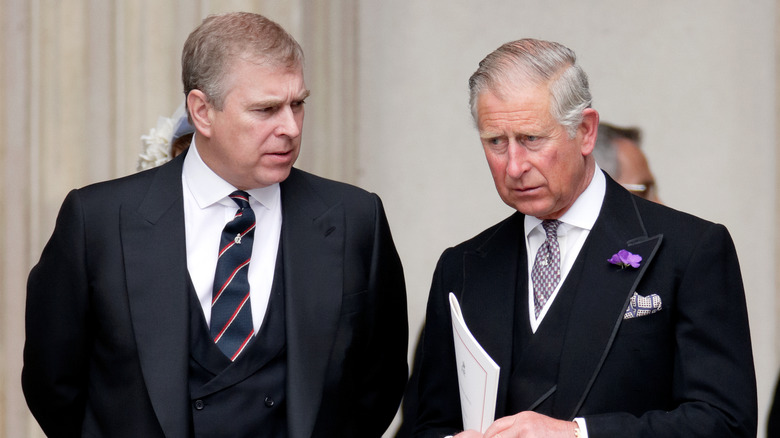 Max Mumby/indigo/Getty Images
As his coronation fast approaches, King Charles III once again finds himself somewhere that he's become very familiar with: between a rock and a hard place. The King's coronation will be a "Collar Day." On Collar Days, the senior members of the Order of Chivalry wear the regalia and collar associated with their specific British orders of knighthood. Under typical circumstances, Prince Andrew, Duke of York, would be included in this tradition, but since his scandal, he's been stripped of his title, Colonel of the Grenadier Guards.
Andrew attending his brother's coronation in a suit would certainly send a message about where he stands within the royal family. The question is if Charles should make an exception. According to sources close to the royals, Andrew, who still vehemently denies the accusations against him, thinks he should. One source says, "Andrew is furious. He's already not playing a part and now he feels he is being disrespected and dictated to over something he is fully entitled to [wear]" (via the Mirror).
Whether Charles will bend the rules for his brother is unknown. However, it is important to note that Charles allowed his brother to dress in military garb for Queen Elizabeth's London vigil. Still, a source close to the family notes that this move shouldn't be thought of as "having wider significance," per Radar Online. We'll all find out soon enough just how the many puzzle pieces of King Charles' coronation will come together.
How the royal family will deal with Prince Andrew remains unclear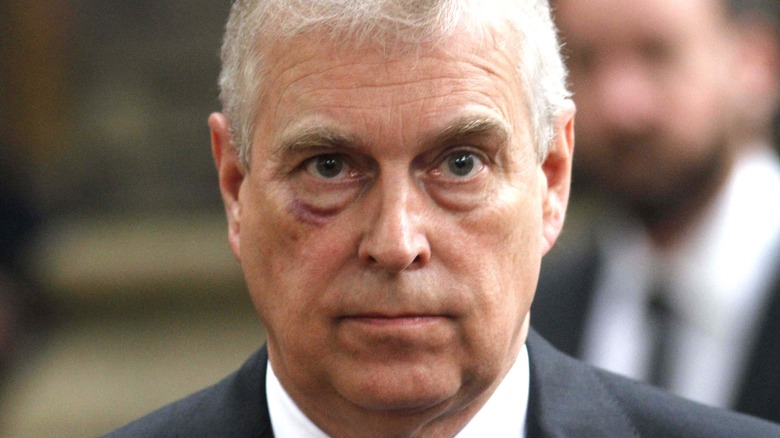 Wpa Pool/Getty Images
While Prince Andrew, Duke of York, reportedly feels overdue for forgiveness from his family and the public, many folks feel the opposite. Despite the removal of his titles, Andrew has remained living in a 30-room mansion for which he pays only £250 per week. This is even after he paid a $3.6 million settlement to alleged sexual abuse victim, Virginia Giuffre (per the Daily Beast).
Investigative journalist Tom Bower told the Daily Mail, "Andrew's selfish behavior threatens King Charles' reputation and even the coronation. He thinks that he can brazen out the bad predicament he himself created." Many think that Charles should evict his brother from the property that he can't afford on his own,  but the royal lawsuit that could result would be catastrophic for the monarchy's already floundering image. 
Royal commentator Richard Fitzwilliams told the outlet, "What the Royal Family do with a problem like Andrew is unclear. He has, as far can can be seen, absolutely no intention of undertaking charitable duties, as the Queen reportedly suggested, in search of future redemption, since he sees no reason for penance. In the court of public opinion he is already guilty." What will come of the duke's relationship with the royal family is unknown, but one thing is for sure: the question of how to solve a problem like Prince Andrew should be answered by coronation day.