Why Meghan And Harry Are Letting Their Children Use The Royal Titles Prince And Princess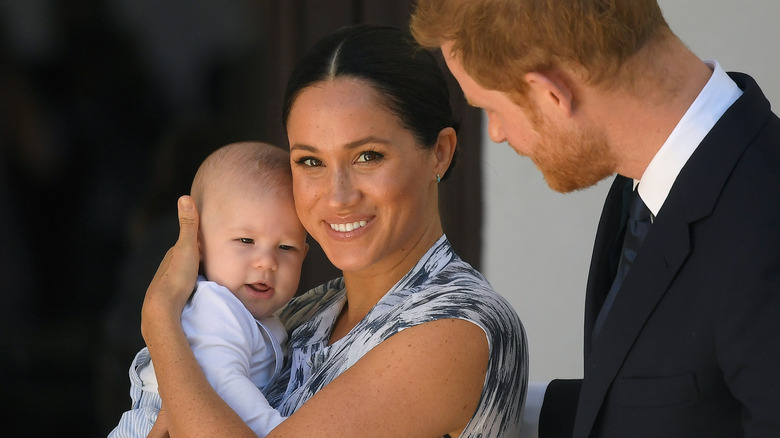 Pool/Getty Images
Lilibet, the second child of Prince Harry and Meghan Markle, was christened Princess Lilibet Diana in early March 2023 (via The Independent). The ceremony took place in the Sussex's California home — King Charles III and Queen Camilla, as well as the Prince and Princess of Wales, were not present. This marked the first public use of Princess Lilibet's new royal title, clearing up confusion as to whether she would receive one at all. Similarly, Lili's older brother, formerly Master Archie, will now be referred to as Prince Archie. As ITV News Royal Editor Chris Ship clarified in a Twitter statement, this change in titles is due to a 1917 rule created by King George V.
As the former monarch decreed over a century ago, the titles of prince and princess are to be used by the offspring of the Soverign's sons. In other words, as the grandchildren of the king— and the children of Prince Harry, Duke of Sussex — Archie and Lilibet have formally been prince and princess since the passing of Queen Elizabeth II and the ascension of King Charles III in September. Buckingham Palace's website will be updated to reflect these changes. As for Meghan and Harry, Duchess and Duke of Sussex? They plan to let their children decide whether to hold on to their formal titles when they get older.
Meghan and Harry believe the final decision isn't up to them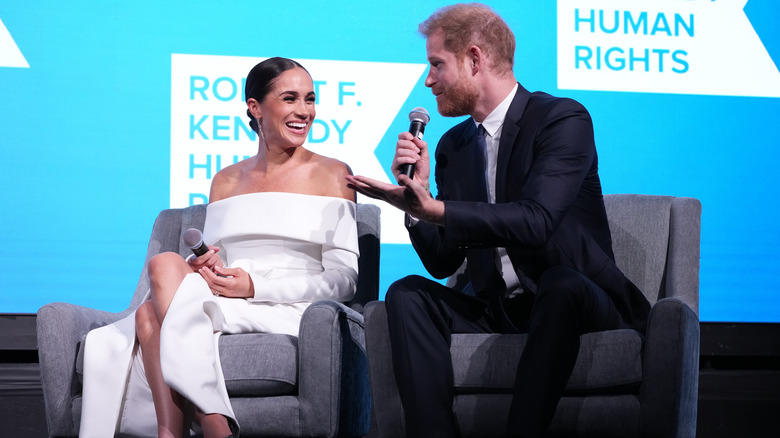 Kevin Mazur/Getty Images
As royal reporter Cameron Walker wrote in a March 2023 Twitter statement, "Harry and Meghan are understood to be keen to not deny their children their birth-right, but to allow them the chance to decide for themselves when older whether to drop or keep using the titles." This was first made clear during Harry and Meghan's infamous interview with Oprah Winfrey in 2021. As Meghan, Duchess of Sussex pointed out at the time, there are positives and negatives that come with holding a royal title — "And it's not our decision to make," she told Winfrey (via The U.S. Sun).
Comparatively, other royals have made the decision not to pass titles down to their children. Prince Edward, Earl of Wessex, the youngest son of Queen Elizabeth II, and his wife, Sophie, will let their two children decide whether to claim their titles of prince and princess when they turn 18, per The Times.