What To Ask For At The Salon If You Want To Try The Cappuccino Hair Color Trend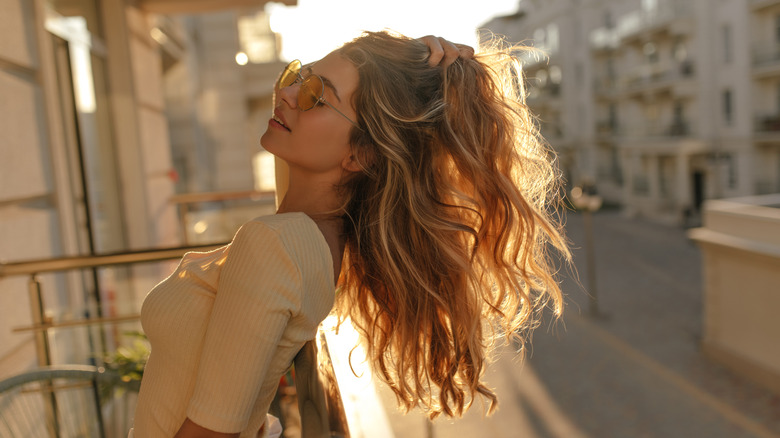 Look Studio/Shutterstock
With a new season comes the inspiration for a new look. It's time to rip off that beanie and let your luscious locks bask in the sunlight with a fresh new hairdo that will have you feeling confident, fun, and youthful. Whether you're thinking about a shorter cut or a complete color change, it's time to reinvent yourself and your hair.
Celebrity hair stylists and hair color experts are predicting the hairstyles that are sure to turn heads. Bob and shag haircuts are trending, with celebrities like Lucy Hale and Billie Eilish rocking these styles for red carpets. Hair color trends like cappuccino are also popular, inspired by the tasty coffee drink we all love. If you're looking for an easy and fresh new look, the cappuccino is a must-try. 
The brown hair color can complement various face shapes and skin tones, allowing for a confident and effortless look. Here is everything you need to know to achieve the perfect cappuccino look that will have you receiving compliments left and right.
How to get the cappuccino look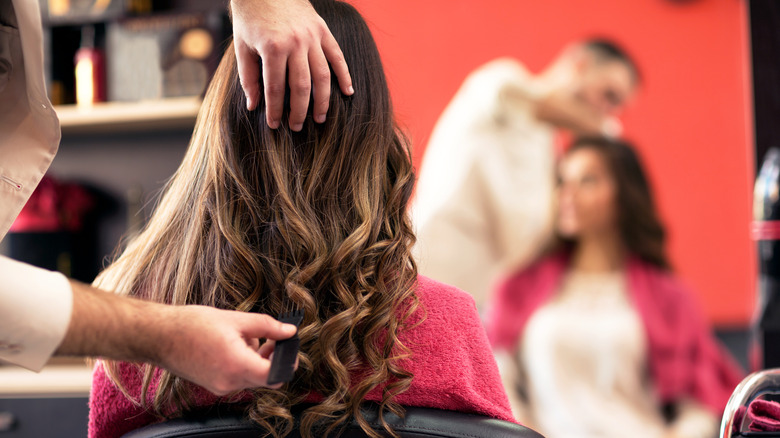 didesign021/Shutterstock
Emaly Baum, an NYC celebrity hair colorist described the cappuccino look to She Finds as a "warm brunette base with a gentle caramel highlight." Baum added, "This color is super natural and low maintenance. It feels really rich and effortless." Who doesn't love a look that's both easy to maintain and beautiful? 
When achieving your ideal finished product for the cappuccino look, it is always a good idea to have reference pictures to show your stylist the look that you are aiming for. Celebrity hairstylist Sunnie Brook told Real Simple, "[Photos] are the bridge for creating a look that both the hairdresser and client are happy with." When at the salon, Baum recommends asking your stylist for a "subtle highlight with a warm caramel toner" to achieve the most flattering cappuccino look. 
Blue shampoo is also recommended for washing the cappuccino look, as this specific shampoo is designed to keep highlights fresh-looking in darker hair colors. 
What celebrities have rocked the cappuccino look?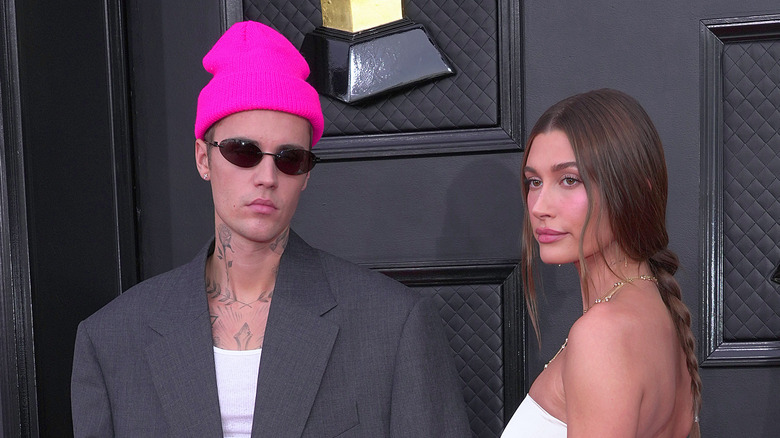 Kevin Mazur/Getty Images
Many celebrities have rocked the cappuccino hair color on social media, at appearances, and on red carpets, including model Hailey Bieber. She adorned this look on the 2022 Grammys red carpet with her husband Justin Bieber. Hailey Bieber's cappuccino color was created by her hairstylist Bryce Scarlett, who added hints of caramel into the look, per Glamour.
Singer, dancer, and actress Jennifer Lopez is a great example of how amazing the cappuccino color looks on natural dark brunettes. Lopez is yet another star who has opted for the darker look as the seasons become warmer. Actress Halle Berry is another example of someone who has rocked natural-looking cappuccino hair. The brunette color beautifully complements her medium-brown skin shade, proving that the look can pair well with a range of different skin tones from light to dark. 
Take a leap and give the cappuccino color a try!