The Hair Color Trend That Suits Everyone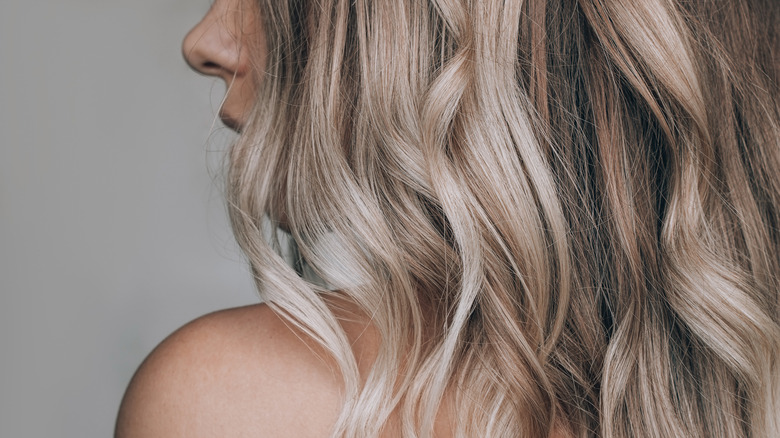 Marina Demeshko/Shutterstock
If you've been thinking about changing up your hair color, we've got our eye on a trend that is perfect for you. Per Express, on average, women change their hairstyle 150 times over the course of their lives. That's quite a few different cuts and colors to test out, but this trend, called "hybrid hair," suits everyone and is making some serious waves in the beauty scene.  
Like all other beauty trends that have taken over the internet, popularity in hair color choices is cyclical. From ombre hair to balayage, the hair color, itself, isn't the only thing that becomes a trend. How your hair is colored is often just as important as the color you choose. The hybrid hair trend is popular for many reasons, not the least of which is the fact that it is super versatile and also designed to be easy to get and maintain (via PopSugar).
What is hybrid hair color?
Hybrid hair is the perfect way to color your hair if you're looking for something that's natural while still making a fresh and new style statement. Per PopSugar, with hybrid hair, you'll have one hair color all over followed by even highlights. You'll also have added hair gloss to give your hair color vibrancy and shine. The style is designed to give your hair a look of sheen and depth without having to put in large amounts of work for the coloring process or maintenance the way other coloring methods require. All it actually entails is all-over single process color plus highlights all over. Creative director for NuBest Salon & Spa, Jamie Mazzei, calls it "a strong base color and pops of a slightly lighter tone. This allows the hair to have a different look with every turn of the head."
One of the best parts of this hair coloring method is that it won't require you to change your hair color drastically if you don't want to. You can opt for something close to your natural color as your base or go for something totally new. Either way, this coloring style works for dark brunette hair, light blonde, and anywhere in between. Stars like Kim Kardashian and Hailey Bieber have already made this style their own in two very different shades. You may want to consider a honey-colored base or a light, ashy brunette, as according to Allure, these hair color trends are taking over.
How to get hybrid hair
Even if you know exactly what you're looking for, sometimes communicating it correctly to the person who will be styling your hair is half the battle. Luckily, Jamie Mazzei has some specific advice for folks looking to upgrade their locks to hybrid hair. He told PopSugar, "Ask your colorist for an all-over color (or work with your own natural base) and soft balayage around the bottom. Then you will want your colorist to gloss it all over with the chosen tone." 
While you may not have gotten or even heard of hair gloss before, this is an important part of making this coloring method work, as it creates shine and dimension that will make the color pop. When requesting hair gloss from your hair stylist, ask for a hair gloss that's a shade or two lighter than the main shade of your hair. According to Mazzei, this will allow your color "move and change with you, looking lit from within."
Per Vogue, when it comes to color-treated hair, maintaining the color correctly can be just as important as getting the right color in the first place. According to Mazzei, though, ever since COVID lockdowns had us all growing out our roots and going months without haircuts, people crave low-maintenance hair, and that allows easy color styles like hybrid hair to come to the forefront. A shampoo for color-treated hair and hair gloss will do the trick and keep your hybrid hair looking good as new.