Donald Trump's New Book Will Reportedly Include Messages From Oprah And Princess Diana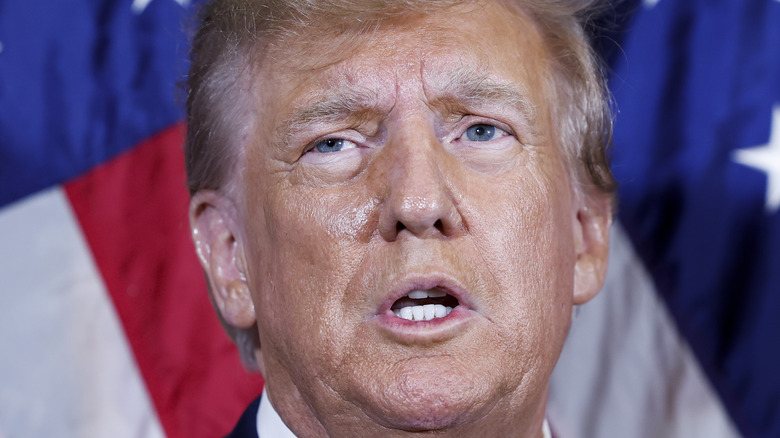 Anna Moneymaker/Getty Images
We may receive a commission on purchases made from links.
Before Donald Trump was elected president, he made a name for himself in real estate and on reality television with "The Apprentice." And he worked to put his name on any number of products, from steaks to an airline to a university. Over his career, he has written — or been listed as an author on — over a dozen books including "The Art of the Deal" and the novel "Trump Tower." Trump tweeted about his writing record in 2018, saying, in part, he had "written many best selling books." To which Tim O'Brien, who wrote "TrumpNation: The Art of Being the Donald," tweeted a contradiction, saying it was ghostwriters who did the writing work on Trump's books.
Whether Trump actually sat down to write anything for his latest book or whether he talked it out with a ghostwriter, we'll likely never know. But we do know that it will contain writing from an impressive range of celebrities and world leaders. "Letters to Trump" is set to come out on April 25.
Donald Trump's latest book will include his commentary on personal letters
According to Winning Team Publishing, a conservative publisher that was co-founded by Donald Trump Jr. in 2021, "Letters to Trump" will be a photo book that is centered on a collection of private letters Trump has received over 40 years along with his commentary on them. The publisher is touting that the book will include letters from President Richard Nixon, Hillary Clinton, Chairman Kim Jong Un, and Princess Diana. Axios has reported that the book will also include letters from Regis Philbin, Liza Minnelli, Ronald Reagan, Bill Clinton, and Oprah Winfrey. Winfrey's letter from 2000 includes the line: "Too bad we're not running for office. What a team!" Winfrey has since said that she isn't cut out for politics, per British Vogue.
According to the current Amazon listing, the book is available for pre-order and costs $99.99. A copy with a hand-signed bookplate is available through Winning Team Publishing for $399.99. Trump is doing what many presidents do after leaving office by publishing books. His first post-presidency was a coffee table picture book titled "Our Journey Together," with a selection of photos from his time as president.