The Truth About Donald Trump's Many Real Estate Challenges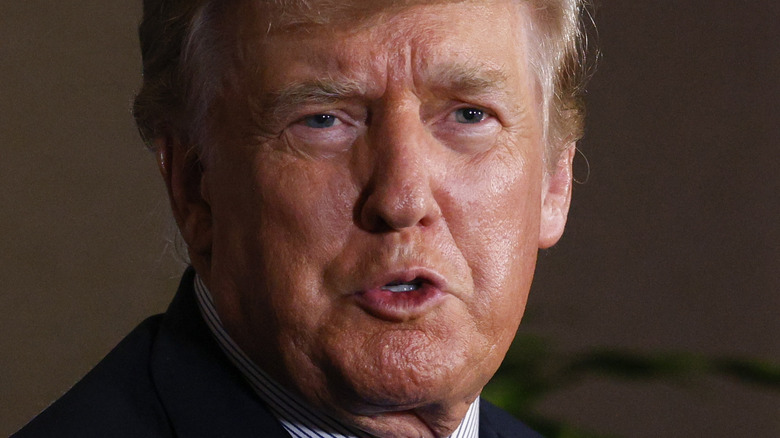 Douglas P. Defelice/Getty Images
To have an address on Fifth Avenue in the upper midtown section of New York's Manhattan borough might be a mark of prestige, but that status symbol hasn't been enough to keep tenants from deserting Trump Tower. Bloomberg reports that occupancy for the building has gone from 85.9% at the close of 2020, to 78.9% when 2021 came around. 
If the percentages don't look grim, perhaps the revenue data will, because the building earned the Trump Organization a cool $33.7 million in the first quarter of 2020, but that income dropped to nearly a fifth of that original amount, or about $7.5 million for the same period in 2021 (via Yahoo!). 
Thanks the uncertainty generated by the drop in rental earnings, Wells Fargo & Co. says the $100 million loan Donald Trump took out on the tower belongs on a watch list. This means the loan is now being more intensely monitored for events which may impact the borrower in a negative way (via Open Risk Manual).
Trump Tower only has a handful of reliable tenants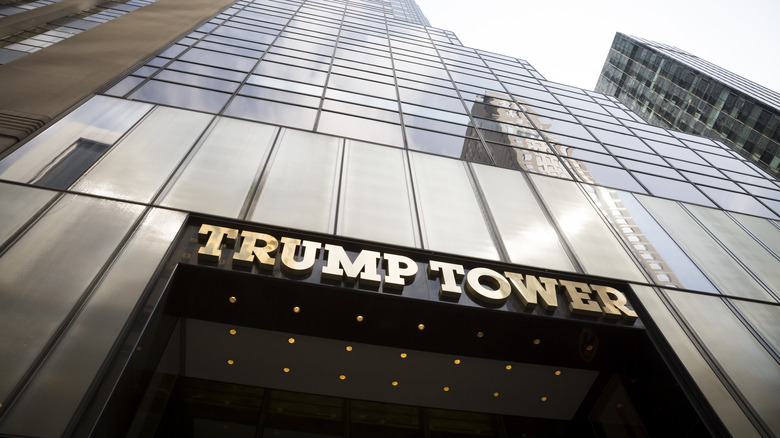 Glynnis Jones/Shutterstock
The drop in revenues should come as no surprise, because Trump Tower has been having problems collecting rent from those that lease office space. One company, Marc Fisher Footware, who used to make Ivanka Trump-branded shoes and occupied the 22nd and 23rd floors of the high-rise, owes $1.4 million in back rent, and the Trump Organization is currently in litigation to try and get the money back (via HuffPost). Another tenant, Marcraft Clothes, which once rented out the 18th floor of the building, owes $664,000 in rent but has gone out of business. A third tenant, the Legacy Business School, once had the Kardashian-Jenner matriarch, Kris Jenner, as its chairperson. The Washington Post reports that the school's tuition is higher than that of Harvard's — but that didn't keep the school from racking up $198,000 in rent and fees to Trump Tower management. 
This is not to say that the Trump Tower has no tenants – The Post notes that Trump Tower's  retail space is still being occupied by Gucci, and Trump management is collecting an eye-watering $85 per square foot for 5,490 feet worth of space from Trump's PAC — or at $37,541 a month. While the office space is grand enough to hold about 30, the PAC reportedly only has three hires — and they all work from home.
The loan taken out against Trump Tower matures in 2022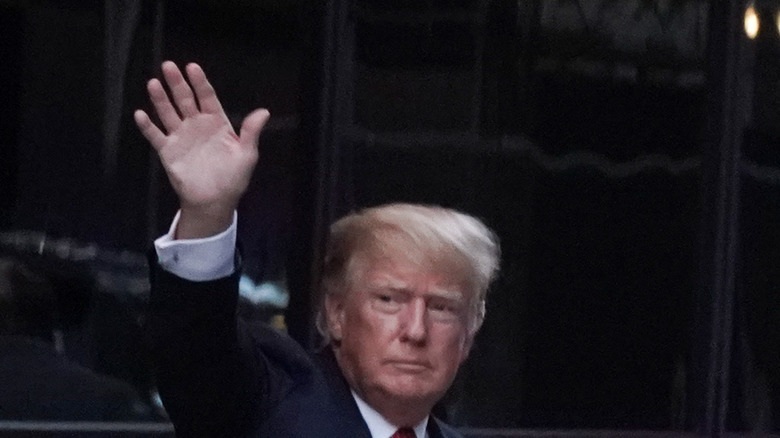 David Dee Delgado/Getty Images
The Trump Tower debt is just a part of the $900 million in loans that his businesses are believed to be carrying. The loans cover properties including Trump National Doral, the Trump International Hotel in D.C., the Trump International Hotel in Chicago, and Trump Plaza (via Forbes). Two other loans which had been set to mature at the end of September 2021, involving 555 California Street and 1290 Avenue of the Americas, were refinanced earlier this year (via Insider). 
The $100 million debt which is owed to Ladder Capital is scheduled to mature in 2022 and was personally guaranteed by the former president himself (via Vox). The other loans are also scheduled to mature between 2023 and 2024. Two of those debts are held by Germany's Deutsche Bank, which reportedly ended its relationship with Trump after the riots broke out in the U.S. Capitol this year. Whether Deutsche chooses to go back on its word and renew that relationship still remains to be seen (via Yahoo!).