Why Jill Biden's International Women's Day Awards Ceremony Is Sparking A Huge Uproar On Twitter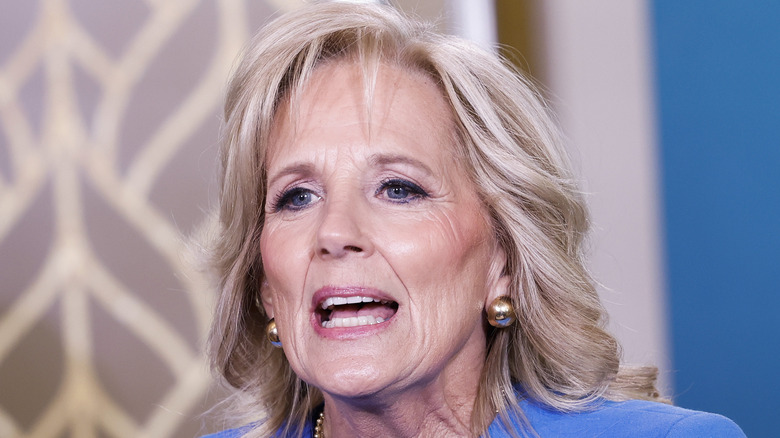 Anna Moneymaker/Getty Images
The following article includes discussions of transphobia.
International Women's Day on March 8 marks the celebration of the social, economic, cultural, and political achievements of women around the world. This historic day was first observed back in 1911 as women were actively fighting for equal rights, and was finally recognized by the United Nations in 1975. Nowadays, politicians, corporations, and individuals around the globe celebrate women on this day, as they encourage others to acknowledge the hard work and innovation of the women around them every day of the year.
This year, First Lady Jill Biden honored 11 global leaders at The White House on International Women's Day, thanking them for their "exceptional courage, strength, and leadership in advocating for peace, justice, human rights, gender equity and equality, often at great personal risk and sacrifice," (via ABC). Amongst the honorees was Alba Rueda, who made history as the first openly transgender politician in Argentina, serving as the Special Representative on Sexual Orientation and Gender Identity of Argentina's Ministry of Foreign Affairs. While many applauded the White House for recognizing transgender leadership and affirming her fight to end discrimination amongst LGBTQ+ people, others had differing opinions and took to Twitter to make them heard.
Twitter had lots to say about one of the honorees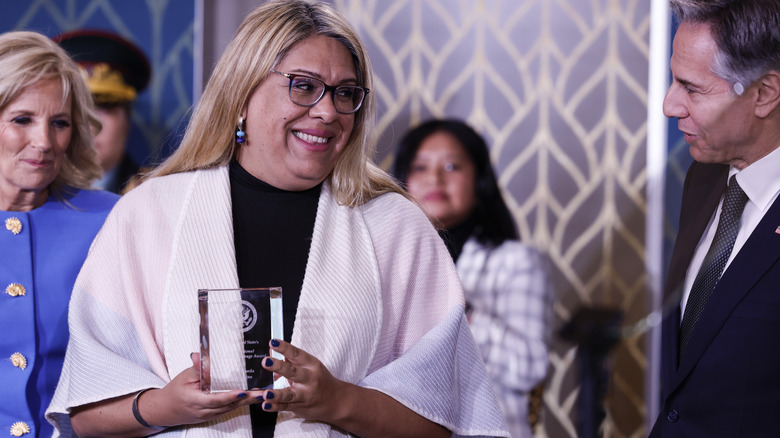 Anna Moneymaker/Getty Images
Jill Biden tweeted a photo of the 11 honorees on International Women's Day, saying, "Their legacy shows girls everywhere that when you raise your voice, when you move through the world with your shoulders back and your head held high, you can shift the ground beneath you." Some users responded with hateful comments directed towards Alba Rueda, claiming that giving her an award "takes away" from the idea of honoring women in leadership.
These comments come from people who do not support transgender rights, such as Governor Sarah Huckabee Sanders, who tweeted, "It's International Women's Day — a good time to remember that Democrats can't even tell you what a woman is." Another user tweeted a video of Rueda accepting her award with the caption, "Jill Biden presents an 'International Women Of Courage Award' to a biological male." This kind of erasure of Rueda's gender identity and hate towards her position spoke volumes on Twitter — and many came to her defense in the replies.
As many transgender women continue to advocate for their right to be celebrated on International Women's Day, their civil rights are being attacked on both political and social levels. According to the ACLU, there are currently 388 anti-LGBTQ+ bills in the United States, targeting everything from gender-affirming healthcare to banning drag shows. As advocates and allies continue to use their voices to call for positive change, violence against transgender individuals, especially transgender people of color, is still disproportionately high.