How Do Med Spas Differ From Traditional Spas, And What Services Can You Expect?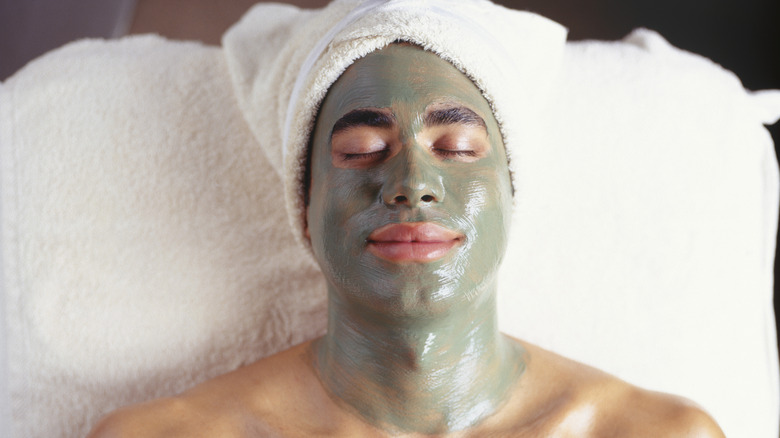 Steve Mason/Getty Images
With millions of people attending spas each year, it's clearly a soothing pastime and even a good example of self-care. After a long week in the office or days of strenuous workouts, a much-needed spa day can not only ease your mind but restore your body. But how do you choose the type of facility that is best for your needs? Well, if you're only seeking relaxation, then a traditional spa is the place for you. However, if your needs stretch beyond tranquility and you're seeking treatments for certain conditions, you may want to explore medical spas.
Medical spas, or "med spas" as they are widely known, may sound a bit intimidating, but many benefits seen in traditional spas are also offered in these facilities. The beauty of a med spa is that it can serve as a two-in-one — you can get a muscle-relaxing rub down and follow it up with a result-yielding procedure, which is even more reason to treat yourself to this innovative experience.
Skincare is a focal point in med spas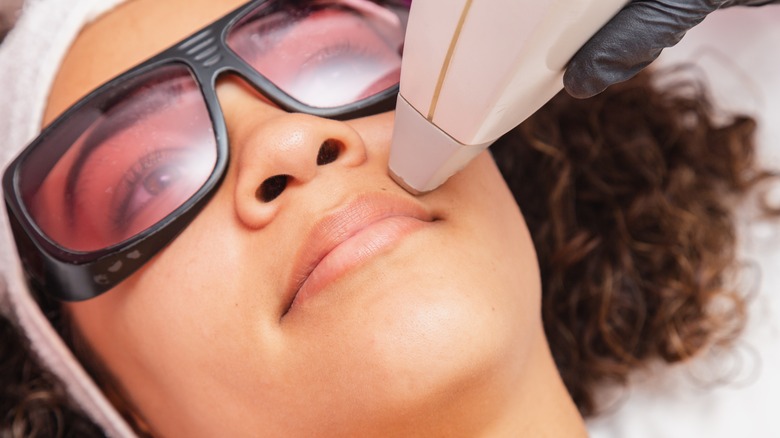 Bernardo Emanuelle/Shutterstock
For certain skin issues, med spas can deliver some much-needed relief. As a rule of thumb, always consult with a dermatologist if your skin condition requires medication or surgery. But, if your problems are more common such as hyperpigmentation or acne, most med spas have licensed aestheticians on hand to address these with various procedures, such as chemical peels. These can be highly beneficial for visitors who have concerns about their facial appearance. However, peels can be applied to other parts of the body, too, such as the hands and neck. Med spa aestheticians can carry out this non-invasive procedure by removing the top layer of skin, allowing it to grow back smoother. Healthline points out that while there are several types of chemical peels, the typical advantages of each are dark spot fading, wrinkle-smoothing, and texture balancing, among others.
Dermal fillers are also an excellent service that many med spas offer today. For those wanting to fill in wrinkles and restore cheek volume within the face, this may be the treatment for you — but don't expect a painless experience. Fillers are injected into the affected area, so prepare for a slight pinch, though based on the growing popularity of fillers, most aren't concerned with the discomfort. According to the American Society of Plastic Surgeons, the number of filler procedures in the U.S. skyrocketed from 1.8 million in 2010 to 2.6 million in 2016 (via CNN).
Med spas can help you shed those unwanted pounds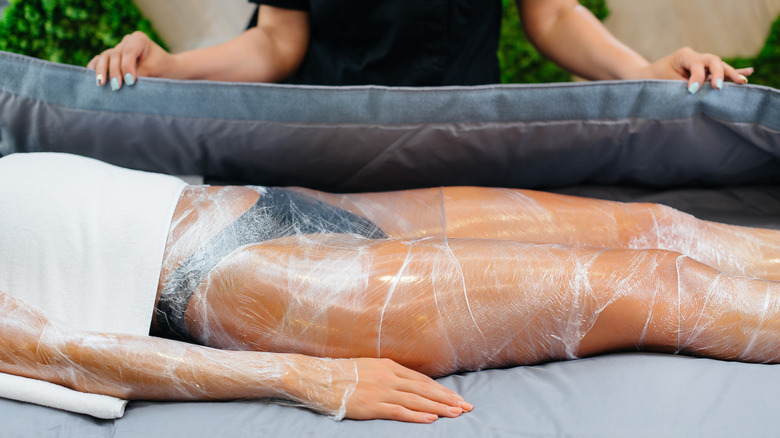 Andrii Medvednikov/Shutterstock
In addition to skin rejuvenation, med spas can help you lose some of those pesky pounds. One treatment offered in many locations is CoolSculpting. This FDA-approved technique is a popular belly fat remedy, often resulting in about 20% fat reduction in the targeted area over the course of 4 to 6 months, per Medical News Today. Fat cells are essentially frozen away during the procedure, which can help address particular problem areas. However, it shouldn't be considered a weight-loss treatment on its own.
Body wraps can also help shed inches from your waist while offering relaxation. According to SpaSeekers, body wrapping entails covering the body in a secure layer of plastic or cotton and then covering it, usually with towels and thermal blankets. While laying in this position for 30 to 60 minutes, the body will detoxify, decreasing body measurements and even improving the look of cellulite.
Med spas can offer a long list of services, but it is essential to note that not all of them provide identical services. For example, some might offer semaglutide injections for weight loss, while others provide remedies like B12 injections to help improve metabolism. The type of services will depend on the location and certifications of those employed there. Ultimately, knowing precisely what you're looking for before booking any procedures can save you time and money. When in doubt, always consult with your physician before receiving any treatments.