Everyday Tips For Styling Your Hair When You Have Alopecia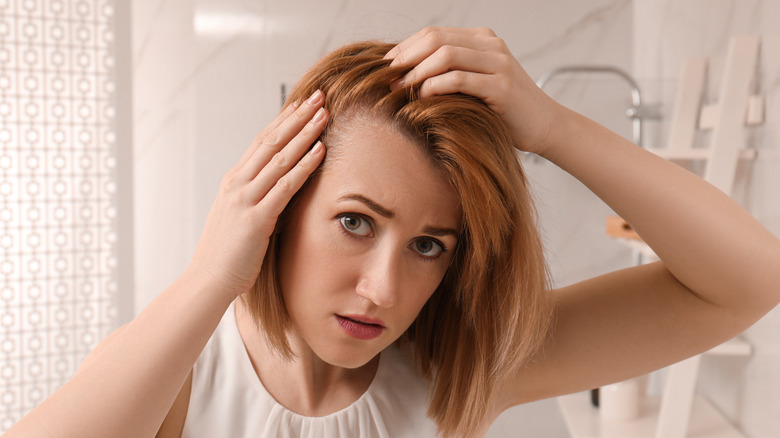 Liudmila Chernetska/Getty Images
We may receive a commission on purchases made from links.
Celebrities like Viola Davis, Selma Blair, and Jada Pinkett Smith have opened up about their experiences with alopecia, a hair loss condition that can have a number of causes. Alopecia areata is considered an autoimmune disease, meaning the body cells are attacking its others cells, though corticosteroids or topical medications can be used to treat it. Alopecia can be localized, appearing as patches of hair loss, while alopecia totalis is hair loss throughout the scalp, and alopecia universalis is hair loss throughout the entire body. Traction alopecia can also occur when there is too much strain on the hair follicles, even without the presence of alopecia areata.
Paul Wintner, the global education manager for Alterna Haircare, shared with Martha Stewart Beauty that there are differences between how men and women may experience hair loss, with men typically balding along the temples and women losing hair along their part lines. Though you may not be able to prevent alopecia linked to genetics or hormones — and there may be other surprising reasons your hair is falling out — there are plenty of ways to manage your hair styling to prevent further damage and volume loss.
Focus on what you can control
How does alopecia happen in the first place? Though it's still somewhat mysterious to researchers, the condition can be caused by factors like stress, a lack of sleep, hormonal shifts, and pregnancy. Researcher for Harklinikken hair products, Lars Skjøth, explained to Martha Stewart Beauty that "Hormones carry out the 'order' from the genes to attack follicles, which ultimately causes the hair follicle to shrink, resulting in gradually thinner hair." 
Styling choices can also contribute to worsening hair loss symptoms or what's called traction alopecia, meaning your strands are experiencing too much strain and falling out. "When the hair is pulled into a tight hairstyle, it creates tension between the hair and the follicle—and can ultimately tear the follicle," Skjøth shared. "Repeated tearing can create scars, and this damage will impede hair from growing." So, it's best to change things up regularly, switching your part from right to left and avoiding putting your hair up in the same styles too often. There are also products that can help you style your hair to give it a thicker appearance.
You can prioritize coverage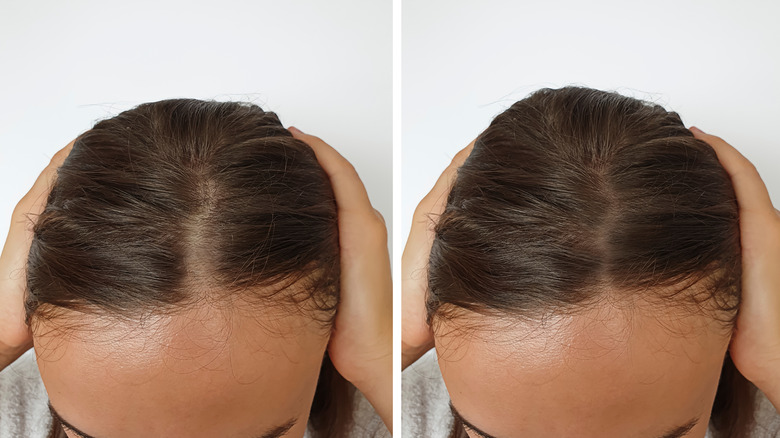 TanyaLovus/Shutterstock
Hair stylist Mia Santiago recommended 24K Root Boost and 24K Volumizing Mouse from Sally Hershberger to those experiencing hair loss, telling Allure, "This duo is going to give your hair lift, body, and the appearance of greater thickness—it'll really fill out a ponytail." Santiago also had other recommendations for making the most with what we've got.
For when you're losing hair at the crown of your head, Santiago said, "Alopecia acts similarly to a wild cowlick in that your hair will want to split open right where the trouble spot is. The easiest solution is to choose a style that's going to keep hair over the spot that's balding." This could mean an up-do is your best bet, but if traction alopecia is also a factor, sticking to looser styles might help you avoid any extra damage or loss. 
For filling in a widening hair part or balding spots, Color Wow root cover up gets the job done while being handily sweat resistant. And if you're looking to use extensions to fill out your hair, Santiago warned against clip-ins. Instead, hair falls like Halo Couture's are effective and keep the strain on your roots low.