What To Ask For In The Salon If You Want To Try Out The Cool Black Hair Color Trend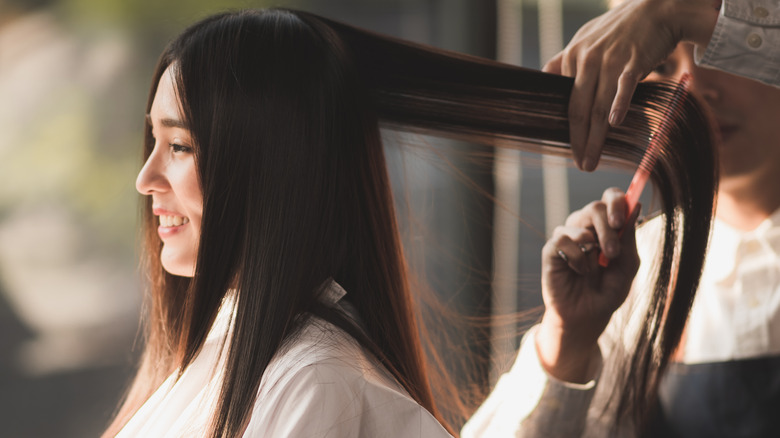 Chokniti-Studio/Shutterstock
Planning for your visit to the hair salon may be a little different now if you're considering making a major hair change. Not only will it be essential to find photo inspiration to show your hairdresser, but knowing how to explain the desired look will help ensure you are happy with the results. Clarifying a cut is one thing, but adding color to your hair is much more involved.
Knowing how to explain the details of the color is essential, especially if you're asking for a specific trend that your hairdresser may be unfamiliar with. When it comes to the cool black hair trend that celebrities from Lucy Hale to Megan Fox are rocking, subtle differences in shade and tone create the appearance of black hair. However, you actually see a mix of dark brown hair with extremely cool tones.
Understanding these nuances usually takes a colorist's eye, but once it's explained, you can walk into your salon and sound like a pro.
You'll need to get your hair to an 'almost black' shade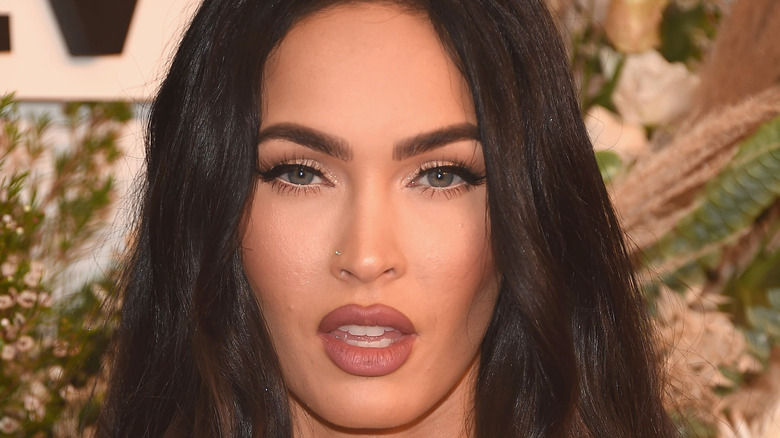 Gary Gershoff/Getty Images
For those who are natural brunettes or have deep brown hair, the approach to the cool black color will be easier since you're already closer to the end product. However, if you have blonde hair, light brown, or even red hair, this process will take a few more steps. The cool black hair color is a subtle variation in the tone of darker shades, which means anyone with lighter hair who wants in on this trend will need to go much darker first.
While various shades of brown hair will have some natural warmth, in order to achieve this cool black color, you'll then need to ask your hairdresser to add cool undertones. Undertones refer to the tinge of color that isn't immediately apparent but helps to create a specific hair color look. Ashy hair is in the cool-tone family, along with shades of green, purple, gray, and blue.
Interestingly, if you have naturally black hair, in order to add depth and shine you'll need to ask your hairdresser to add some warm tones like gold, copper, and red to give your hair body and achieve this look.
Understanding the color wheel
Marianvejcik/Getty Images
The first step in knowing what to ask your hairdresser is to understand what undertones you have in your hair currently. Then, you can check out the color wheel for hair to see what tones need to be added or removed to get you to that perfect cool black. Everyone's eye is slightly different so a hairdresser might see colors in your hair that you missed, which is why having pictures of what you want is super helpful.
When you look at a color wheel, direct opposites cancel each other out. So, if you have red in your hair and want more cool tones, you'd look for a green toner. Similarly, those with really blonde or yellow hair are often seen reaching for purple shampoo. Understanding these colors may give you the confidence to attempt this trend at home, and while that may make for a memorable experience, going to a professional is a much safer bet.
Another effective way of explaining to your hairdresser what you want out of this cool black trend is by providing examples of where you've seen this color before. Similar to the look of your morning black coffee, espresso actually has color tones equivalent to this hair trend. The term "espresso hair" refers to the mixture of colors that come from black coffee and the crema that is often a warm brown tone. Asking for a combination of these colors will give your hair a shiny and multidimensional look that is striking and beautiful.