King Charles' Latest Title Shakeup Could Result In A Very Special Future Role For Prince Louis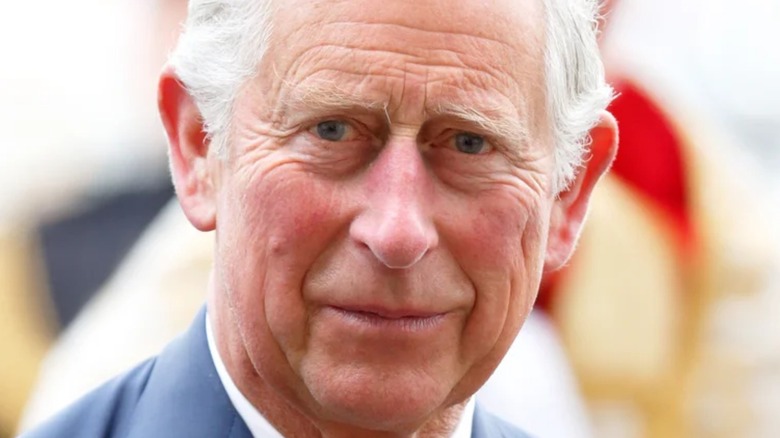 Max Mumby/indigo
When Prince Philip married Queen Elizabeth II in 1947, he was bestowed the title of Duke of Edinburgh. Since his passing in April 2021, there's been no one to take it over. However, there's now a new Duke of Edinburgh. King Charles III has bestowed the title upon his younger brother, Prince Edward, announcing the change on Edward's 59th birthday, per the BBC. Edward's wife, Sophie, is now the Duchess of Edinburgh — a title last held by Her Majesty before she became queen.
The bestowing of titles is a regular part of the monarch's job. In fact, one of the first things Charles did upon taking the throne was to name his son Prince William and his wife, Catherine Middleton, the Prince and Princess of Wales. Elsewhere, Prince Edward, who has kept a relatively low profile in the royal family, was previously the Earl of Wessex, a title his son now has. One important thing to note when it comes to the Duke of Edinburgh is that it's a title Edward will hold only for his life.
Thus, that opens things up for considerable speculation as to who will be the next generation's Duke of Edinburgh, and one prime candidate is none other than four-year-old Prince Louis.
Prince Louis could someday receive his great-grandfather's old title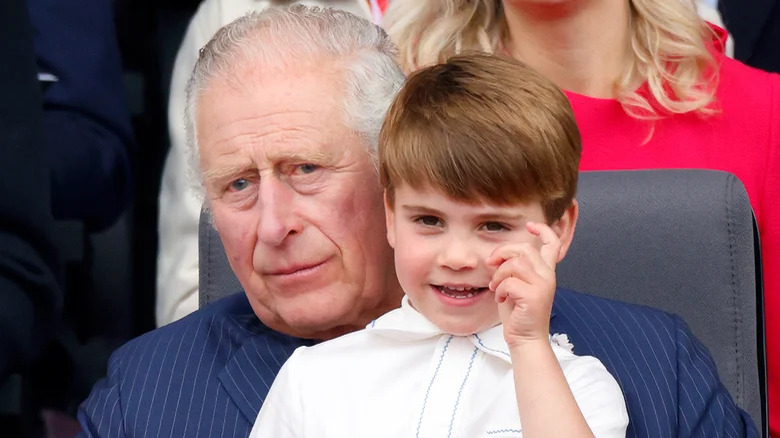 Max Mumby/indigo/Getty Images
The Duke of Edinburgh title is not bound to any one family — other than the royals, of course — so it's not one that Prince Edward can pass on to his children. Upon his death, the title will go back to the monarch to be bestowed at their choosing. That means the fifth Duke of Edinburgh could be Prince Louis, the youngest child of William, Prince of Wales, and Catherine, Princess of Wales, according to The Mirror.
Prince George already has certain guaranteed titles. Since he's the eldest son of the Prince and Princess of Wales and next in line to the throne after his father, George will become the Prince of Wales and the Duke of Cornwall when William becomes king. So it makes sense that Louis is a prime candidate to receive the prestigious Duke of Edinburgh title someday. Town & Country reports that Edward was generally expected to get it for years.
While the title doesn't come with any land, the holder has the responsibility of supporting the Duke of Edinburgh's International Award. Founded by Prince Philip in 1956, it's an initiative for teens and young adults that rewards them for completing various self-improvement activities. Before we find out if Louis becomes duke, we'll see if he's a Duke of Edinburgh award winner — especially since his father notably never managed it, per the Shropshire Star.
Prince Louis' current title comes from Queen Elizabeth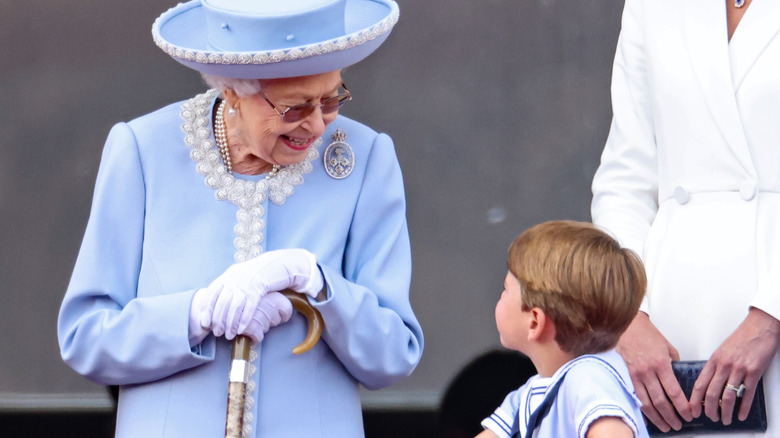 Chris Jackson/Getty Images
With the gifting of a new title to the former Prince Edward, the royal family has now filled in titles that have long gone vacant. This, of course, has the youngest Prince of Wales poised to potentially become the Duke of Edinburgh in the future. As the youngest child, it's quite amazing to think of him becoming a duke. According to the peerage system of Britain, the title of duke is the highest ranking of its kind (via Debrett's). It is also the most exclusive since it is granted solely by the monarch.
It's important to note that Louis' current title of royal Prince would not be so if it weren't for the dedication of his late great-grandmother Queen Elizabeth. Per The Mirror, a rule was set in place in 1917 by King George V that restricted which royal family members could receive titles. The immediate children and grandchildren born through the male royal family member's line would all receive titles. Unfortunately, this stopped at the great-grandchildren who would not receive a title. In 2013, anticipating Prince George's birth, Her Majesty would overwrite the rule, ensuring her great-grandchildren their rightful titles as royals (via Express).