The Most Underrated Rare Beauty Blush Shade Looks Amazing On All Skin Tones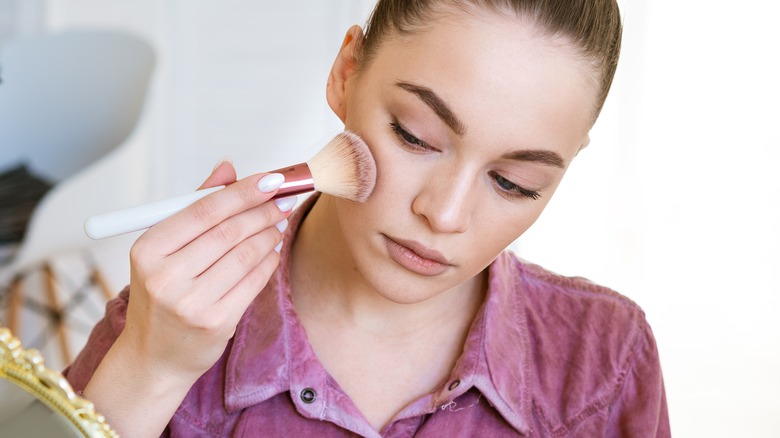 Pereslavtseva Katerina/ Shutterstock
When your face feels dull or tired, blush is an absolute godsend. Warming up the apples of your cheeks, it gives the effect of an inner glow and healthy blood circulation. Blush tutorials and reviews are all over TikTok at the moment, and one particular blush that has been raved about over and over is Selena Gomez's Rare Beauty product, "soft pinch." The hashtag #rarebeutyblush has 895.8M views on TikTok. On Sephora, over 1.4M users have "loved" the product.
The contouring stain comes in the form of cream-based blush, which is becoming increasingly popular. Some differences between powder blush and cream blush have made Gomez's product so loved. Celebrity makeup artist Jamie Greenberg tells InStyle, "Cream blush is the perfect product for achieving a dewy flush ... [they] tend to look more natural than powders and have great staying power." "Soft pinch" comes in 11 colors, one of which is blowing up on TikTok — "lucky."
What people are saying about lucky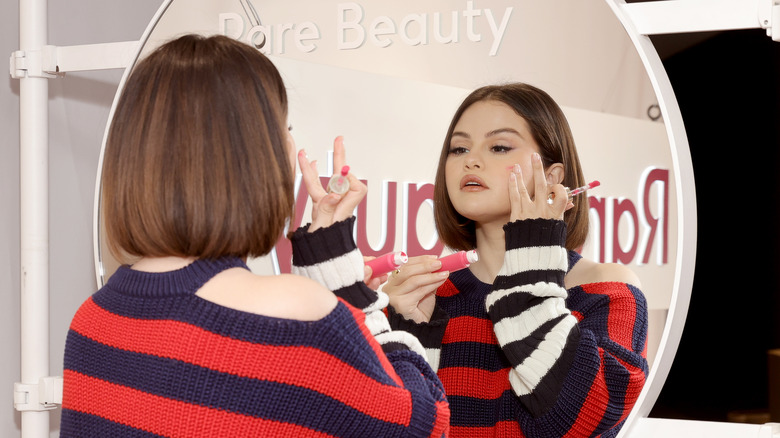 Mike Coppola/Getty Images
At first glance, the blush color "lucky" might scare you off. It is a bright, bold shade of hot pink. We know what you're thinking — "you probably have to be a special exception to pull that off." But this is far from the truth. In fact, what's surprising about the hashtag feed for #rarebeautylucky is that there is a wide variety of skin tones, types, and bone structures. As you scroll through the 6.7M posts, you'll find light, medium, and dark skin types glowing in "lucky."
TikTok user @sarah_wolak created a green screen video exemplifying this color's versatility. The video begins with her reaction to another TikTok created by @theplasticboy. He applies "lucky" after a commenter recommended it for deep skin. After blending the liquid blush into his darker complexion, his cheekbones are stunning. @sarah_wolak follows his lead. And while her complexion is fair, the color works just as well with her look.
How to apply lucky
One thing you should note when applying the "soft pinch" liquid blush is that it is notoriously pigmented. One review on Sephora writes, "All you need is one dot on each cheek because it is so pigmented. Make sure not to put too much on." In TikTok user @juliempiedra1's video, she applies the shade "lucky" onto her skin and is shocked by how bright it appears. After dabbing on just one dot, she blends it with her brush. Even with this small spec, she says, "I had to use a few different tools because I used too much."
The Rare Beauty website recommends, "Apply under foundation for that ultra-natural blushed look that will create an underlining healthy glow." In terms of where you apply the blush, aim to find a placement that compliments your face shape. Ideally, you'll want the hot-pink tint to lift and sculpt your features.