A Common Household Item Is All You Need To Fix Broken Makeup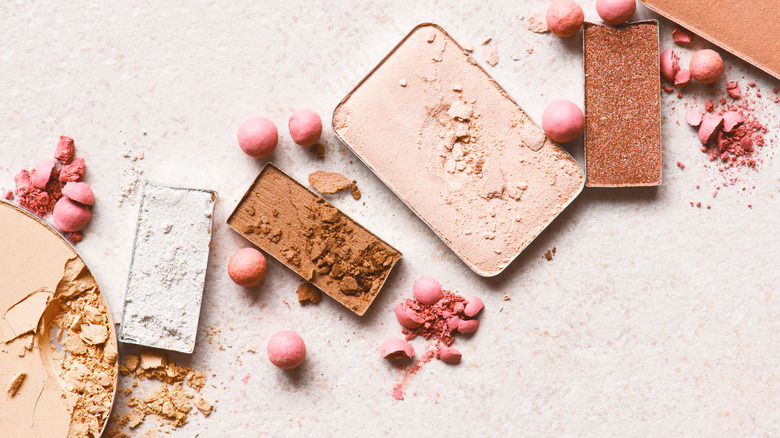 Alinakho/Getty Images
Walk down any aisle in your favorite beauty store, and you'll know that makeup is costly. In 2022, beauty became a $49 billion industry, according to Statista. Furthermore, a 2021 study conducted by Groupon (via SWNS Digital) found that women spend $313 a month on average on their appearance, including makeup and other beauty products. Even in difficult economic times, the lipstick effect proves that people will still purchase cosmetics. However, consumers want products that are actually worth their money. This may be why it's so disappointing when your favorite or splurge-worthy makeup products break.
This can occur when you drop your palettes or when the kids decide to play dress-up. However, this is especially common while traveling. Getting to your destination and finding that your eyeshadow or blush hasn't survived the journey can put a damper on your vacation. To avoid this, make sure to keep your makeup in your carry-on. You can also place palettes and compacts in bubble wrap. In addition, placing cotton pads on the inside of a compact can prevent disaster by providing an extra cushion layer. And if your makeup does break, there's no need to throw it out. It'll be good as new with a bit of DIY magic and one common household item: rubbing alcohol.
Rubbing alcohol is key
Fixing powder makeup requires one common household item: 91% isopropyl rubbing alcohol. Beyond first aid purposes, this is a good reason why you should always have rubbing alcohol in your home. First, take your powder and break it up even further in the compact to create a fine powder. You can use a toothpick for this process. Next, add a few drops of the rubbing alcohol and mix. Lastly, flatten this mixture back inside the tray or compact it came in. Leave your powder to dry for some time before using it.
In a TikTok video, user @emilyyyroses showed step-by-step how she fixed her broken powder bronzer in a similar process using rubbing alcohol, a plastic baggie, and a spoon. In her video, she notes that she left her compact open and uncovered for 12 hours to dry. If you don't have rubbing alcohol or prefer not to use it in your makeup products, you can use this same process with either filtered or micellar water.
Alternatively, you could forgo this method and use your broken powder product, like eyeshadow, blush, or bronzer, as a loose powder. You only need to crush it more finely and place it in a clean container.
Here's how to revive your lipstick or mascara
Powder makeup is not the only beauty product that can fall prey to breakage. Lipsticks, whether from a drugstore or a luxury brand, can be fragile. Luckily, it's not the end of the world if it does break. All you need is another common household item: a lighter. Makeup artist Hannah Hatcher explained how to fix a broken lipstick using this approach to InStyle. She said, "After about 8 to 10 seconds of heat, take the piece of broken lipstick and place it on top of the base, gently pushing down." Hatcher added, "Let the lipstick set for a few minutes, then clean up any rough edges with a tissue."
To ensure the pieces meld together properly, Hatcher suggests placing the lipstick in the fridge overnight. Boxycharm, a beauty subscription service, demonstrated this technique in a separate TikTok video. If you don't want to use heat, put the broken pieces of lipstick together and then place the lipstick in the freezer. If neither of these strategies does the trick, you could transfer your broken lipstick into a container or palette of your choice to use on your lips and cheeks. Melting your lipstick in the microwave could make this process easier.
As for mascara, it can't break, but it can dry out. Tiktok account @maybelline_my recommends putting your mascara in hot water for five minutes to get it working like you did the day you purchased it.