What Happens If You Don't Use Heat Protectant Every Time You Do Your Hair?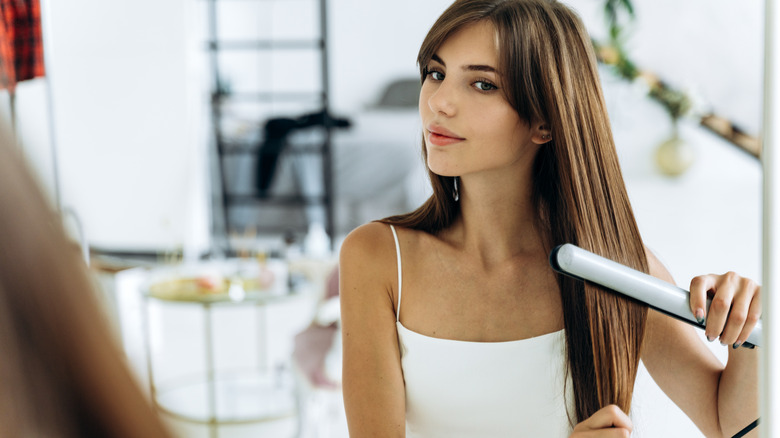 Sklo Studio/Shutterstock
Styling your hair before stepping out of the house can do wonders for boosting your confidence, and it can help you achieve the hair of your dreams. Styling tools like curlers, straighteners, and blow dryers are staples in many of our hair care routines. Although you might not think twice about running a straightener through your locks, you may be causing damage to your hair that can be prevented.
When you use styling tools that use heat, you increase the risk of split ends, breakage, and more — which no one wants. The best way to keep your hair healthy, shiny, and strong is to use preventative measures like the best heat setting for healthy hair and adding the right products to your roster. Using a heat protectant before using styling tools can help prevent damage, while keeping your hair looking its best. If you're thinking this is a step you can skip, think again.
What is a heat protectant?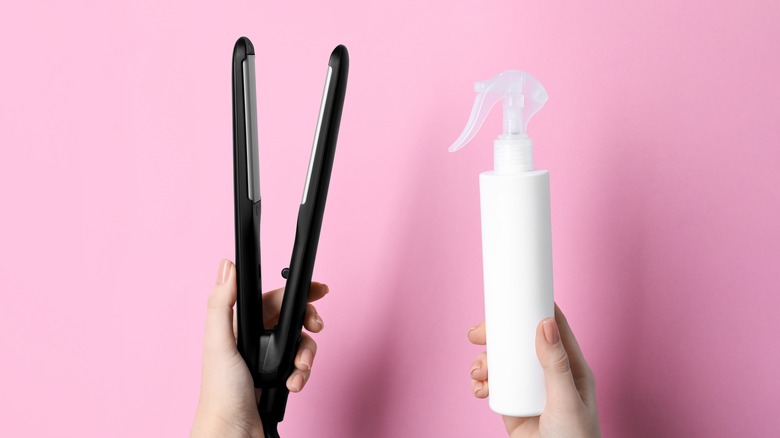 New Africa/Shutterstock
A heat protectant is a type of product that reduces the damage done to your hair from heated styling tools. By adding a protective layer over your hair, the product keeps your locks shiny and smooth. You should use a heat protectant first before styling for the absolute best results. These haircare products typically come in the form of sprays, creams, or serums that you can run through or spray into your hair before completing your look.
This goes for all heated styling tools too, not just curlers and straighteners. Stuart Marsh, a Color Director at Taylor Taylor London, tells Glamour it's best to use a heat protectant when "using any direct heat on your hair, even when blow-drying." Heat protectant works by "forming a protective layer over the hair, which seals in moisture to the hair shaft and stops it from drying out," says Stuart. 
What happens to unprotected hair?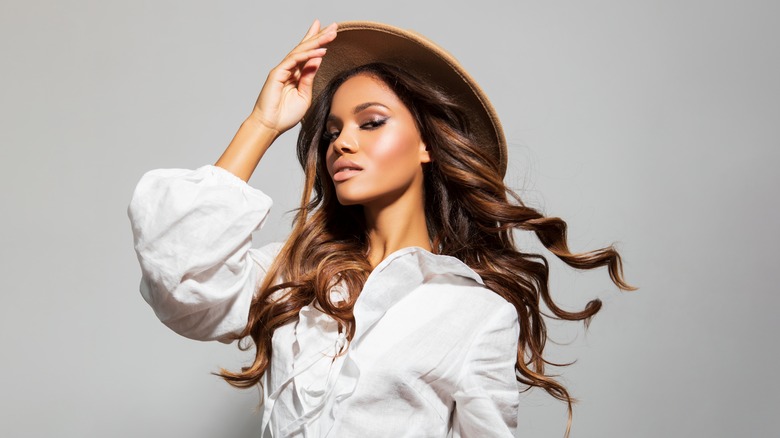 L Julia/Shutterstock
Heat protectant will keep your hair healthy and hydrated by sealing in moisture that you'll otherwise lose after you style it. There's nothing worse than having dry and brittle hair, and although heat protectants don't completely prevent the damage that comes from using heat styling tools on your hair, they do minimize it. Regardless of what type of hair you have, it will succumb to the damage of styling tools if you don't add products to it first. If you have coily or curly hair, it's especially vital that you use a heat protectant as this hair type is prone to dryness.
When you skip using a heat protectant on your hair before styling it, your hair can suffer in many ways. Without a heat protectant, you can experience cuticle damage, frizziness, split ends, breakage, and your hair turning brassy, losing its color, or becoming dull and dry. It's also essential that you wait until there's little to no moisture left in your hair before applying styling tools to it. Using heated styling tools on moist hair even if you've added a heat protectant will still cause steam to rise, which is a telltale sign that you're causing damage to your hair. 
There are a variety products on the market that can help you replenish the moisture in your hair like leave-in conditioners and hair masks if you're dealing with brittle, dry, or dull hair. However, most hairstylists will recommend using a heat protectant.