Try The Viral Blush Hack That Will Give You A Perfect Placement Every Time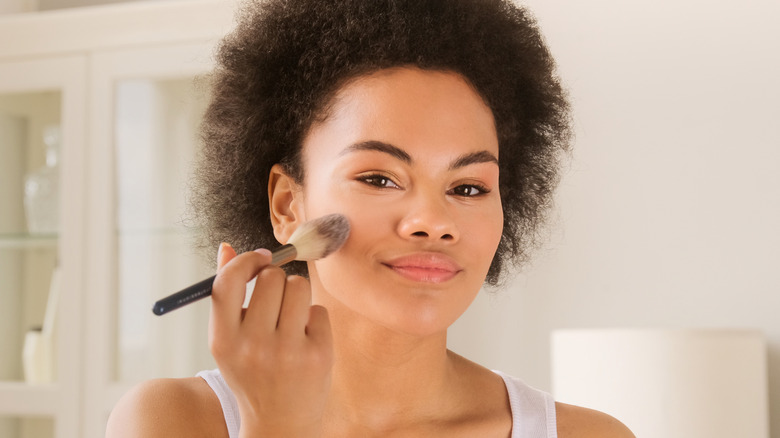 AliceCam/Shutterstock
Blush is making a comeback. As David Razzano, beauty director at Sephora, told Glamour, we have Gen Z and their love of cream blush to thank for blush coming back into the spotlight. "We've seen more and more clients gravitate toward cream blush because its creamy texture creates a smooth, natural, and skin-like finish that blends seamlessly into your complexion," Razzano explained.
Although blush has been around since ancient history, it seems like we're finally starting to get the hang of it. There's even a shade of blush that looks amazing on all skin tones. But despite its long history and recent boost in popularity, blush remains one of the more challenging types of makeup to wear. If you apply it just right, blush will make your skin glow and your face lively and give you an overall look for the day. But if your brush drifts during application, it can quickly shift into looking artificial or clown-like instead of the natural glow you want.
Misplaced blush is now a thing of the past, thanks to this viral blush hack that gives you perfect placement each time you lift a brush to your face.
Holding your face makes all the difference
To get your perfect blush results, try the following hack. Make sure your hands are washed and sweat-free before attempting this, or you might smudge the rest of your makeup. And no one wants to start over from scratch after spending a portion of the morning getting your makeup right!
Take your hand and hold it up to your face with your palm facing you. Lightly press your index finger along the bridge of your nose and hook your thumb beneath the cheek you want to apply blush to first. This J-shape acts as a structure for placing your blush exactly where it needs to go. It makes the skin protrude a little more, giving your cheek the definition you need for a more precise application. Apply your blush directly on the part of your cheek captured by your hand, and you've got perfect, precise blush every single time.
This blush works best with the hack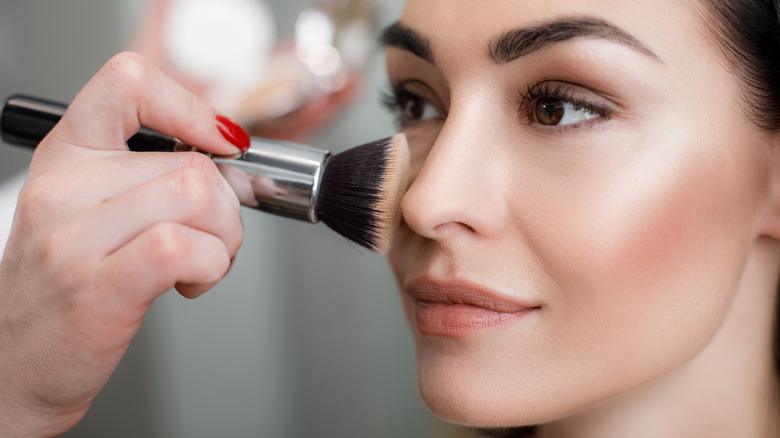 Olena Yakobchuk/Shutterstock
Pretty amazing, right? You can get photo-finish blush with just a brush and your hand. We love a simple hack. But there are a few tips to consider if you want this hack to work even better for you.
In the TikTok tutorial, user @brittanykolbabeauty uses a cream blush on her face. Cream blush is a great alternative to powder blush, particularly if you're looking for a more natural and lightweight tint for your cheeks. You can use your fingers to apply cream blush, but a brush will also give flawless results. The Blush & Bronzer Brush from SEINT was built with blending in mind. The smaller end balances blush with your skin's natural texture, giving you an organic look.
You're probably thinking to yourself, "How have I never thought about doing this?" We know we are! It just goes to show that sometimes the simplest of hacks make the biggest difference, not to mention saves you the most time. This hack takes less than a minute, so we recommend it for people who wear blush every day and stay on the go.