Ana De Armas Gives Us A Crash Course At The 2023 Oscars On How Not To Recreate An Iconic Look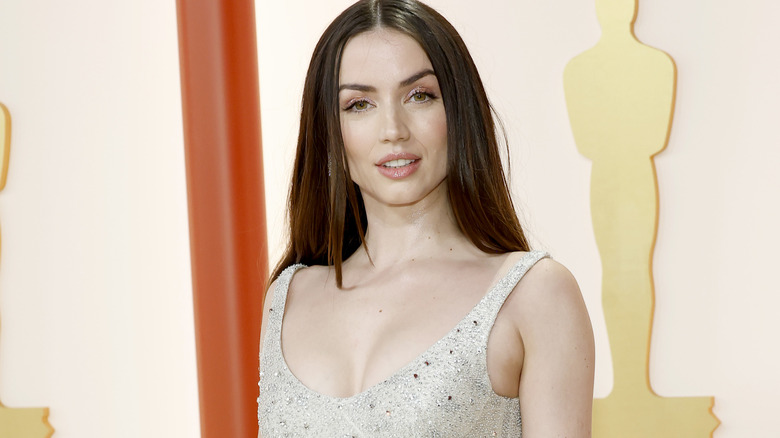 Mike Coppola/Getty Images
You may have first seen Ana De Armas in her iconic role in 2019's "Knives Out" before her star rose over the last few years in Hollywood. When asked what she would say to her younger self about being nominated for an Oscar in 2023, Ana De Armas told Variety, "Without sounding pretentious, I think I would probably believe it." 
The actress explained, "Since I was a little girl, I think I was always very ambitious, and I always knew what I wanted to go for. Maybe not the Oscars, but I knew I wanted to grow, and I wanted to meet incredible people, and I wanted to be an artist." De Armas added that though she represented the film "Blonde" alone at the Oscars, she knew it wouldn't have been possible without her collaborators at Netflix. 
 The styling in "Blonde" is spot-on, recreating historic Marilyn Monroe looks throughout its fictionalized storylines. De Armas stunned in Netflix's adaptation of the Joyce Carol Oates novel of the same name, but when it came to her Oscars look, some fans felt she fell a bit flat. It certainly won't make a list of the most iconic Oscars dresses from the last 20 years. 
The look was too understated for Marylin Monroe fans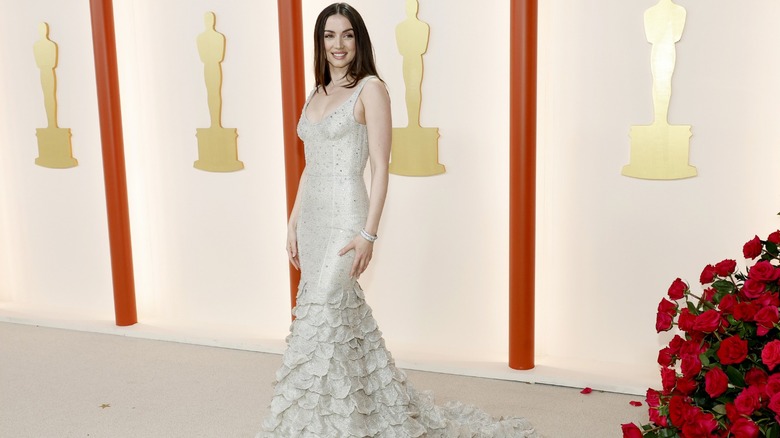 Mike Coppola/Getty
Both of Ana De Armas' 2023 Oscars weekend gowns bore a loose resemblance to the iconic dress Marylin Monroe wore to sing "Happy Birthday" to President Kennedy in 1962. Of course, Kim Kardashian borrowed the actual dress from Ripley's Believe it or Not to wear to the 2022 Met Gala, though she received criticism for potentially damaging the historic gown.
De Armas wore a nude structured piece to Netflix's Oscars party. For the main event, she chose a Louis Vuitton gown in silver, with a sweetheart neckline and rhinestone embellishments similar to the original Monroe number. However, her second gown's scalloped edging was a divergence from Monroe's style, and De Armas' loose hair left audiences wanting more. Twitter complained that the stringy pieces in the front were less than flattering, and they certainly didn't look anything like Monroe's signature bob or finger waves. 
And while De Armas' ballgown gave a visual homage to the old Hollywood star, her understated makeup also failed to match Monroe's glamour. Though we might have hoped to see an attempt at Monroe's signature cat eye, De Armas' team opted for a glossed pink lip and matching toned blush and glittery eyeshadow.