Oscars 2023: All The Worst-Dressed Stars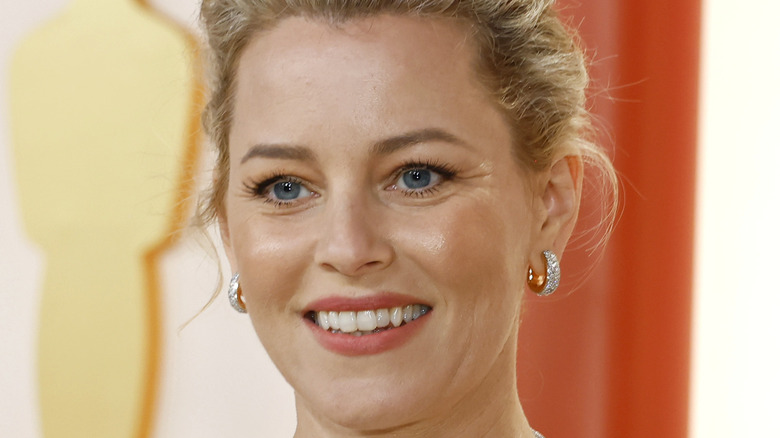 Mike Coppola/Getty Images
We have to admit: the champagne carpet didn't give us as many fashion faux pas as the classic red carpet usually does. In general, the attendees of the 2023 Oscars came dressed to impress, and we saw many more unforgettably good looks than we do at the average awards show. Still, that doesn't mean that there weren't any fashion offenders to walk the carpet. We're used to seeing iconic Oscars dresses every year at the ceremony that honors the best in cinema. Unfortunately, a few of the looks from this year will stick in folks' minds for the wrong reasons.
While the Oscars is one of the biggest events in Hollywood, it felt extra star-studded this year with plenty of fan-favorite celebs and incredible forces in cinema. Consequently, it was with a heavy heart that we had to add some of our all-time faves to our definitive 'worst dressed' list. We know, however, that all's fair in love and fashion, and just like this year's Oscars, this 'worst dressed' list is one for the books. 
Jennifer Connelly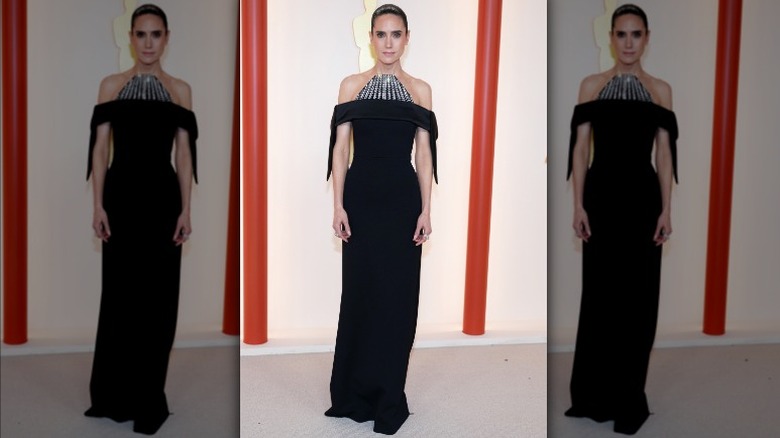 Kevin Mazur/Getty Images
Jennifer Connelly made quite a choice with her Oscars look, and while she was close to putting together a sophisticated and chic look, we consider this ensemble a swing and a miss. Connelly narrowly passed by the sleek and elegant possibilities and, instead, delivered a look that's more on the harsh and cold side. The unique, geometric neckline of the dress paired with her slicked-back hair and high-contrast makeup looks severe: the black off-the-shoulder style with looser hair may have made her features stand out more.
Dwayne 'The Rock' Johnson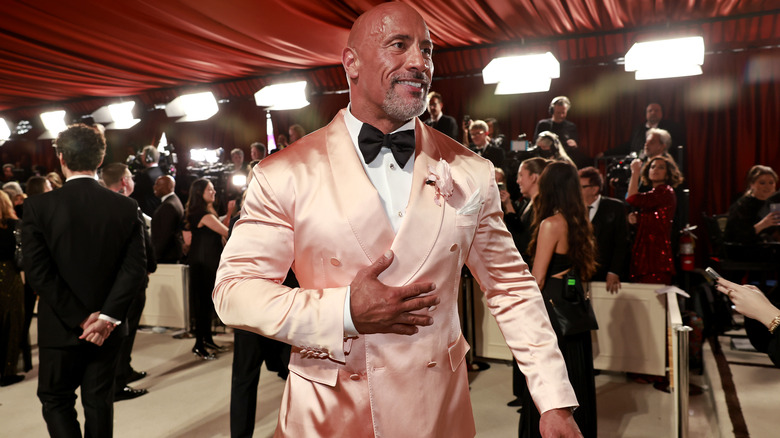 Emma Mcintyre/Getty Images
The Rock certainly got the memo that there would be a champagne carpet at this year's ceremony, and he went for a champagne look of his own. Unfortunately, this twist on the classic tux didn't do The Rock any favors. The sheen finish on his jacket paired with a matching boutonnière reminded us more of an '80s prom look rather than the outfit of a star at the Oscars. Pairing it with black pants and a bowtie to match only acted to make the look even more underwhelming for a special occasion. 
Florence Pugh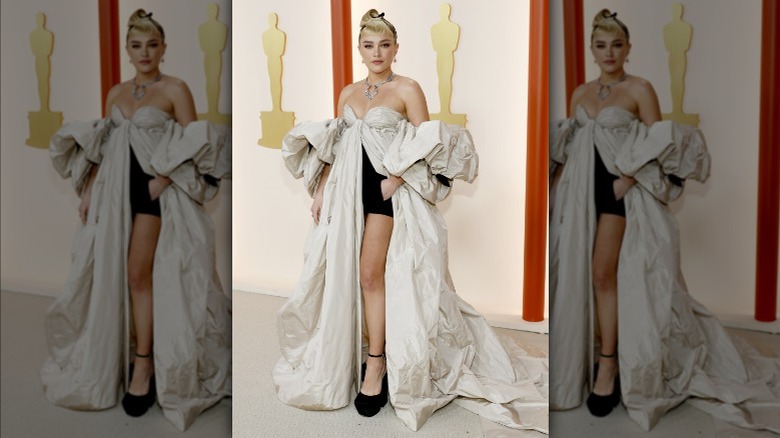 Mike Coppola/Getty Images
Say it ain't so! We all love Miss Flo, but we do not love her complicated Oscars look. Not only does the beige tone of her over-the-top gown wash her out, but it's too reminiscent of a fitted bedsheet to work for the red carpet. Her black short shorts and chunky platform shoes peeking out through her dress' daring slit only acted to make her dramatic look more casual and make the palette even less complementary to Pugh's natural coloring. Her unusual hair and jewelry added more complications to her look which already had too many mismatched details.
Zoe Saldana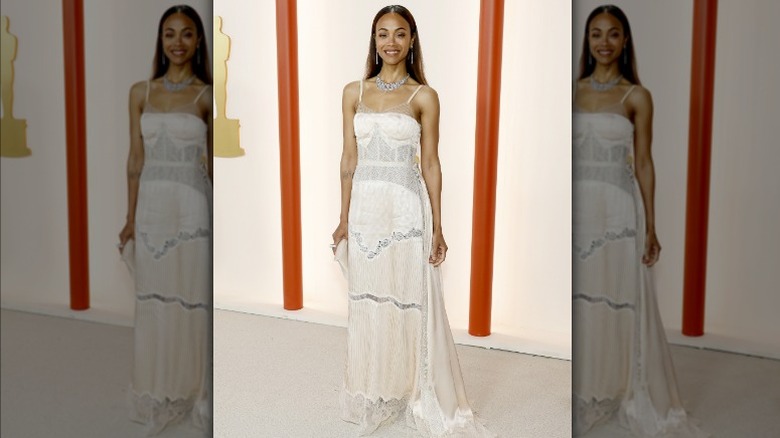 Mike Coppola/Getty Images
We all know that jewels can certainly dress up plenty of looks, but glitzy jewelry wasn't enough to make Zoe Saldana's nightgown-esque ensemble look Oscar-worthy. While this color did match the unique tone of the carpet perfectly, it washed Saldana out. In a bolder hue, this gown may have let her show-stopping beauty shine. This color, however, came off as drab, and her simple, undone hair only made the look feel even more like some very fancy pajamas.
Allison Williams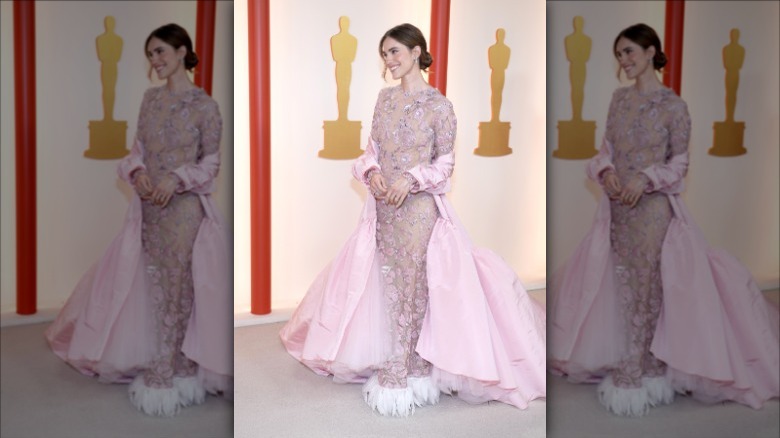 Kevin Mazur/Getty Images
It's not easy to look less than perfect when you look like TV and movie star Allison Williams. That said, this ensemble left plenty of folks scratching their heads. From the waist up, this dress is perfectly pretty in pink, but the waist down is a very different story. Williams looks a bit like her Oscars dress got stuck in the world's biggest wad of bubblegum. The big skirt and train are overwhelming, and the way they connect to the sleeves is perplexing. We think she should have left home without the dress' frilly parts.
Ashley Graham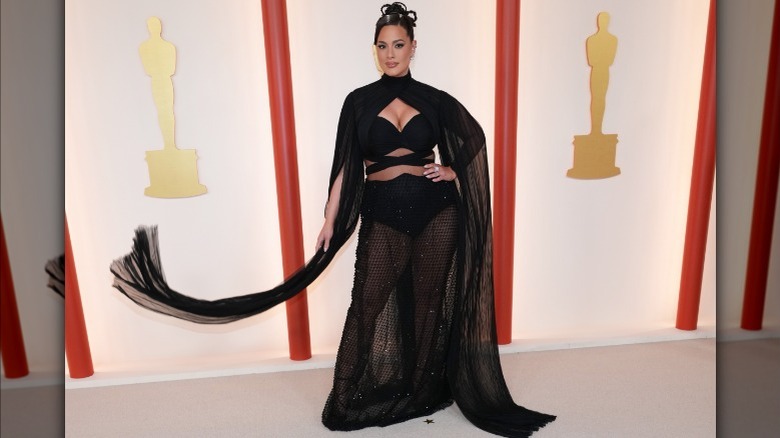 Kevin Mazur/Getty Images
Supermodel Ashley Graham is usually a fashion authority, but this look isn't what we're used to seeing from her. The cutouts paired with the sheer skirt look way more like clubwear than a fancy gown, and the sheer cape doesn't help to elevate the look. While the Y2K revival has taken over fashion and beauty trends, this early aughts throwback hairstyle doesn't coordinate with the ensemble, and it further makes this look too casual. 
Elizabeth Banks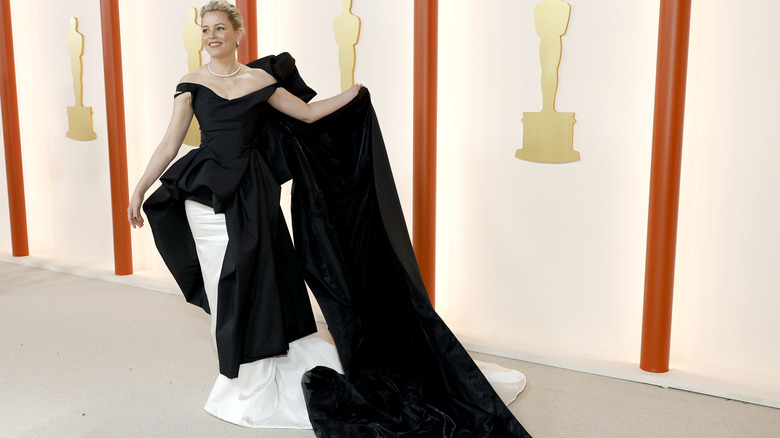 Mike Coppola/Getty Images
Usually, the odds are ever in Elizabeth Banks' favor, especially with her recent movie, "Cocaine Bear." Unfortunately, this look is an exception. We love geometric, artistic statements on the red carpet and ones in a bold black-and-white color palette are even better. With this look, however, we don't know where to look, and we find ourselves looking everywhere but where we should be looking: at Elizabeth Banks. The Oscars are a perfect place for a high-drama fashion moment, but this star got lost in this dramatic two-toned, voluminous gown.
Rooney Mara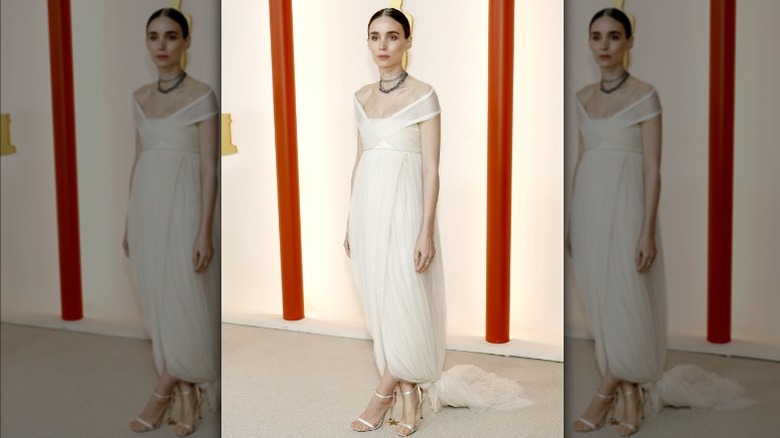 Mike Coppola/Getty Images
White was a surprising trend that graced the champagne carpet this year, and there were plenty of fashion moments that proved this hue to be a winning choice. Rooney Mara's look, however, was not one of these moments. Rather than a vision in white, Mara looks more like a Victorian ghost who got tangled up in the curtains mid-haunting. The color washes her out, and her hair and makeup only act to make her fade into the background even more. Plus, the tied-back hemline looks too much like an accident and not enough like a statement. 
Lenny Kravitz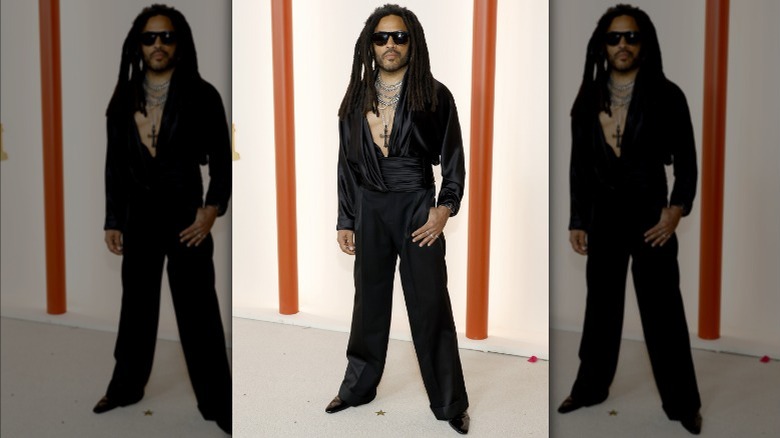 Mike Coppola/Getty Images
Lenny Kravitz is so cool that he can do no wrong when it comes to fashion; right? Well, his Oscars look may have proven that he can, in fact, make a fashion mistake. We've seen this star in this outfit plenty of times. While it gives off cool, rockstar energy in plenty of situations, the Oscars is a very different kind of event than most. Fashion risks at awards shows are great, and it can be especially exciting when folks put a fun new twist on a classic suit. This one, though, could be a bit elevated.
Eva Longoria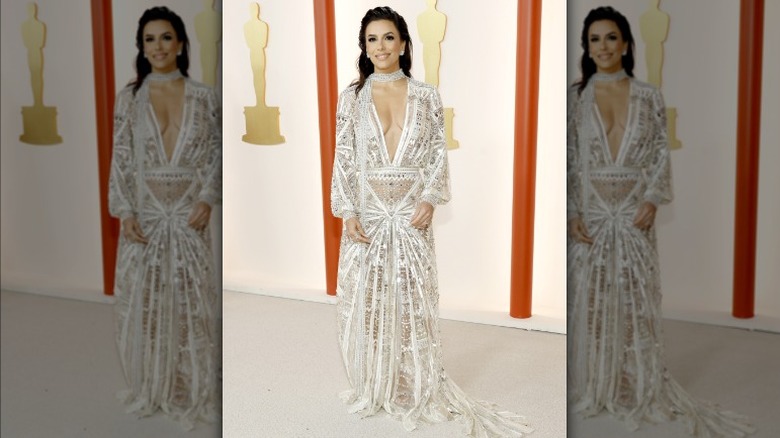 Mike Coppola/Getty Images
Eva Longoria is another star who seldom makes a fashion mistake on the red carpet. However, at the Oscars, she gave us another example of how the white dress trend flopped on the champagne carpet. This neckline is all wrong in many different directions –– from the deep v-neck to the choker portion, the unusual angles are a miss. The v-shape and gathering below the waist only act to add more distracting patterns and elements to an already busy gown, and the partially slicked back, touseled hair makes for an even messier overall look.