Why The Y2K Revival Is So Different From Actual 2000s Fashion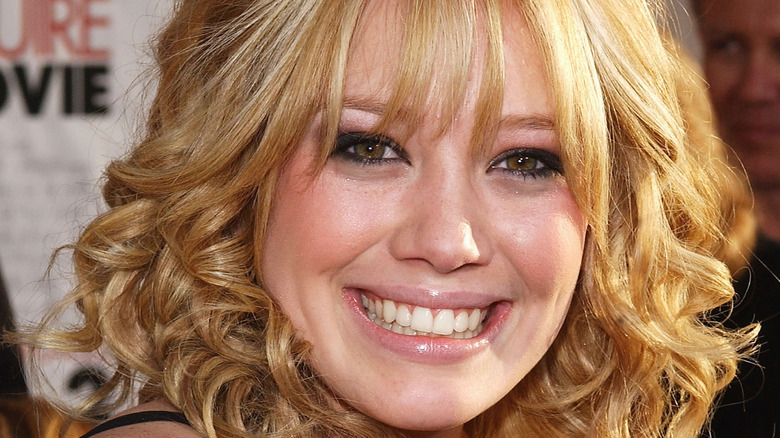 Lucy Nicholson/Getty Images
In recent years, Gen Z has been jumping between decades of fashion at a rapid pace, graduating from '90s high-waisted jeans that could've been on "Friends" to an obsession with the campiest Y2K trends. And this era, which, per Editorialist, "technically ... covers the late '90s and early-to-mid 2000s," saw its fair share of glamor — basically, every cute Britney Spears look, Destiny's Child's coordinated belly shirts, and J.Lo's dramatic v-neck red carpet look.
Real-life Y2K fashion-icon Hilary Duff, aka Lizzie McGuire herself, even inspired a 2021 makeup line based on the classic series of the same name through the Disney x ColourPop Collection. According to Cosmopolitan UK, celebrities are also taking their Lizzie McGuire-inspired looks to the next level.
Why is Y2K fashion back in style? The 20-year rule is a popular metric for measuring what styles are due for a revival and update, according to Thread. Geraldine Wharry, a designer and trend forecaster, told the outlet, " There's something familiar and comforting about looking back." 
Not that today's Y2K revival is the same as turn-of-the-millennium fashion. As trend forecaster Wendy Bendoni pointed out, "We don't literally couple the exact styles and silhouettes. We borrow styles and translate them in modern times. So what do we borrow? Typically, we look for print inspiration, color themes, and silhouettes."
Body inclusivity is a priority for today's trendsetters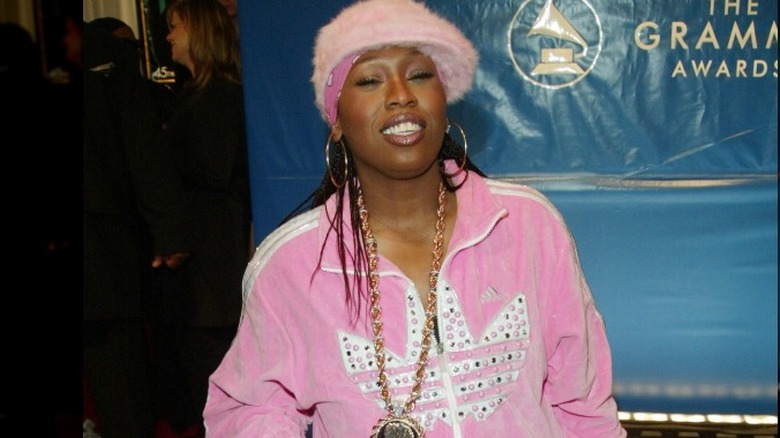 Evan Agostini/Getty Images
So what makes today's Y2K revival so different? For starters, there were plenty of Y2K trends that millennials were glad to leave behind. And topping this list were the dreaded low-rise jeans. And according to TikTok, there are new updates to the style that include a range of body types, like pairing the look with longer shirts. Today's trendsetters aren't shy about addressing the problematic aspects of Y2K fashion, either,  namely, its emphasis on thinness and whiteness that overwhelmed images of the era's popular aesthetic, deemed "heroin chic" due to models' extremely thin, pale presentations (via Gen-Zine). 
The Y2K aesthetic not only promoted damaging body images, but many of the styles themselves were reaped from the Black community without assigning due credit, as is so often the case in American culture. For example, the quintessential Y2K tracksuit was initially popularized by designer Kimora Lee Perkins (then Simmons), who styled Missy Elliot and Lil Kim with her sweatsuit line, Baby Phat. However, the rise of Juicy Couture velour tracksuits soon overshadowed earlier contributions to the aesthetic and placed a new emphasis on the wearer's thinness.
Though Juicy Couture now offers plus-size tracksuits, many other Y2K trends still need updates in terms of inclusion. In 2021, curve influencers told Cosmopolitan UK their secrets to reinventing popular millennium styles in their own image. They recommended resources like eBay and online vintage shops, like Berriez — which states that it is "curated for curves" — to fill some of the style gaps in today's fast-fashion market. They also shouted out brands like ASOS Collusion for being both Y2K stylish and size-inclusive.
Curve Influencers are reinventing Y2K trends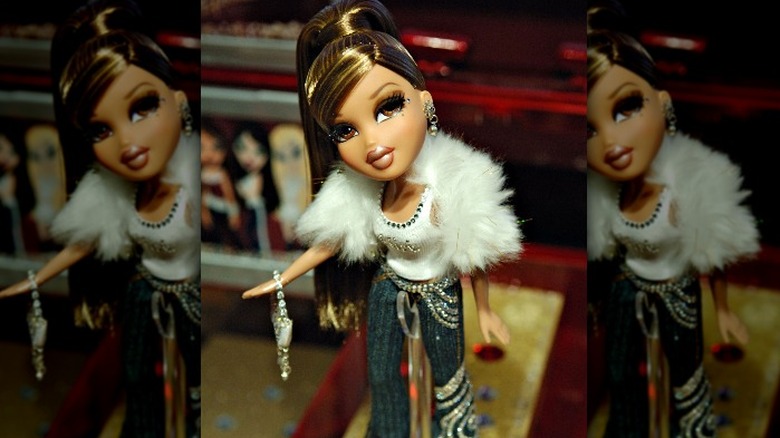 Bloomberg/Getty Images
Tiaynna McClyde, a Gen Z influencer with over 90,000 followers on Instagram, talked with Nylon about Y2K fashion's resurgence and the need to diversify its new image, composed of predominantly white, thin Tik Tokers. They told the outlet, "I remember seeing how popular Y2K aesthetic was becoming but not seeing one plus-size person. It was so unsatisfying because it made me and others I know feel like we have to lose weight to buy Y2K clothes."
Another curve influencer, Holly Marston, told Cosmopolitan UK how she's spun the Y2K trend, saying, "I like to experiment with a lot of different styles, but I would say it's mostly inspired by the 2000s era (think: Bratz doll vibes). Someone once described my style as 'Y2K baddie.'"
By reclaiming Y2K looks without the added baggage of unrealistic body images and Eurocentric beauty standards, trendsetters have a clear vision for the future of fashion. McClyde also told Nylon why the current Y2K revolution feels so meaningful. "I love so much to see a black, phat (pretty, hot, and thick), fem people in Y2K looks because the aesthetic is not just about putting on layers of clothes, it's about being confident and wearing so many accessories." 
To achieve the new and improved version of Y2K's over-the-top fashion — and ensure that a range of bodies and looks are represented — the answer is clear: more is more.