Oscars 2023: All The Best Hair Trends (And Fails)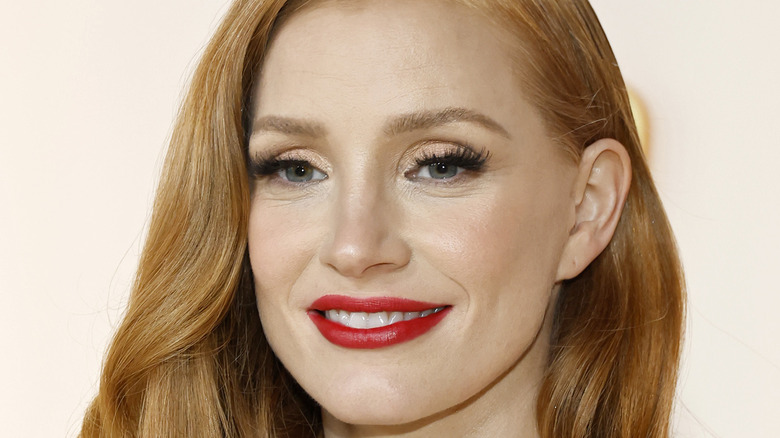 Mike Coppola/Getty Images
Fans are always eagerly anticipating the big wins at the Oscars each year. We wonder which stars are going to show up, who's going to take home an award, and perhaps after last year's Chris Rock and Will Smith debacle, if any crazy altercations might take place.
But before the main event began indoors, everyone's attention was on the outside of the building as we eagerly awaited the outfits and hairstyles of Hollywood's elite. You know half the fun of watching is judging who among our favorite celebrities is the best-dressed at the Oscars and which stars missed the mark.
The Oscars red carpet is where all the eccentricity and beauty come out to play, and, as always, we are here to take note of our faves. This year we got some particularly amazing (and not-so-amazing) hair trends that already have social media either hyping them up or putting them on blast for their audacity. From classy to questionable, here are all the best hair trends and fails of the Oscars 2023.
Angela Bassett gives us high fashion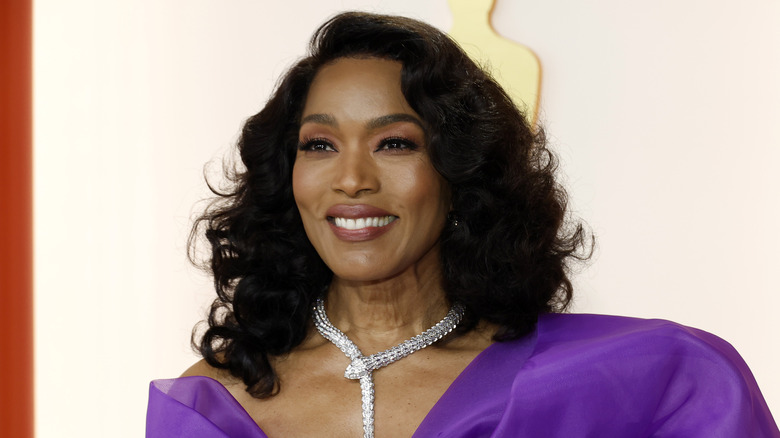 Mike Coppola/Getty Images
Angela Bassett brought all the best energy to the Oscars' red carpet. Not only did her royal purple mermaid-style dress look incredible, but her silver snake necklace has Twitter ready to make it a trend.
Her outfit and accessories were on point, yes, but what really blew us away was Bassett's hair. It was absolutely brilliant. The "Wakanda Forever" star looked every bit of a queen with her side-parted, windswept hairstyle that looked like she just strolled out of a cover shoot for a high fashion magazine.
Jamie Lee Curtis shows us how to rock a pixie cut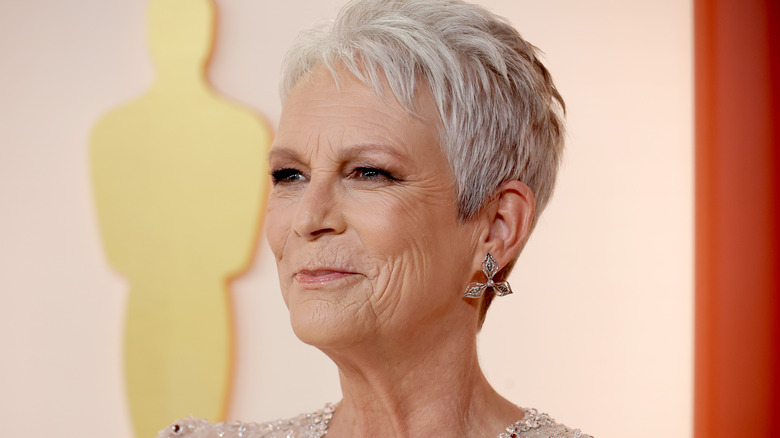 Mike Coppola/Getty Images
No one quite rocks the pixie cut like all-time great Jamie Lee Curtis. The "Everything Everywhere All at Once" actor has never failed to impress fans with her classy style, clean-cut hair, and smooth acting. Curtis has long embraced her silver locks, becoming an icon for other silver-haired women to wear their hair with pride. She sparkled on the Oscars red carpet in her glittering nude-colored dress and the chic pixie cut that she's become famous for.
Nicole Kidman's hair felt uninspired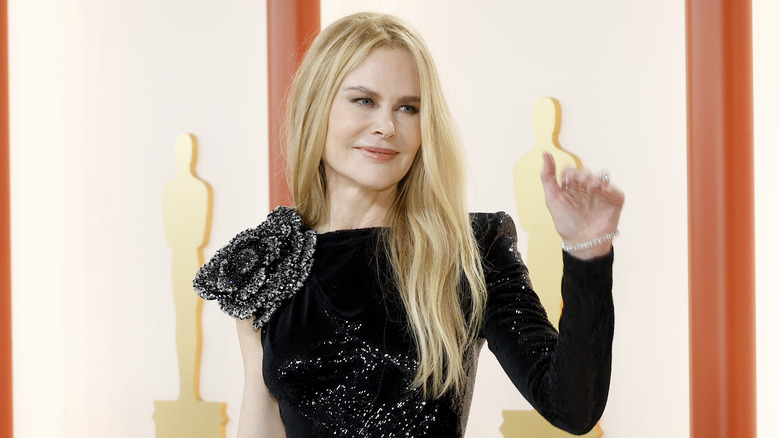 Mike Coppola/Getty Images
No one can say Nicole Kidman doesn't slay when she shows up for any red carpet event. But for this year's Oscars, we have to admit her hairstyle fell a little flat for us, quite literally. Her long blonde locks have graced the cover of many a magazine and constantly earn praise from her fans, so we were expecting a little more oomph out of the superstar and her hair. There didn't seem to be much styling that happened to her hair beforehand, so sadly, the look simply felt a bit lifeless for us.
Sandra Oh's girl-next-door hair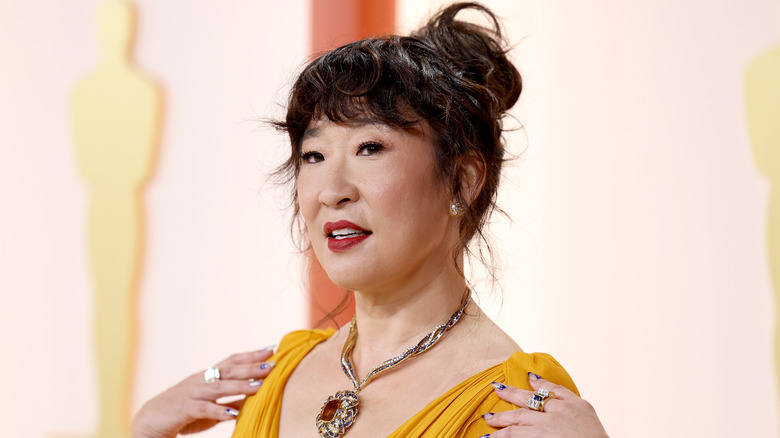 Mike Coppola/Getty Images
And the winner for the most cheerful outfit of the night must go to Sandra Oh. It's been years since the actress starred as the lovable Cristina Yang in "Grey's Anatomy," but her Oscars red carpet look does little to erase our vision of her as the ultimate bestie. Oh's playfully tousled updo with side-swept bangs brought a down-to-earth feeling to a high society event. Her hairstyle paired sensationally well with her choice of a marigold-colored gown and chunky flower-inspired jewelry.
Halle Bailey wears an updo fit for a princess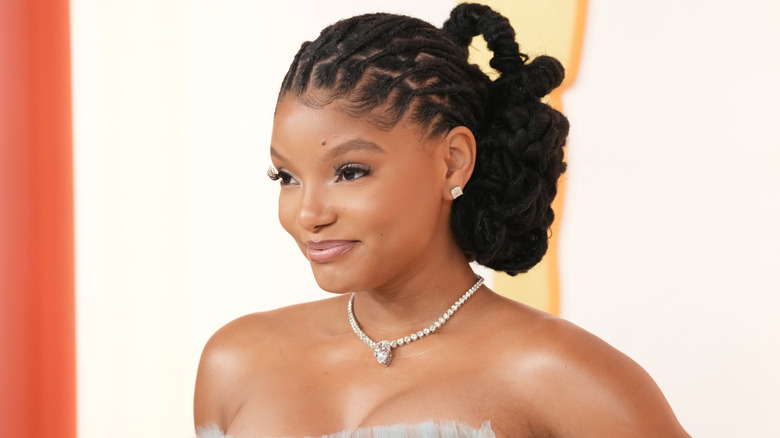 Kevin Mazur/Getty Images
Halle Bailey has already been making waves as the latest starlet to play the leading role in a live adaptation of a Disney movie. "The Little Mermaid" released its long-awaited trailer tonight at the Oscars. As the gift that keeps on giving, Berry also gifted us with her adorable Disney-inspired red carpet look. Her hair had a certain elegance about it that gave fairytale princess vibes. The braided updo was unique and standout enough to earn her a place in our best hairstyles of the night.
Lady Gaga's basic French braid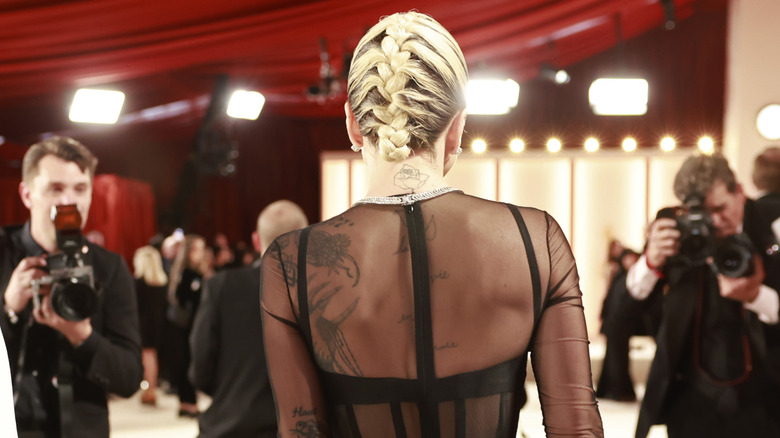 Emma Mcintyre/Getty Images
Not many were expecting Lady Gaga to make an appearance on the red carpet since she's been busy filming the upcoming Joker sequel, but the famed songstress did show up, much to the pleasure of Little Monsters everywhere. Since Gaga has been known for her completely wild looks on the red carpet, we were surprised at her more subdued approach to the Oscars red carpet with a black gown with mesh sleeves. Maybe because it was a last-minute decision? Either way, we couldn't get too excited about her simplistic French braid.
Florence Pugh's questionable ponytail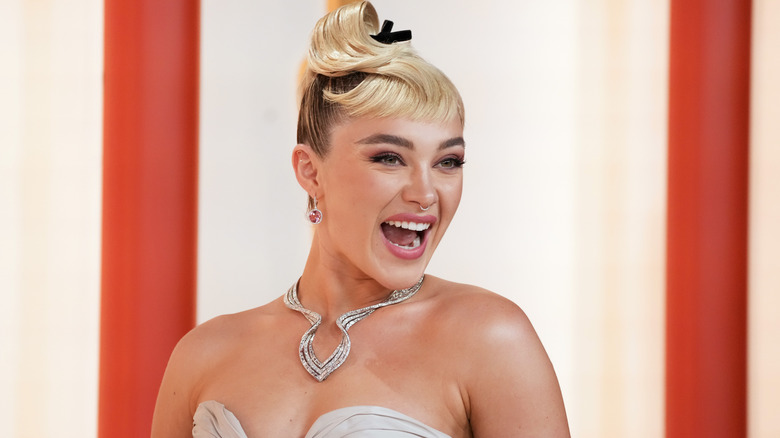 Kevin Mazur/Getty Images
For being one of the stars bold enough to try something new on the red carpet, Florence Pugh definitely earns big points in our book. Still, we were left confused by the ponytail she decided to wear for this year's Oscars. Pugh's platinum pony was tied up with a black ribbon and parted in two to form faux bangs, as seen in an Instagram post from her hairstylist. We're not quite sure this look was red-carpet ready, and her dress-shorts combo also earned her a spot among the worst-dressed stars at the Oscars.
Danai Gurira's towered hair has us talking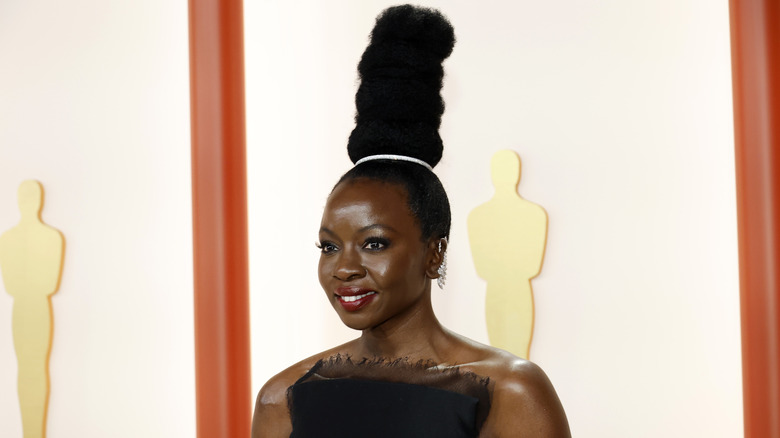 Mike Coppola/Getty Images
Danai Gurira was serving total golden goddess looks when she attended and handed out awards at the 2019 Oscars ceremony. This year, Gurira seems to have taken the opposite approach and instead gone for a darker, more modern approach in her clothes and sky-high hair instead of braids. Her hair was done up in a towering updo, easily earning it the title of the highest hair attendance at the Oscars. We're still trying to decide if this one is #hairgoals or just a little too out there for our tastes. 
Fan Bingbing and her retro curls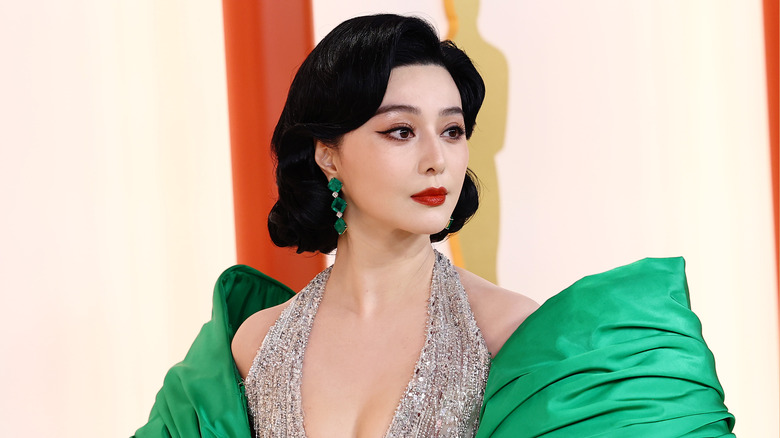 Arturo Holmes/Getty Images
After a sudden mysterious disappearance and just as sudden reappearance that had fans gawking, Fan Bingbing is back on the red carpet, and she's back in a big way. Just take a look at her retro 1940s-inpsired red carpet look for the Oscars. It's safe to say Fan has once again captured everyone's heart with her complete old Hollywood style for the night. Her hair in particular is an homage to vintage Hollywood starlets. The look has us inspired to seek out the nearest speakeasy.
Jessica Chastain's classic Hollywood hair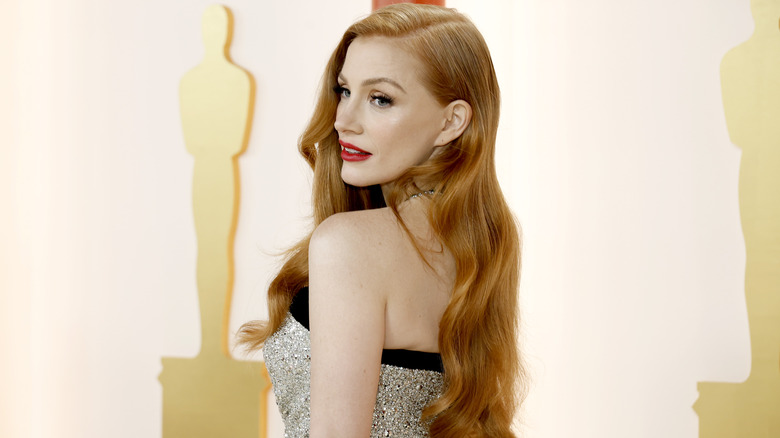 Mike Coppola/Getty Images
Jessica Chastain, who won the Best Actress award at the 2022 Oscars, completely wowed the crowd with her classic Hollywood hair. Keeping it simple but chic, she wore her scarlet-colored hair in waves that hung down her back. Chastain also won the SAG Award for outstanding performance by a female actor in a television movie or limited series for her role in "The Eyes of Tammy Faye" just two weeks prior, so it's safe to say she is a force to be reckoned with.