All The Trendy Rosette Looks At The Oscars 2023, Ranked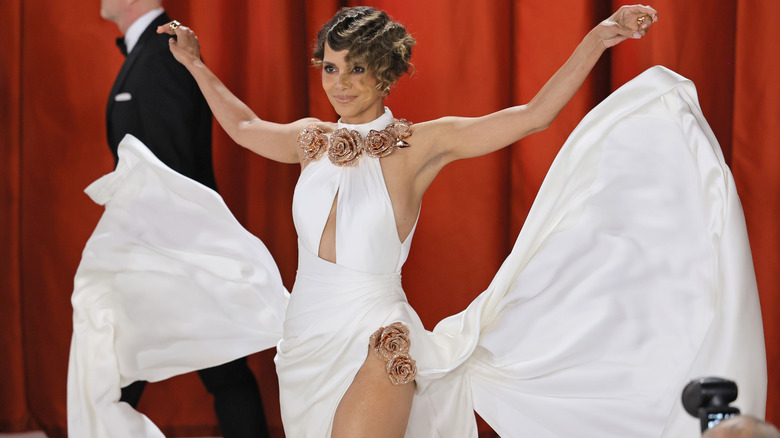 Neilson Barnard/Getty Images
Did you notice a fashion trend blooming at the Oscars this year? Among the many '90s fashion trends making a comeback these days, rosettes that give us total Carrie Bradshaw flashbacks are making the rounds on the runways and the red –– or should we say champagne –– carpets. From Christian Siriano's Fall 2023 show to Willy Chavarria at New York Fashion Week, the top designers proved that this trend is for everyone (via Fashion Magazine).
That's when some of the most fashionable celebs started taking this look on for themselves. Per People, Zendaya's pretty in pink rosette-covered gown at the 2023 SAG Awards was sweet and elegant, and Harry Styles' show-stopping Nina Ricci suit at the 2023 BRIT Awards was a true fashion statement. Emma D'Arcy, Eddie Redmayne, and Lizzo, among others, were soon to follow, proving that rosettes are as versatile as they are on-trend.  As a result, it's really no wonder that the stars committed to rosettes at the 2023 Oscars. So, which stars rocked the rosette trend, and how did they choose to do it? We have them ranked from worst to best. 
Dwayne 'The Rock' Johnson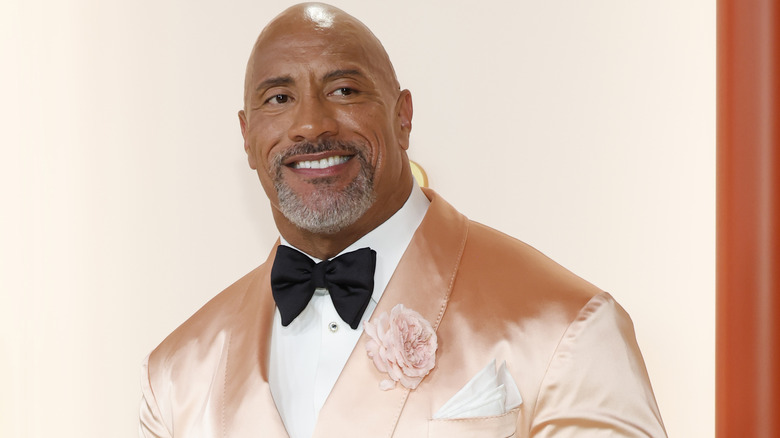 Mike Coppola/Getty Images
Dwayne Johnson made our list of the worst-dressed stars at the 2023 Oscars with his pale pink, shiny tuxedo jacket paired with black pants and a bowtie. Still, while the color palette and finishes of The Rock's unusual ensemble weren't the best to grace the champagne carpet, not everything about this look was a total flop. He rocked the rosette trend with a boutonniere in the same color as his suit jacket. This was a perfect example of a more understated way to sport a rosette-centric outfit.
Paul Mescal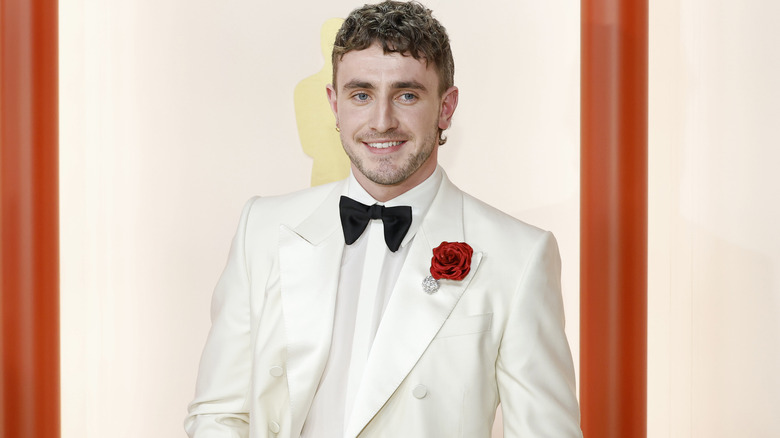 Mike Coppola/Getty Images
The Rock wasn't the only man at the Oscars who embraced the rosette trend with his tuxedo. Paul Mescal was out to prove that he knows how to take a tux and make it elevated and cool. From his flared pants to his mismatched black and white color combination, Mescal was utterly unique while still looking perfectly dapper. The best part of his ensemble was definitely the pop of red from his rosy rosette. He also went with a boutonniere, but he used his rosette as more of a vibrant accessory to his look.
Halle Berry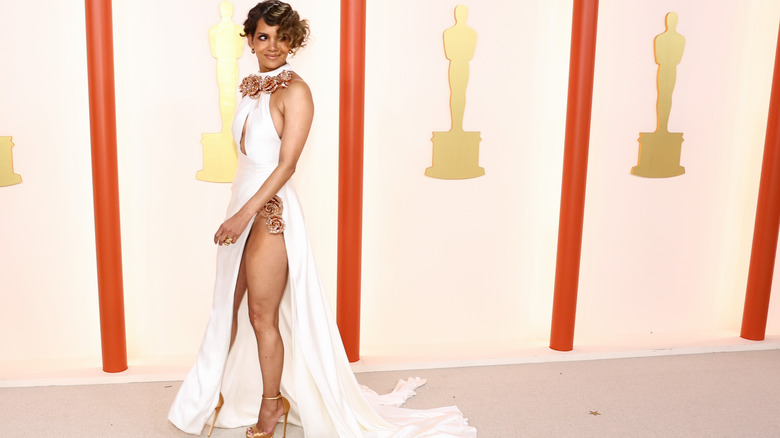 Arturo Holmes/Getty Images
Halle Berry is never afraid of a trend on the red carpet, and she's an expert when it comes to pulling off many different looks. She embraced the white trend that we saw plenty of at the Oscars while also adding some floral pizazz to an otherwise streamlined look. The glitzy rosettes circling her high neckline brought detail and attention up to her face, and the additional ones marking the top of her extremely high slit highlighted the most daring part of the look. 
Nicole Kidman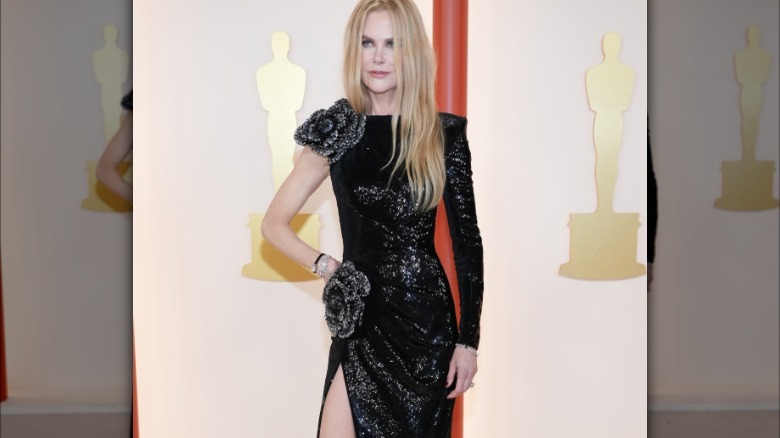 Mike Coppola/Getty Images
Nicole Kidman channeled her inner "Sex and the City" star with this all-black ensemble that was perfectly fit for an Oscar winner. Among the celebs at the Oscars who were inspired by the rosette trend, she was the only one with a "go big or go home" approach to her flower-powered fashion statement. These flowers added so much texture and interest to a sleek and sophisticated gown, which brought spring-y, whimsical vibes. No other stars went this direction with their rosettes, and this is our favorite iteration of the trend.