The Story Behind Marbie, The Days Of Our Lives Marlena Barbie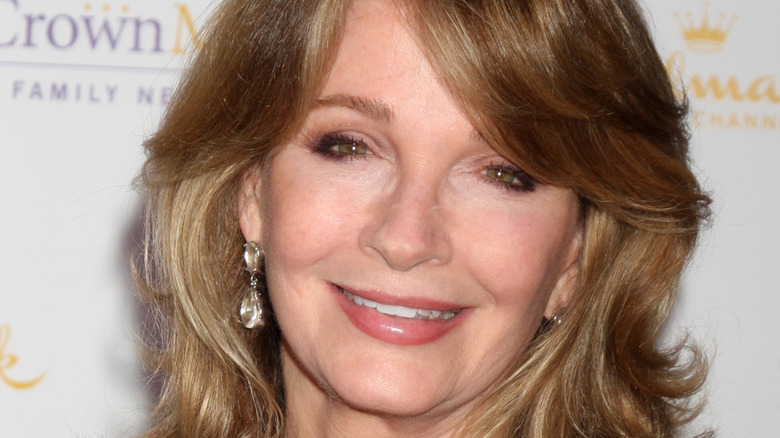 Kathy Hutchins/Shutterstock
Trigger warning: This article contains mentions of child loss.
The character of Dr. Marlena Evans (Deidre Hall) isn't only one of the most popular among fans who watch "Days of Our Lives," but also in the soap opera universe. Marlena is a daytime television icon. Over the years, the character has been involved in some of the biggest storylines in the soap world. Marlena has been possessed by the devil on multiple occasions, which included levitating and transforming into a demon-like creature. She's also been targeted by a serial killer, who attempted to murder her, but mistakenly killed her identical twin sister Samantha instead, per Soap Central.
Of course, Marlena is also largely remembered for her love stories. The character has been married on several occasions to many different men. She first married the character of Don Craig (Jed Allan), however, the couple divorced after tragically losing their newborn son, DJ. She also married Roman Brady (Josh Taylor), Eugene Bradford (John de Lancie), and Alex North (Wayne Northrup). 
Of course, the love of Marlena's life has always been John Black (Drake Hogestyn). Although John and Marlena have been head over heels in love with one another for years, life has often pulled them apart and brought them back together, leading to several weddings for the couple.
Marlena has been married several times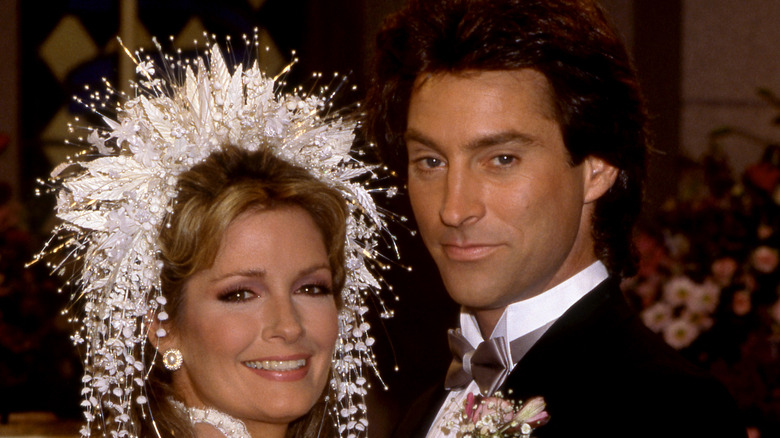 Donaldson Collection/Getty Images
Over the years, "Days of Our Lives" viewers have witnessed John Black and Marlena Evans tie the knot on several occasions. The couple's relationship ups and downs led them to break up and make up multiple times. However, they could never resist their strong love for one another. The pair first walked down the aisle in 1986 when Marlena believed John to be her once-presumed-dead husband, Roman Brady. Of course, the real Roman later came back to Salem to complicate things. After years of dancing around their true feelings, John and Marlena got married again in 1999 and fans were thrilled to see the couple back together, per Soaps.com.
In 2002, the couple was forced to get married again after Marlena was revealed to have married Alex North before any of her other marriages, deeming her nuptials with John invalid. The iconic duo went on to hold weddings in 2006 and 2018 as well following the major drama in their lives and relationship. Although all of John and Marlena's weddings have been epic in their own ways, their 1999 wedding seems to be the one that sticks out to many viewers.
In fact, Marlena's '90s wedding look even inspired a Barbie doll that has been seen on the soap opera several times throughout the years.
Susan gifted Marlena the unique Barbie doll
As Marlena Evans and John Black prepared for their 2018 wedding, Marlena was ready to celebrate. The character had a big bridal shower thrown in her honor, and her closest family members and friends were in attendance at the event. Of course, it wouldn't be a Salem event unless there was a bit of drama or comedy involved. Cue, Susan Banks (Stacy Haiduk). Susan returned to Salem and crashed Marlena's bridal shower as a way to apologize for her past mistakes, such as kidnapping and brainwashing Marlena's grandson Will Horton (Chandler Massey).
As a way to make amends, Susan offered Marlena a strange, yet unique gift. Marlena opened her present and found a Barbie doll that looked exactly like her and was dressed in the same wedding dress that she had married John in during the couple's 1999 ceremony, via Michael Fairman TV. The "Marbie" or Marlena Barbie doll became an instant hit among "Days of Our Lives" viewers, and some fans wanted their own version of the doll, which was made by Mattel, the same company that disturbed Barbie dolls. These days, the collector's item is going for a pretty penny on sites such as eBay.
Although the Marlena Barbie has become a bit of a running joke on "Days of Our Lives," fans love that Marlena's iconic 90's wedding look will be forever memorialized through the doll.