The Most Inappropriate Outfits Worn By Sarah Ferguson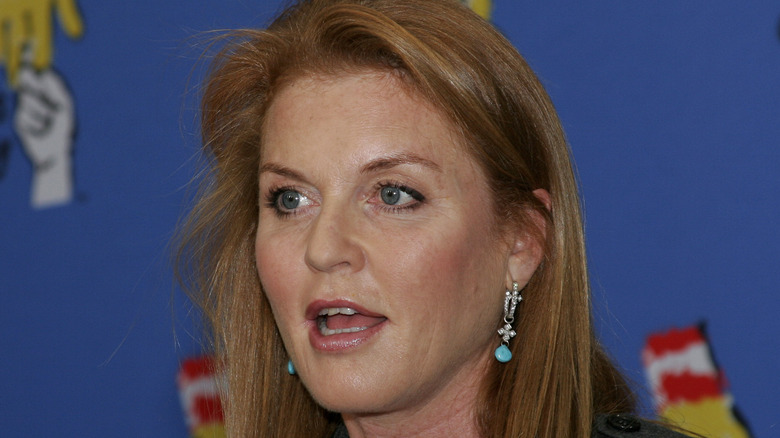 Tinseltown/Shutterstock
When it comes to the royal dress code, the list of rules is as long as a receipt from CVS — and not nearly as clear. There are a lot of gray areas, many rules that are more like guidelines, which won't get someone kicked out of the palace if they're not followed exactly. In some instances, royal dress rules were broken when the main enforcer — the late Queen Elizabeth II — wasn't present. For example, she absolutely hated wedge heels. Princess Catherine, therefore, was only spotted in them when the then-reigning monarch was sitting events out. Whatever the case, the royals have a lot of vague dress codes to follow (especially for the female members).
While Diana Spencer was certainly the royal that most people were paying attention to in the 1980s, Sarah Ferguson was right there with her. Married to Prince Andrew from 1986 until 1996, Fergie was beloved for her jovial spirit, her bubbly personality, and her unique sense of style. She embraced the 1980s and everything the decade had to offer in the fashion sense and definitely made some bold choices while a member of the royal family.
After Fergie and Andrew got divorced, she stayed on the public scene and continued to work alongside organizations and as an author. While she has carved out a space all her own, not all her ensembles hit the mark. These are the most inappropriate outfits worn by Sarah Ferguson.
Sarah's evening dress showed a little too much for a royal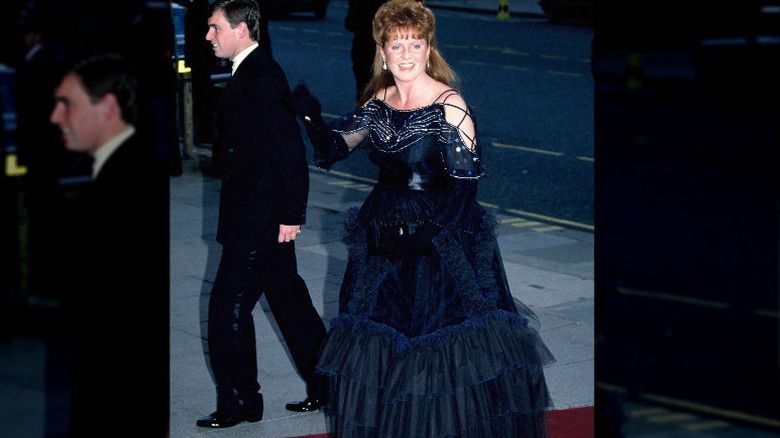 Georges De Keerle/Getty Images
When it came to the red carpet, Sarah Ferguson knew how to pull out all the stops. As a young royal with a unique sense of style and fiery red hair to boot, Fergie did just about everything she could to set herself apart — and she was successful in a number of capacities. However, the look she chose while attending a charity gala while pregnant with her first child, Princess Beatrice, didn't exactly hit the mark — and it broke some royal protocols along the way.
The dress in question was worn when Fergie and Andrew stepped out at Barry Humphries' show, "Back with a Vengeance," in 1988. The gown the duchess chose was a rich blue hue and featured a full-bodied skirt. Her flowing red hair was the fiery icing on the cake, but it was the shoulder detail that caught attention.
As some royal watchers may know, showing your shoulders as a member of the royal family — especially if you're a woman — is a bit of a no-no. Just think back to when Meghan Markle wore an Altuzarra look that was off-the-shoulder — she got absolutely smacked for it. As such, Fergie's choice all the way back in 1988 was definitely not the classic monarchy's idea of an appropriate look for a duchess (and an expecting one at that). We think she looks fire, but we're not royalty.
The duchess' choice for her daughter's wedding had people talking for the wrong reasons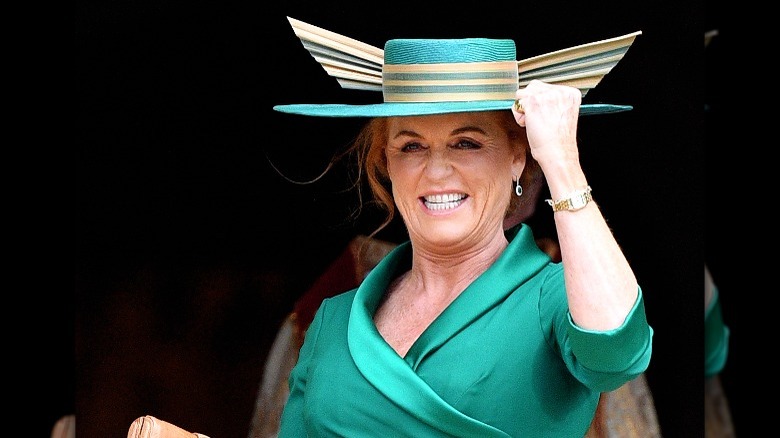 Pool/max Mumby
Though Sarah Ferguson and Prince Andrew got divorced in the mid-1990s, she didn't fully exit royal life. Not only did the exes share two daughters, but they continued living together even though they were no longer a couple — it is an arrangement that they've carried through to today, and while it's confusing for some, it seems to work.
With that said, it was not at all surprising to see Fergie and Andrew together to celebrate their daughter, Princess Eugenie, on her big wedding day. Eugenie looked absolutely gorgeous in a full-bodied ball gown, and Princess Beatrice looked lovely in blue. Fergie, meanwhile, chose an emerald green dress by Emma Louise Design — a designer based in Windsor — and her ensemble for the day had people talking for all the wrong reasons.
First and foremost, Fergie's hat was the center of a lot of conversation. Compared to the Golden Snitch from "Harry Potter" and even the logo for "Wonder Woman," Fergie's headpiece sparked the public's imagination. Making the look a tad inappropriate for such an important and high-profile day, however, was the thin material that did little to hide Fergie's perspiration. Unfortunately, the dress made it on the miss list given that for a widely watched event, it really didn't hit the mark.
Sarah's choice to show her knees at a formal event went against royal protocol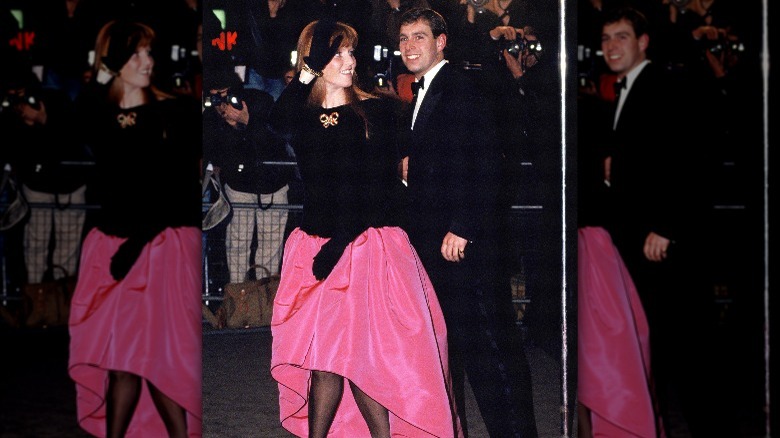 Georges De Keerle/Getty Images
Take a moment to think about the royal women. From Princess Diana to Princess Catherine to the late Queen Elizabeth herself, can you recall a time when any of them showed their knees at a formal event? Can you think of a time when they showed their knees, period?
As it turns out, the beloved queen was not at all a fan of short hemlines and made it a point in the never-ending list of royal dress protocols that a dress should be cut just below the knee. Some may call it prudish, others might think it was the fashion rule of a woman in her 90s — whatever the case, the queen did not approve of the knees being shown really in any capacity, making Sarah Ferguson's dress choice in 1989 quite the inappropriate royal look.
Joining her then-husband Prince Andrew, Fergie stepped out at a London event on February 11, 1989, in a quintessential '80s dress. The top was a rich black velvet, and the skirt featured a full body — in hot pink, no less — with a high-low hemline. Yep, you guessed it correctly — the high portion of the hemline did not cut just below Fergie's knees and instead showed quite a bit of leg by royal standards. We love a daredevil.
Fergie's strapless gown went against royal dress codes in every way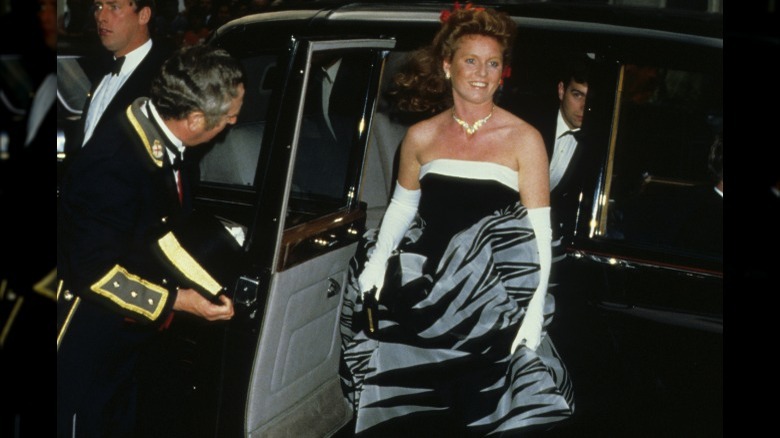 Georges De Keerle/Getty Images
Any royal fan will tell you that the first costly royal fashion faux pas Diana Spencer made was when she first stepped out at an event with then-Prince Charles — in a black strapless gown. And while we think she looked stunning, the royal rules broken were obvious. One, black is reserved for funerals, and two, strapless gowns are a no-no. Still, Diana charged ahead and wore her gown despite receiving flack from her soon-to-be husband.
When it comes to strapless gowns, the royals have to follow a number of protocols. The Royal Ascot — one of the most celebrated events of the year – has banned strapless gowns completely, and royal women are actively discouraged from showing off their shoulders or decolletage.
With that said, it appears as if Sarah Ferguson took a play from her sister-in-law's book. Stepping out in London on July 12, 1986, Fergie stunned in a black strapless gown that featured a bold white neckline and full skirt. She paired the look with white full-length gloves, sparkling jewels, and a fun updo. To say that the look was inappropriate by royal standards is a bit of an understatement, but her classic 1980s look and capacity to forge ahead with confidence in her look clearly shone brightly throughout the evening with Greece's royal family.
Sarah's sleeveless gown was very va-va-voom for a royal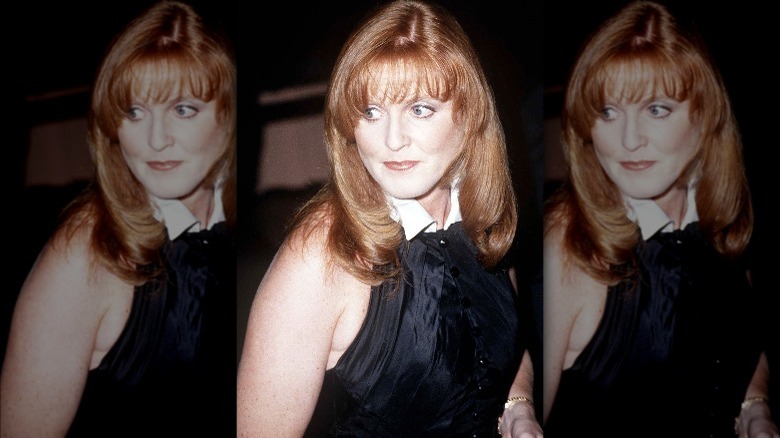 Kypros/Getty Images
We love a royal rule-breaker. From Princess Diana to Meghan Markle, there's something about a woman within the firm stepping out on her own terms. For Diana, her revenge dress spoke volumes and her decision to open up about her marriage still has us buzzing today. As for Meghan, her capacity to push on despite calculated media attacks is inspiring, to say the least, and she too has let quite a number of her outfits do the talking.
Certainly, a member of this clan is Sarah Ferguson, who too went through quite a lot throughout her time as a royal. By 1990, her marriage to Prince Andrew was fraying at the seams (they would separate in 1992), and though she continued to charge ahead until their divorce in 1996, the public definitely saw some of her fiery spirit come to life in her clothes — however inappropriate.
Royal dress protocol establishes that royal women are often discouraged from showing their full arms in public — an elbow, sure, but from the shoulder down? Not as encouraged as you might think. With this in mind, one iconic outfit in the '90s featured an entirely sleeveless silhouette, a high-collared neckline inspired by menswear, and full hair. This was quite the scandalous moment — and her smile certainly seems to point to her free spirit with such a daring fashion choice.
The duchess' gold 1980s dress was eyebrow-raising
Georges De Keerle/Getty Images
When we think about royal dress sense, the late Queen Elizabeth certainly comes to mind. Her colorful ensembles, though bold in color, were always muted in silhouette, and her decision to maintain one kind of look for decades spoke volumes about her approach to clothing. It was functional and served a purpose, but never spoke over her own role and message.
Other royals, like Sarah Ferguson and Princess Diana, certainly let their wardrobe speak for them. Diana's revenge dress is still a look we talk about to this day, and Fergie definitely did not let her role as a royal stop her from having fun with fashion. Even Meghan Markle has let her jewelry, wardrobe choices, and color palette do more talking about her relationship with the royal family than she has actually shared verbally. With all that said, Fergie's decision to throw all the royal dress rules out the window with one evening look spoke volumes.
As pictured, Fergie stepped out in October 1989 in a stunning gold evening dress that hugged her curves and — gasp — showed her knees. She paired the look with black opera gloves, bold jewelry, and a fun beehive-inspired hairdo. The look was certainly inappropriate by royal standards. She showed knee, shoulder, curves, you name it — but we think she looked great.
Fergie didn't exactly choose the most appropriate look for this event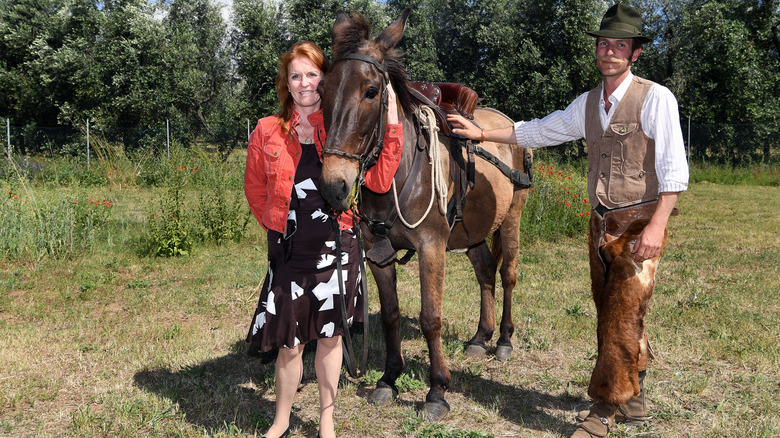 Daniele Venturelli/Getty Images
You may not know this about her, but Sarah Ferguson is a bit of a biking enthusiast. She has often been spotted cycling on royal grounds, keeping fit and enjoying the outdoors. Her love for biking was even commented on by bike experts Leisure Lakes Bikes, who told Hello! Magazine that Fergie looked 100% the part.
"Cycling is great for weight loss as it can make you break a sweat and burn some calories," they said, noting that the duchess looked trim and fit while getting her sweat on. And she's no amateur, either — Fergie has been seen in a spandex biking ensemble to really get the full benefits of her workout in. Given that she's pretty much a pro, it made her outfit choice at a bike presentation event a little questionable.
Joining Matchless E-Bike for a presentation in Livorno, Italy, on June 5, 2016, Fergie looked lovely in a black dress with white patterned detailing, a red cropped jacket, and small black pumps. And while this outfit would be appropriate on any other occasion, Fergie was treading through grassland, interacting with horses, and surely getting on a bike to try out one of her favorite pastimes. We think that she should've stuck with the spandex and rocked that event like the athlete she is.
This look definitely did not reach the royal expectation for modesty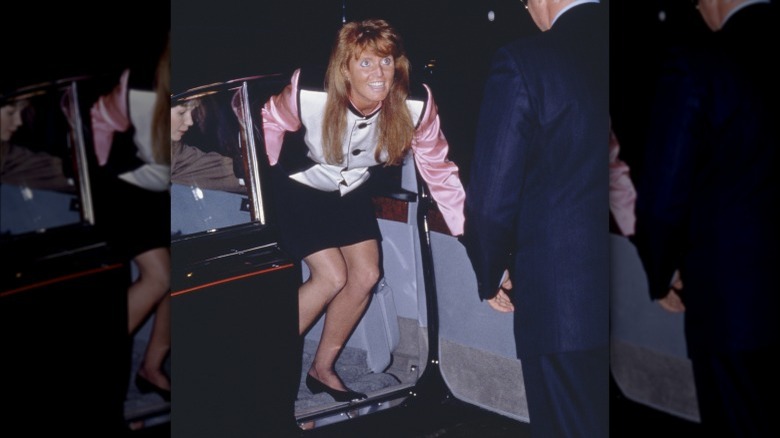 Georges De Keerle/Getty Images
To say that the 1980s fashion looks were bold is probably the understatement of the decade. We still look to the '80s for a sense of fun when it comes to fashion, but the ensembles, the hairdos, the bold colors — it was definitely a unique time. If anyone truly embodied this decade when it came to their style, it was Sarah Ferguson. She embraced the truly wild hair, the bold shoulder pads, the big silhouettes — whatever the event, she didn't let her role as a royal stop her from experimenting with fashion and embracing the trends.
While we love this for her, there were some moments where she definitely slipped on royal fashion rules and rocked some inappropriate looks, one of which was her outfit choice while attending the Swiss Diplomatic Service Wives' Association Tea Party. Stepping out of her vehicle on December 8, 1989, Fergie's skirt choice was definitely short — not just by royal standards — and her choice to not wear stockings was once again against the rules.
Though the late Queen Elizabeth wouldn't have kicked someone out of the castle if they broke a fashion protocol here and there, she was said to be pretty strict when it came to both skirt length and the presence of stockings. Fergie threw these expectations to the side with this look, and her grin says it all.
Fergie broke an unexpected royal rule with this scandalous outfit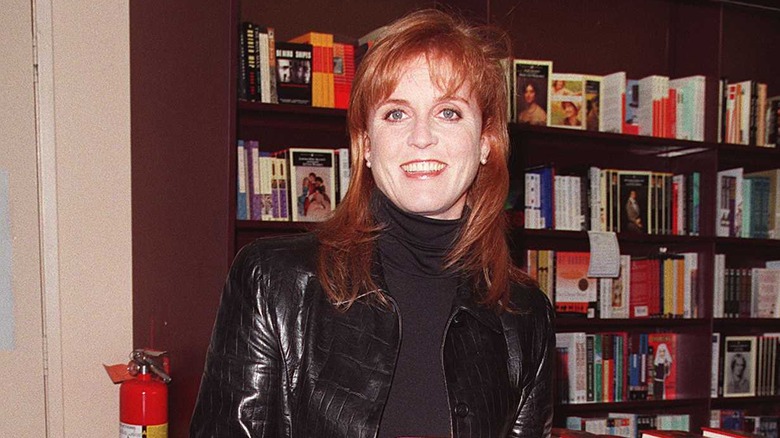 Stewart Cook/Getty Images
You may not have paid too much attention to the materials that members of the royal family wear, but let's just take a moment to ponder. Have you ever noticed that the late Queen Elizabeth II was almost always in soft, cotton-like clothing? Even Princess Catherine sticks to cottons, wools, and natural fibers, as does Prince William.
As it turns out, wearing leather is not at all encouraged for members of the royal family, especially where women are concerned. As it's not a traditional material that exudes the polish that the royals seek, leather — like a great bomber jacket or sassy leather boots — is not encouraged and is not seen as a "ladylike" material to incorporate into one's wardrobe. We promise we're not kidding, and you absolutely cannot make this stuff up — with this in mind, it's no wonder that royal rule-breakers like Diana Spencer and Sarah Ferguson were often spotted in the material.
After she left the firm, Fergie turned her attention to her work as an author and has released a number of books since the 1990s. Visiting Pasadena, California, when she launched her book, "My Story," Fergie looked fierce in a black skirt, tights, boots, and — you guessed it — a leather jacket. The look was definitely inappropriate by royal standards, but we love that she kicked expectations to the curb.
Sarah was very daring in this outfit and ignored a really obscure royal fashion rule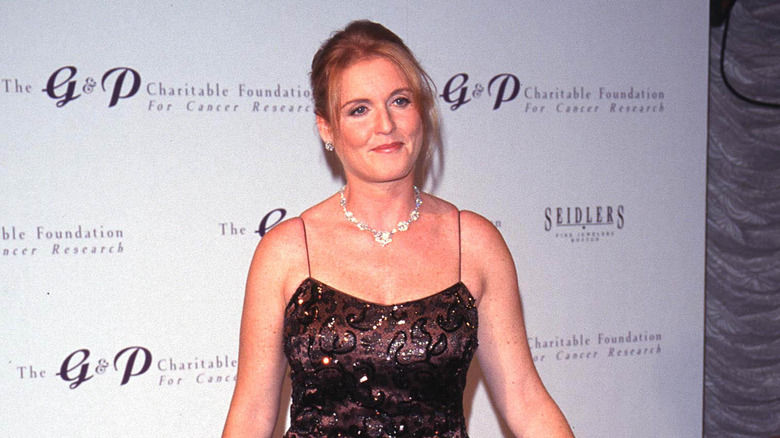 Evan Agostini/Getty Images
We suggest you bust out a notepad to keep track of the royal protocols when it comes to dressing in public, but the list keeps going and going. This is one that definitely took us by surprise, but Sarah Ferguson didn't seem to mind being deemed inappropriate when rocking a gorgeous look at a charity gala in the 1990s. As it happens, members of the royal family — the women, of course — are not allowed to take off their jackets or any kind of outerwear in public. Such a gesture is seen as removing their clothes entirely, which seems a bit silly — thankfully, an expert explained the rule to Express.
"Royal women are expected to keep their coats on at social events," Daena Borrowman told the outlet. "Disrobing in public is perceived as distasteful according to royal protocol." Such a rule seems entirely bonkers, and Fergie didn't seem to mind breaking it. While attending the G&P Charitable Foundation Gala Cancer Benefit, Fergie looked lovely — and a bit scandalous — in a spaghetti strap ballgown. And (gasp), she took off her robe before hitting the carpet for photographs, looking lovely as ever.
Inappropriate by royal standards? Definitely, but we're so here for it.
Fergie's see-through dress definitely reached eyebrow-raising territory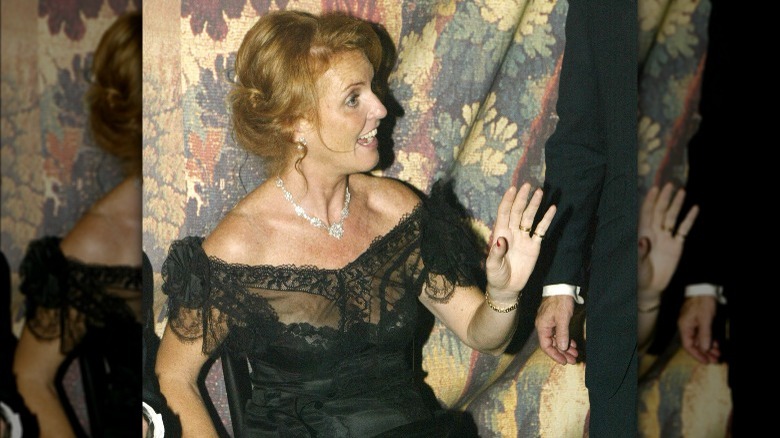 Dave Hogan/Getty Images
If you think that royal dress protocols are outdated, you're certainly not alone, but the rules still apply — and people still judge. When it comes to anything sheer or remotely see-through, royals simply cannot play. And if they do, they can expect some serious heat. Take Meghan Markle, for example, who wore a beautiful Givenchy skirt and a matching top in 2018. The skirt featured very subtle sheer paneling among the rich blue material, and though she looked lovely, Meghan was absolutely skewered by royal watchers for wearing something remotely see-through. Sarah Ferguson, meanwhile, has had to follow similarly strict royal codes when it comes to dressing, making her gown choice at an event in 2002 that much more surprising.
Attending a Garrard launch party at the glamorous and historic Tower of London on September 12, 2002, Fergie definitely turned heads with her gown choice. The black ensemble featured a corset-like top with see-through paneling covering her decolletage. She paired the look with a sparkling necklace and an updo, definitely allowing her rather scandalous dress to shine bright.
Of course, in pure Fergie style, the dress still featured some 1980s-inspired lace detailing on the shoulders — because there's no way the duchess could ignore her iconic fashion decade. While a bit inappropriate and definitely a look that raised some eyebrows, Fergie looked chic and confident.
The duchess broke all expectations with this look in 2002
Dave Benett/Getty Images
We're not royals, by any means, but we're pretty sure this look of Sarah Ferguson's sent one — or multiple — members of the royal family into a mini coma. Before we break it down, let's recap.
The royal women are, for the most part, discouraged from showing their shoulders, their arms, and their knees. Pretty much anything see-through or sheer in any capacity is off the table, and leather is a no-go. Stockings should be worn on most if not all occasions, and modesty is the best policy. Well, Fergie kicked all the rules to the curb while attending a Tommy's Charity party in 2002, and though definitely an inappropriate look by royal standards, she definitely knew how to rock her outfit choice.
For this November 24, 2002, event, Fergie chose a black column gown that was definitely low cut, showing a little cleavage and highlighting her figure. The dress featured an entirely sleeveless look, and she paired it with long black gloves for added dramatic effect. Embracing her inner goth, Fergie rocked a bold choker with dangling jewel details for even more of an impact, and her fiery red hair was left just grazing her shoulders. Joining the crowd at the Bloomberg building in London, Fergie definitely looked like she was ready to have a good time — royal dress rules certainly did not dim her light.