Want A Trendy Bob In 2023? Try The Chin-Length Cut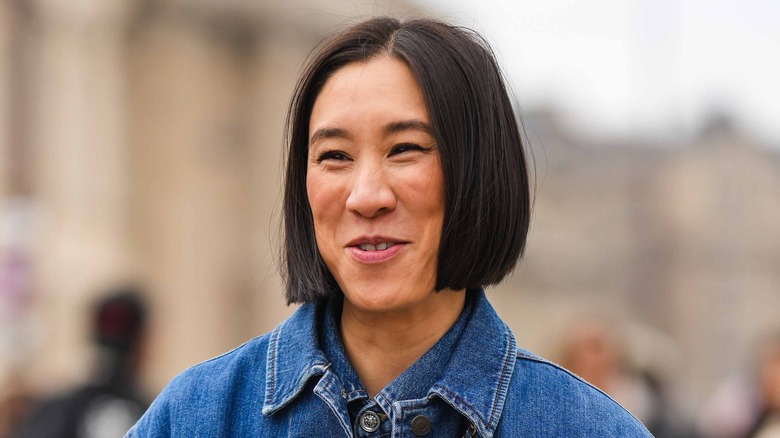 Edward Berthelot/Getty Images
Those who love their long hair may struggle with cutting off a few inches during a trim, let alone a whole foot. However, chopping off a large amount of hair all at once opens up your world to so many new styling opportunities. While there are pros and cons to every length, making a drastic change will allow you to create various unique and iconic looks.
Hairstyles can actually complete an outfit, and a cute, trendy bob will give your clothes and jewelry new life. The key is really going for it. Keeping your hair at least shoulder length may feel like the safer option for those with long hair, but taking off a little extra length to bring it up to your chin is quite trendy.
Short hair is fashion-forward and there are many ways to embrace this cut. With shorter hair, you can experiment with so many different styling options and change things up frequently.
Elevate the look by adding some curls
Adding curls to short hair will inevitably make it look shorter, whether they are loose beach waves or super tight spirals. However, curls have the ability to bring sophistication as well as a fun and lively vibe to your appearance. Since curling shorter hair can be more challenging, it's helpful to look into the two different approaches you could take to curling your bob.
One option involves using a wand and simply wrapping small sections of your hair around it. Since there isn't much length, you'll likely only get a single spiral but that's part of the charm. This technique will leave you with a lower curl and a little less body overall. If you want to keep that chin length while adding some bounce to your bob, this would be an amazing technique.
The other option is to try curling your bob with a flat iron. This approach can be a little tricky to master but the curls tend to provide more volume and last longer throughout the day. Basically, once you clamp a piece of your hair from the top, you'll simply pull down and rotate the flat iron back. Practicing with your flat iron off can help you get the technique down and learn how to use your straightener on your hair without causing damage. Plus, spending a little extra time will be worth it once you see the results.
Get out of your comfort zone
While there are so many bob hairstyles you'll want to try in 2023, the chin-length bob gives off a carefree chic look. It perfectly frames the face and highlights the jawline, which is quite eye-catching. On top of that, playing around with colors and accessories only adds to the possibilities.
Putting your hair behind your ears, adding some claw clips, or even embracing an unconventional hair color can all be a part of the bob's charm. While the bob itself is a classic look that anyone can rock, there's a versatility to the styling based on your own individual preferences and how you feel like expressing yourself.
Short hair is notoriously easy to maintain because there is simply less hair to deal with. However, this simplicity allows you to be more adventurous with your styles. Ultimately, the possibilities are endless and hair will grow back over time. So, if you have been wanting to try a shorter hairstyle, the chin-length bob trend might be the perfect opportunity for you to make that change.