Why You Need To Ditch The Group Photos In Your Dating App Profile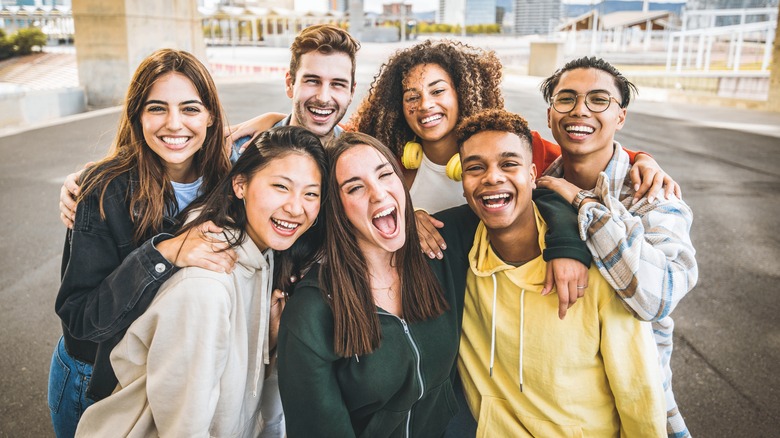 DavideAngelini/Shutterstock
Filling out dating profiles isn't always fun. Depending on which app you're on and how many you have rotating, it can take a few minutes to close to an hour to complete a decent profile. Some dating apps force you to ponder deep questions while others want you to leave a short calling card by answering quick questions. While often lighthearted, you can easily overthink answers since you want to appear fun and relatable, and possibly even quirky or intellectual, so rethinking every word can be an unending loop.
By the time you get to the photos, you may figure this is the easy part. After all, you can just pull pics from your Instagram page. Yet, picking the right one can be more difficult than you may think. We've all seen the token man holding fish or man with dog (which may not even be his) pics. They do have the potential to cause many to rapidly swipe left.
When competition is so high and swipes occur in a millisecond, you want to make sure your profile photos are on point, and that's a good reason to avoid putting up group photos.
Group photos don't work well on dating app profile pages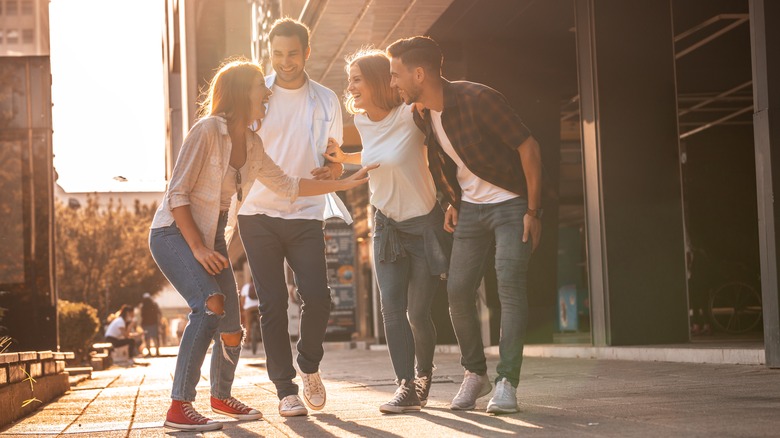 BalanceFormCreative/Shutterstock
Like any other initial meeting with someone you may like, you want to make a good impression. Your profile page is your first introduction to a potential mate. You want to portray your most authentic and best self in your photos. While both men and women often plaster their profiles with group photos, these photos can turn people off.
Swiping can be a mindless activity and when viewing countless profiles, your brain tends to tune out the ones that cause it to work harder. When you see group photos, you have to decipher which person is the profile you're currently on. In the fast-paced world of dating apps, sometimes that's too much effort, especially if it isn't clear who you are looking for (via The Independent).
For example, if your first two pics clearly show you and what you look like, a third pic with you and a friend who has a different look won't be too hard to find. However, if your first pic is a group photo of ten blonds and you're one of them that makes it difficult to figure out who you actually are, and that can result in a left swipe. Group photos also tend to be unclear, making it even more difficult to see the real you.
More reasons to avoid group pics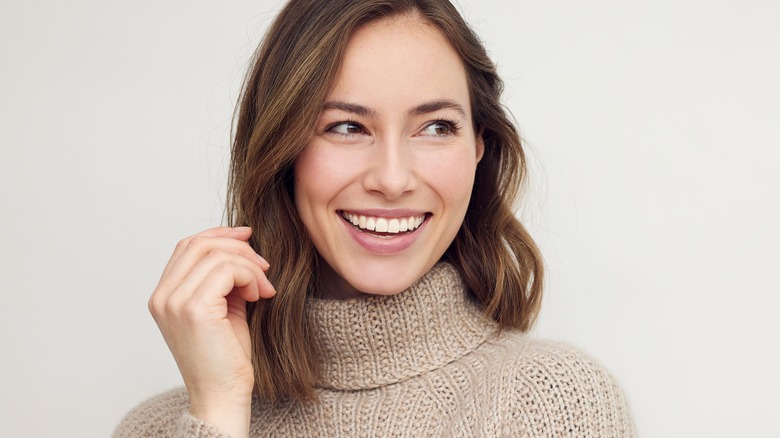 Martin Lauge Villadsen/Shutterstock
Another thing you might want to consider is why you're posting a group pic as opposed to a solo pic. Do you want to seem like you are fun or social? Are you trying to portray a person you'd like to be or one you really are to attract the partner you want?
The goal of making a profile page is to convey your real self so a potential mate will like the real you. Of course, you want to put your best foot forward and choose photos with care, but you also don't want to try too hard and work more on your persona rather than being your true authentic self.
According to Business Insider, your best bet is always to make your primary photo a relaxed headshot. It "Everyone wants someone who is approachable and smiling is the cheapest way to do that," said matchmaker Maria Avgitidis. "Looking into the camera shows you're ready to go and the eyes are the window into your soul." To get your best pic, have a friend snap a casual one that doesn't look too posed.