How To Recreate The Viral UV Reactive Dress That Changes Color In The Sun On A Budget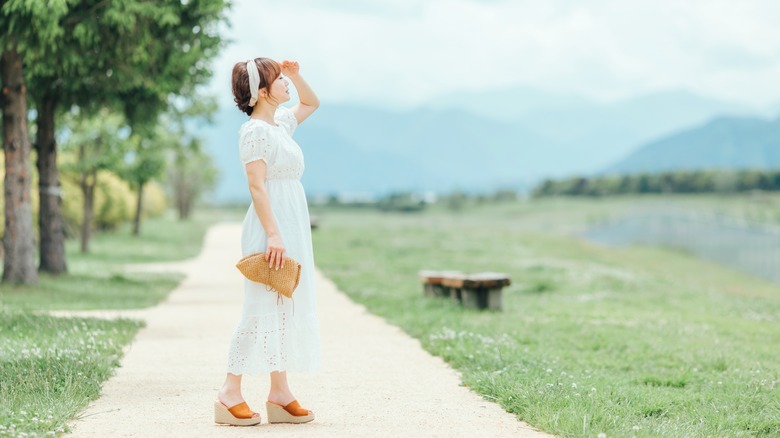 buritora/Shutterstock
In 2015, a phenomenon known simply as "the dress" broke the internet. To some, the garment appeared blue and black, to others it was undoubtedly blue and gold. The world launched into a seemingly endless debate — what color was the dress, really? Cedar Riener, an associate professor of psychology at Randolph-Macon College, explained the conundrum to BuzzFeed News in 2016. "In the case of the dress, some people are deciding that there is a fair amount of illumination on a blue and black (or less reflective) dress," he says, adding, "Other people are deciding that it is less illumination on a white/gold dress (it is in shadow, but more reflective)."
Virtually, depending on how your brain perceived shadows, the dress was up for interpretation. In real life, it was without question blue and black.
Though it hasn't received quite as much worldwide notoriety, a new dress has made its way to social media. With over 3 million likes on this one Instagram post alone, the PH5 maxi transforms from beige to pink in the sun. However, unlike its 2015 predecessor, this dress actually changes color: and it might even help with your vitamin D intake. So how can you get your hands on one?
Solar fabric dye changes color when exposed to heat
In October 2022, artist and influencer Izzi — known by the handle @izzipoopi on Instagram — posted a video of herself wearing PH5's UV Reactive Reversible Maxi Dress. As she walks into the sun, the dress turns from off-white to pastel pink. How does it work? The dress is most likely made with thermochromic ink, which changes color depending on temperature variations. It's the substance used in mood rings, according to How Stuff Works, and Coca-Cola has even experimented with color-changing labels that indicate whether or not your drink is cold.
Roxxsaurus, a fashion and beauty YouTuber, tests out Izzi's viral PH5 dress. She notes that it can be worn front-facing or back-facing, making it a V-neck or high neck depending on preference. However, given that the dress retails for a staggering $555, it's not the most attainable fashion statement even if it is one of the more unique finds on the market. Fortunately, the dress isn't too difficult to recreate with the help of a quick online purchase and a simple white maxi.
Recreate the color-changing dress for just $40
If you don't have the budget for a $555 dress, you're not alone. TikTok creator Marissa Zingg (aka @onecrafdiygirl) shows followers how to recreate an accessible version of the look with the help of fabric dye from Solarcolordust.com. The brand sells over 30 different color options, transforming your plain clothes into show-stopping statement pieces. Best of all, an 8-ounce bottle is only $40, and a 2-ounce bottle sells for just $12.
Mix the dye with 6 cups of hot in a large pot to begin the process. Submerge your white maxi into the solution — use an old dress or find an affordable option from Forever 21 — and let it sit until fully saturated. Squeeze out excess water (while wearing disposable gloves, of course), and let your new creation finish air drying out of the sun. Finally, machine-wash the garment with cold water just like you would other delicate clothing. Voila! Your transformation is complete at just a fraction of high fashion prices. Who knows, maybe this dye will even start an unconventional wedding dress trend.