The Unconventional Wedding Dress Color That Will Be Everywhere In 2023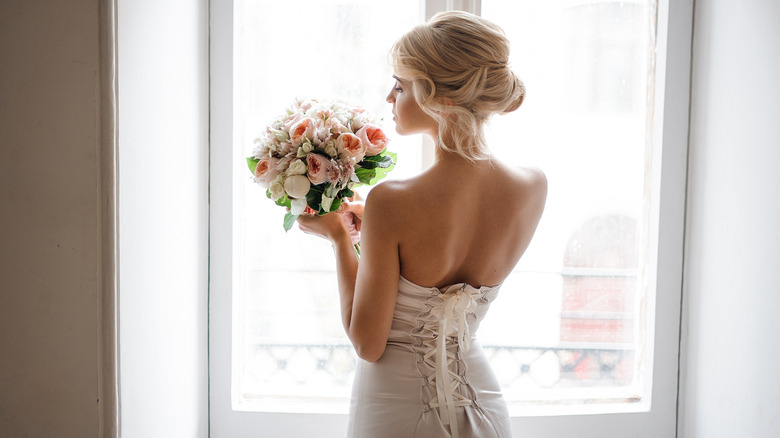 Maximfesenko/Getty Images
Each year brings with it new wedding trends to make your magic day more memorable, many of which bring a bit of flair to the classic all-white affair. In 2022, we saw the sneaker trend melt into the world of weddings with brides wearing Nikes under their gowns and bridesmaids donning sage green gowns to accompany them. But as we leave 2022 and its trends behind, experts are seeing plenty of new styles popping up with each wedding of the new year.
This year's brides are leaning towards simplicity, channeling Grace Kelly's classic wedding day look, for instance. But while their silhouettes may be simple, the color scheme is anything but. Event planner Jove Meyer revealed to MarthaStewart.com that couples are no longer just adding pops of color here and there. Instead, they're actively choosing to have a wedding filled with color and adding different hues to a previously muted overall design.
But that love of color isn't just showing up in the floral designs and decor. Brides are also foregoing white and off-white wedding gowns for more unexpected shades and one, in particular, will reportedly be everywhere this year. 
Expect to see this shade everywhere in 2023
New York Bridal Fashion Week is where a lot of designers and brides alike find inspiration. After a few years of virtual fashion shows, in 2022, we finally got to see the gowns in person and those who attended were not disappointed. According to Brides, there were tons of new trends including asymmetrical necklines and sheer designs, but quite possibly the most talked about trend was the inclusion of blue-hued gowns. With blue set to be the trendiest color of the year, it makes total sense that the trend has entered the bridal space as well. 
Since the beginning, different shades of white have taken center stage when it comes to bridal attire. In recent years, modern brides consistently threw more curveballs, opting for light pinks or hints of gold. But 2023 brides are getting even more unconventional and opting for blue wedding dresses. Major designers like Ines Di Santo and Nadia Manjarrez presented blue-toned gowns at fashion week and we expect to see many more at local weddings this year, from super light sky blue tones that give a hint of color to full-on cobalt gowns. 
Blue-toned wedding dresses we're loving
If you're a big fan of color and are dreading wearing white on your wedding day, bear in mind that you don't have to leave the color to your bridesmaids. Modern weddings are all about being yourself, and if you want to walk down the aisle in a bright blue gown, you should. Bridal designer Peter Langner told Brides that any bride who wants to express her true self should absolutely wear a colorful wedding dress. As for accessories, Langer argued that the mismatched look, when done right, is gorgeous — so you don't need to match your dress exactly to your veil. 
If you're looking for a blue dress, this ice-blue option with a full skirt and off-the-shoulder style is perfect for the bride who wants to channel her inner Disney princess. The blue tone is subtle, so it's ideal for those who don't want to take the trend too far. If you do want to embrace the blue, the Nadia Manjarrez Jackie Gown, with its strapless silhouette and floral embroidery, is stunning and will make any bride feel like the chicest woman in the room (bonus: it comes with removable puffy sleeves). 
Other great options include this Anne Barge gown, which is sold at Maggie Louise Bridal and has a sexy, deep V-neck line and turquoise hue, and this stunning dark blue tulle option, which is a two-piece, one-of-a-kind gown sold on Etsy with a long train in a beautiful navy blue color.