Cleanser Vs. Face Wash: What's The Difference, And Which Is Right For Your Skin?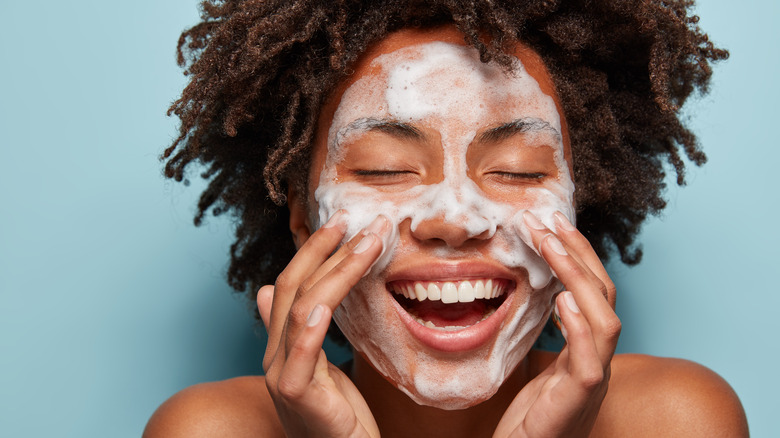 Cast Of Thousands/Shutterstock
When it comes to having a skincare routine, you may not invest in the 10-step process of toning, exfoliating, or using several serums, but at the very least, a cleanser, moisturizer, and sunscreen are the key components of the little skin care system you've built for yourself. Whether you've opted for an oil-based cleanser or have tried your hand with powder cleansers, removing dirt, sunscreen, and excess oil at the end of the day is important for maintaining your skin's health.
It's also important for your overall health, as well. With the pandemic, washing the face became more than just about vanity and keeping the skin intact -– cleansing your skin keeps disease-causing germs from infecting your body. If you tend to switch around different face washes and cleansers in your routine and see different results, it's probably not because of the change in brands. It may be due to the fact that you're using two completely different products.
You may doubt that the only distinction between a face wash and cleanser are the names. However, the ingredients and their individual purposes say otherwise.
Cleansers are gentle on the skin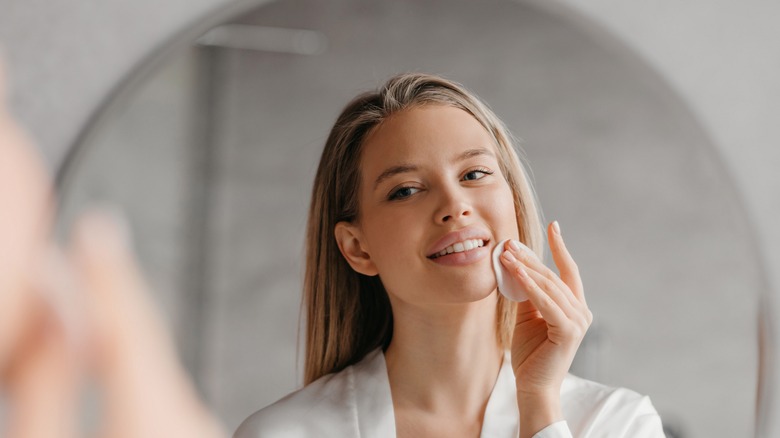 Prostock-studio/Shutterstock
A cleanser is like a soft, mild treatment for the skin. Put onto the skin to be wiped or rinsed off, they remove excess oil, dirt, and dead skin without stripping the skin. As a non-foaming product, they aim to moisturize and soothe skin. They often have a rich texture that can come in thick, creamy balms or gels that focus on sustaining hydration levels and calming inflammation.
Facial cleanser's concentration on keeping skin hydrating makes it an ideal candidate for dry skin. The Glossier Milky Jelly Cleanser comes to mind when describing a quintessential cleanser for dry skin. Created with five different conditioners, this cleanser's hydrating ingredients keeps even the driest, flakiest skin moisturized and smooth. Its pH-balanced formula and creamy, gel finish nourishes and soothes the skin for a soft, clean finish.
Thanks to their gentle formulations, cleansers also work best for sensitive skin. With no fragrance, sulfates, or parabens, the La Roche Posay Toleriane Hydrating Gentle Cleanser was made with sensitive skin in mind. Formulated with the brand's own thermal spring water, niacinamide, and ceramides, it removes dirt and impurities without compromising your sensitive skin.
Face washes offer a deep cleansing experience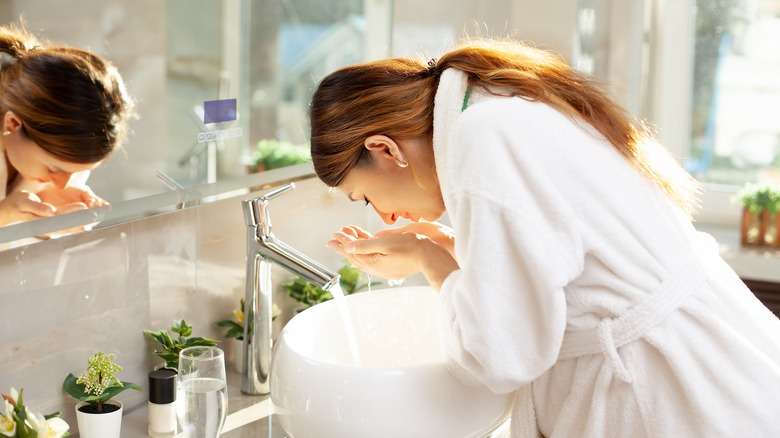 Anna Brusnicyna/Shutterstock
Although both facial cleansers and washes contain surfactants to get rid of dirt and impurities on the skin, face wash goes the extra mile to provide you with a deep clean. If cleansers are the hydrating shampoos that focus on retaining moisture in your hair more than anything, washes are clarifying shampoos that remove buildup and oil on the scalp.
Face wash removes breakout-causing sebum that exists in the pores, so they work best for acne-prone skin. Unlike cleansers, face washes foam up, which helps with the removal of excess oils. A staple for acne-prone skin, the salicylic acid in the Neutrogena Oil-Free Acne Wash reduces current breakouts while properly cleansing the skin to prevent future ones.
The power of face washes make it the best choice for those with oily skin, as well. The Kiehl's Calendula Deep Clean Foaming Face Wash is a gentle face wash that clears away grime and oil without leaving your skin too stripped, something that can actually cause more oil. Formulated with calendula flower extract and glycerin, it strikes the perfect balance between a deep cleanse and hydration support.