Spray-On Skincare Is Everywhere, But Is It Effective? Here's What We Know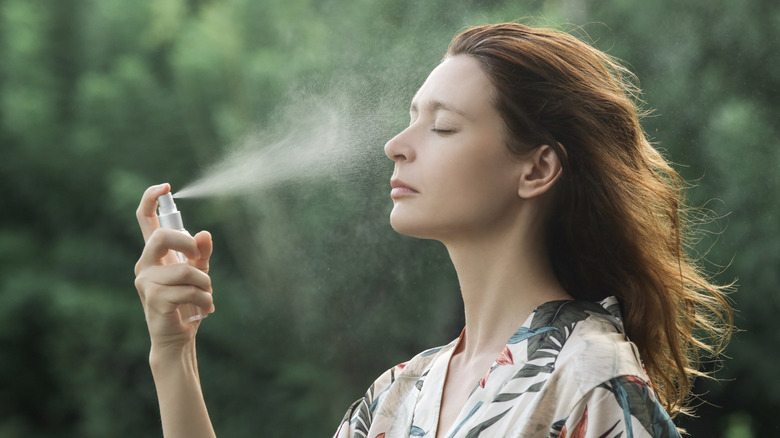 triocean/Shutterstock
Spray bottles and aerosol spray cans have existed for decades. Dr. Jules Montenier created the first plastic spray bottle in 1946. She used it for a deodorant product called "Stopette". The aerosol spray can has been around for even longer. In 1926, Eric Rotheim figured out that injecting an aluminum can with a gas or liquid created pressure that allowed for a product to be sprayed out of the can. By 1949, other inventors had perfected the product with a valve and the ability to refill or dispose of the can.
Today, we use spray bottles and aerosol spray cans for everyday things like cleaning solutions, sunscreen, and bug repellant. However, these types of product dispensers are now common in the beauty industry as well. The difference in how we apply spray products as opposed to rubbing products directly onto our skin leads many to question the effectiveness of spray-on skin care.
Effectiveness of spray-on products depends on the ingredients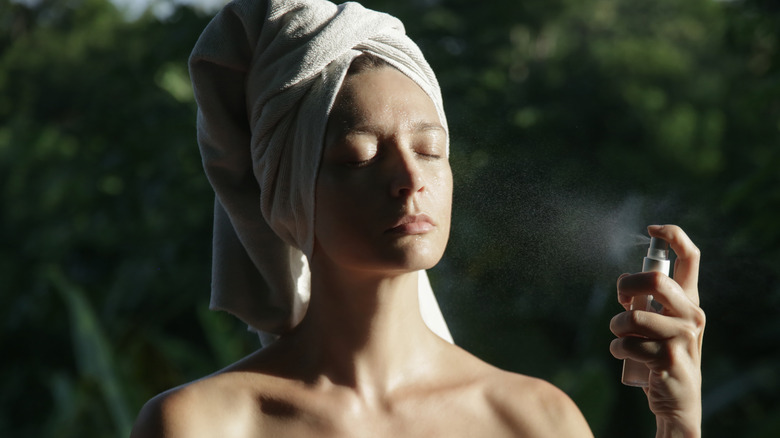 triocean/Shutterstock
The effectiveness of spray-on skincare depends on the weight of the product. "Mostly, serums, essences, and toners make for a satisfying user experience when delivered in a spray," says Loretta Ciraldo, MD. These products have lightweight ingredients like peptides, retinoids, or vitamin C. Products like heavy creams that offer deep moisturization do not fare as well when applied with a spray. Ingredients in spray-on skin care products offer quick hydration rather than long-lasting hydration. Jessie Cheung, MD, tells Allure that sprays "are better for quick bursts of hydration and plumping, if rubbed in properly, which ensures even coverage."
Andrea Bossi sums up the best use of spray-on skin care. For Fashionista, she wrote, "These mist-and-go alternatives might not check every box a more elaborate routine would, but they're definitely better than nothing." These products are for people looking for quick skincare routines. She goes on to explain that spray-on skincare products can help refresh your skin's moisture and add shine to one's makeup. Beneficial ingredients to look for in sprays include collagen, antioxidants, or hyaluronic acid.
There are potential health risks associated with spray-on products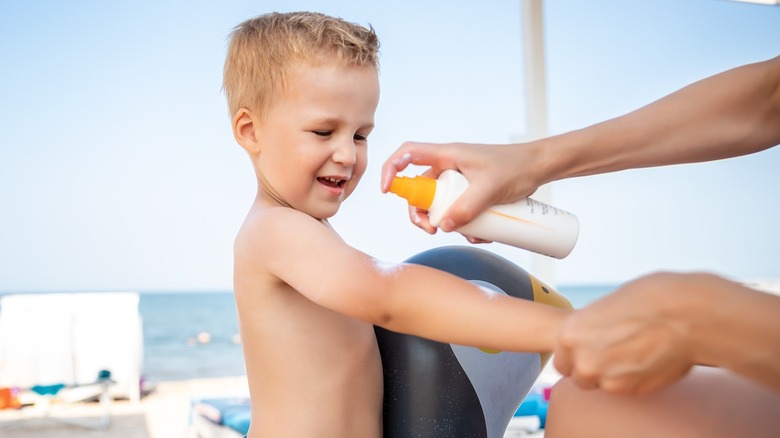 Gorloff-KV/Shutterstock
Though spray-on skincare products do not deliver long-lasting, powerful results, they are versatile. These products can nourish dry skin, dullness, and come in clutch for frequent travelers. Some even combat aging and help hold makeup on. However, they work best when applied without makeup. When choosing a spray-on product, consider your skin type and concerns such as acne. Hyaluronic acid aids in hydration of dry skin. Rose water and oil-free mists are best for oily or acne-prone skin. Anti-aging mists have pearl extracts. 
A risk involved with spray-on skincare that is not associated with cream products is inhalation. Some silicones — which come in multiple forms — are not safe to inhale. Watch out for cyclotetrasiloxane in particular. While its effects on humans is still unknown, it caused fertility issues in rats. Scientists found negative effects of titanium dioxide in animals as well. More alarming issues with spray-on skincare products surround spray-on sunscreens in aerosol cans, as they include flammable elements (per Choice).