Pink Setting Powder Is The Latest Beauty Trend, But You Can Make It With Products You Already Have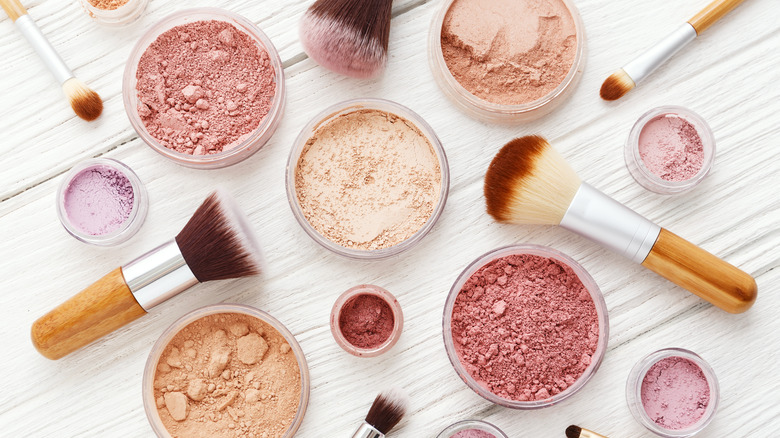 Everydayplus/Getty Images
Pink powder has been trending in the fashion world. Specifically, you can use it to bake your foundation in to create a bright, porcelain look. The rosy undertones give you just the right amount of wow to really open up your undereye and cheekbones.
It's one of those TikTok makeup trends that you've been dying to try, but it can be difficult to find the product on the market. Plus, buying all these different products for every hack you want to test out isn't cheap. 
Don't feel like you have to grab your keys and run to the drugstore every time you see a new trend though, check your makeup bag first. With a few products you already have on hand and these detailed instructions, you can create your own pink powder that works just as well as the real deal. It's also a great hack to have if a makeup disaster happens. Plus, you'll find out why pink powder can change your makeup routine for the better.
How to make your own pink setting powder
You're ready to try pink powder, but you can't find it in stores. Not to worry. You just need to grab a bit of blush and loose setting powder.
Beauty-obsessed TikToker @erinduganjurchak breaks down the steps to make your own pink setting powder, and they couldn't be easier. You just need to grab your Dior blush in a pink shade and Maybelline FitMe powder (but you can get good results with other blush and loose setting powder combos you have on hand too). Jurchak notes that this combo can get you close to the Huda Cherry Blossom powder everyone is raving about.
Making the powder can be done in a snap, literally. Scrape the edge of the blush to create a quarter-sized mound. Add this to a setting powder that's nearly empty, so you have room for the product to blend together. Screw on the lid, and give it a good shake. You want to mix it well for about 30 seconds or so. It can also be helpful to give it a few good taps on your hand or on a table. Open it up and enjoy the light rose color. If it's a bit too dark, add more loose powder and shake again. Now, it's time to try it out.
How to use DIY pink setting powder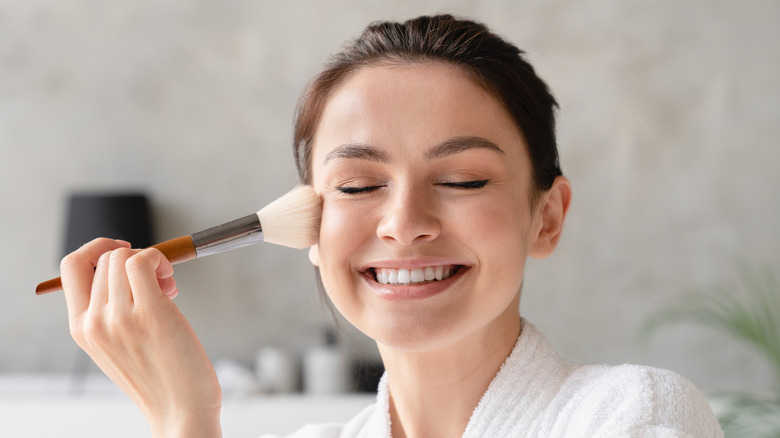 Inside Creative House/Shutterstock
Are you ready to rock porcelain skin? Pink setting powders can get you there by easily baking and setting your makeup in. The perfect glow is as simple as pat, wait, and dust away.
After applying your foundation, get a generous amount of your pink powder on a sponge applicator. Apply it along the sides of your nose and under your eyes. You can also add a bit under the hollows of your cheeks for a bit of extra pizzazz. Allow the powder to bake there for 5-10 minutes while you apply makeup in other areas of your face. Then, use a fluffy makeup brush to swipe away any loose dust. It might seem like a long time, but the heat of your skin actually sets it into the foundation, keeping everything in place and crease-free.
It's a DIY hack that lets you try it without having to buy it. Just remember that pink powder is better for those with pink and cooler undertones.