A Little Vaseline Could Go A Long Way When Dyeing Your Hair At Home
Simonapilolla/Getty Images
When it comes to film and television, hair transformations signal larger emotional shifts. Girl-next-door Sandy perms her hair and confidently smokes cigarettes by the end of "Grease," and Mulan slices off her tresses with a sword before taking her father's place in the military. On TikTok, #hairtransformation has over 25 billion views (and counting), and during the height of COVID, it became increasingly popular to experiment with curtain bangs at home, among many other things. 
Sometimes, the impulse to change up your look can result from a feeling of powerlessness in your daily life. As psychotherapist Rebecca Newman noted in a conversation with Dazed Digital, "Grief after a break-up can drive someone towards making a big change in appearance, as a way of potentially lifting the literal and metaphorical 'weight' of the hair." Given long hair's historic ties to gender and Western beauty standards, certain transformations can even represent a denial of centuries-old social expectations. 
During the pandemic, celebrities like Tiffany Haddish and Yvonne Orji opted for the so-called "big chop," while other A-listers proudly let their natural roots grow out. At the same time, due to global shutdowns, at-home hair dyeing grew increasingly popular. Though DIY dye will save you money, it can be hard to achieve the look you want from the comfort of your bathroom. However, if you're committed to giving it a go, a little Vaseline can go a long way. Here's how to use the unconventional tool to your advantage. 
Apply Vaseline to the skin around your hairline
If you're not careful, the dye meant for your hair shafts will also cling to your skin, and most people aren't looking for an ombré effect on their forehead. "Hair is made out of keratin and so are the skin cells, so the pigment can stain both hair and skin," board-certified dermatologist Dr. Purvisha Patel clarified with USA Today Reviewed. Although the color won't harm your face, it will make the finished dye job look less than professional. 
If you're going for a sleek look, it's not only important to wear gloves during the application process, but it also helps to create a barrier between the color and those particularly vulnerable areas of skin around your hairline. Vaseline will do the trick. Scoop some out with your gloved fingers, and generously apply it to any areas of concern. Shelby Storozinski, hairstylist and TikToker, demonstrates the at-home dying process in the above video. 
Considering it's the most visible region, Storozinski first adds a protective layer to the skin on her forehead before paying special attention to those hard-to-reach areas on the back of her neck. However, try not to get any Vaseline on the hair itself, as this will prevent the pigment from penetrating. Shea butter lotion and coconut oil will also do the trick if you don't have Vaseline handy.
Clean up tricky stains with household products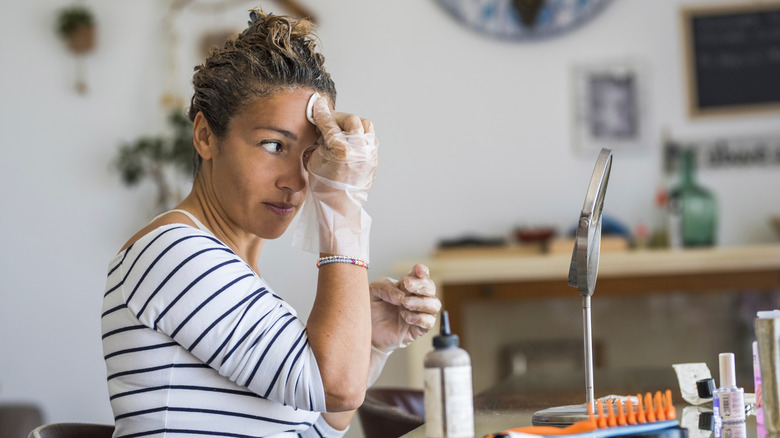 simona pilolla 2/Shutterstock
Even if you take all the necessary precautions, it's more than likely you'll miss a few spots. Fortunately, getting rid of dye stains even after they've taken hold isn't impossible. First, dip a cotton round or paper towel in some olive oil, and gently scrub the pigmented areas. Rinse off any leftover oil with water once you're done. If the dye is particularly stubborn, try a solution of one part baking soda to one part dish soap, a squirt of makeup remover, or rubbing alcohol. 
Celebrity hairstylist Michelle Cleveland has another unconventional solution, recommending glass cleaner to Oprah Daily. "The ammonia in the glass cleaner will reactivate the color and allow it to release just enough to wash it off with warm water and soap," she explained. This is only really suitable for use on the hands, though. Keep in mind that some of these last-resort solutions can be damaging to the delicate skin on your face. 
After applying, always cleanse and counteract barrier-stripping effects with your go-to moisturizer. Ultimately, it's always best to consult a practiced colorist to dye your hair. Not only will salon professionals keep that unwanted pigment off your forehead, but they'll also help you find the perfect hair color for your skin tone and can even give you a trim and a blow-dry while they're at it, too.