Here's What You Need To Know Before Cutting Your Own Curtain Bangs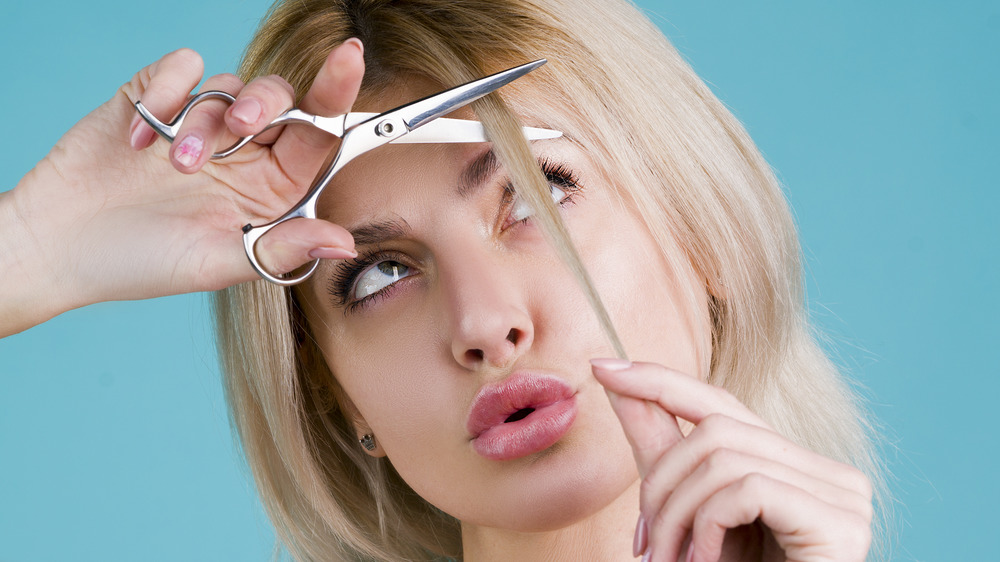 Shutterstock
Many people want the feathered hairstyle made famous by Farrah Fawcett in the 1970s to make a comeback, and curtain bangs make that hairdo achievable. O Magazine declared the wispy, face-framing style that hails from the 1960s and 70s among the hottest hairstyle trends. The publication noted that the fringe is trendy because it looks good on nearly every person. They're popping up on many celebrities, including Jennifer Lopez, Halle Berry, and Dakota Johnson.
According to Emily Heser, a stylist at Cutler Salon in New York City, "Curtain bangs are the gateway to bangs, because they're super versatile. They're long enough to grow out or pin back if you want, but they can also be cut into a shorter look" (via Glamour). 
It's no surprise that women everywhere want to update their 'do with these versatile bangs because they happen to work with straight, curly, or wavy hair, and they compliment both long and shorter hairstyles. Another benefit is that in terms of bangs, this fringe grows out more quickly than other styles because people often wear them parted in the middle or swooped to one side. Many women choose to cut their bangs at home, which carries some risks, including accidentally cutting bangs too short. Despite the possibility of mistakes, curtain bangs are pretty forgiving as long as you take a few precautions.
Keep these things in mind before cutting curtain bangs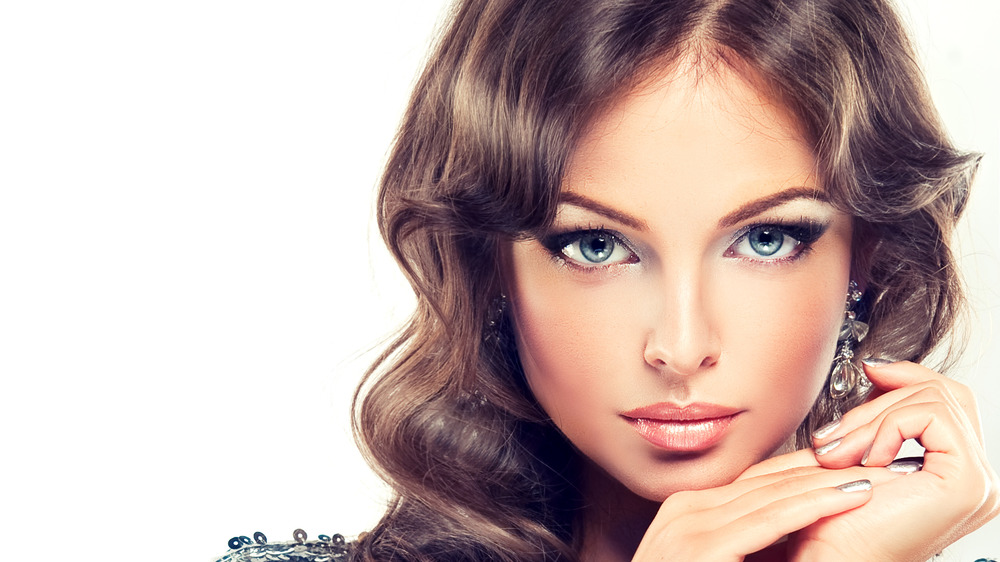 Shutterstock
The first rule of cutting your own curtain bangs is to cut them longer than you think you want them, Glamour reported. You can always trim them shorter if you need to, but growing out a mistake takes a while, so you'll be stuck with too-short bangs if you don't go longer. Another important consideration is the type of scissors you use. Do not just grab "the closet thing" when creating a new style yourself. If you have them, choose a thinning shear, and if not, then at least ensure you use sharp shears designed for cutting hair. Grab a good comb to help guide your shears as you trim. 
Finally, before you start cutting, check out a tutorial like the one Brad Mondo created (via YouTube) or from someone else you trust. When you decide to make the snip yourself, make sure you can see what you're doing, and don't go for a blunt cut, which is difficult to blend and style. Before you trim, make sure you're ready to style your bangs regularly. "Unless you have naturally very wavy hair, they will take some styling for them to look the way you want," celebrity hairstylist Justine Marjan told Glamour.
Gather your supplies and your courage, and take the plunge with this simple hair update.