Outfit Inspiration To Help You Dress For The Rain Without Sacrificing Your Style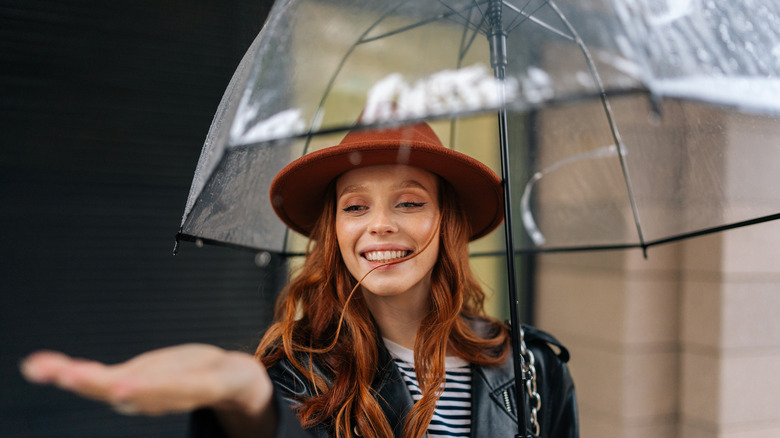 Dikushin/Getty Images
A good rainy day agenda should always include a nap — goodness knows, you've earned it. But that aside, you don't have to avoid your plans just because the clouds have rolled in. In fact, a rainy day is often the perfect excuse to indulge in some chill, relaxing sartorial vibes. Think of it this way: If you've been craving some downtime to go to that new, eclectic coffee house and read a book, a rainy day can only enhance the mood. 
Or, maybe you'd rather while away the afternoon scouring the racks at the local vintage store. Whatever your plans are, it's just a matter of reframing your outlook because rainy-day plans, when done right, can be wonderful. So much so that rain has been featured in numerous iconic movie scenes. Take, for example, the bone-achingly romantic rowboat scene in "The Notebook," where Rachel McAdams and Ryan Gosling get caught in a torrential downpour and gift us a legendary kiss. 
Obviously, we're not necessarily saying that something life-changing is going to happen to you every time it rains. But a drizzly forecast can also be an opportunity to lean into a cozier aesthetic. In any event, with just a few clever rainy-day fashion tips, you can absolutely transform a wet and dreary downpour into an opportunity to rise to the occasion in style. 
Keep it cozy and chic
Miel is definitely channeling all our rainy-day feels with these gorgeous layered looks. The TikToker's selections are spot-on for rainy day agendas, including coffee house vibes, hunkering down at the movies, or eating grilled cheese at your favorite restaurant. She uses mix-and-match essentials for monochromatic looks but also employs capsule-style fits that are easily interchangeable. Plus — and this is paramount — each look is as cozy as it is cute. So, you can embrace the TikTok-famous cozy girl lifestyle with these fashion tips, even on a rainy day. 
Add a pop of color
If you're looking for where rainbows are born, Nicole Hinchman's Instagram feed is the likely location. In fact, rather than a pop of color, imagine endless champagne bubbles of color — and that aesthetic doesn't quit just because it's sprinkling outside. In this look, she takes leggings and a classic button-down shirt and pairs them with a vibrant duster and bold orange rain boots. No matter the weather, your outfit can still bring out the sunshine. 
Add one fierce and functional detail
Regardless of the weather, you can't go wrong with an all-black ensemble. But we love the idea of adding a cute baseball hat — a rainy-day essential if you want to protect your hair. Take inspiration from TikToker Asia Ventura, who matched the hat's accent color to her kicks. It's that type of low-key detail in a rainy day outfit that's functional and, at the same time, says to the world, "Puh-lease, a little water can't douse my fire." 
Give your rainboots a sassy upgrade
Just because it's raining, that doesn't mean your mood, or boots, needs to be flat. Try experimenting to create a hybrid vintage rainy day fit that ushers in a fully-formed "I have arrived" mood. Tucking old-school track pants into scrunchy socks isn't just cute; it keeps the miserable, damp weather at bay. And then the boots themselves — an abbreviated block heel — offer stability in the bad weather and a little wink of femininity too. 
This classic rainy day fit will never fail
This look is minimalist yet wildly chic. Elevated essentials are the key to classic rainy-day style. In this example, the sweatshirt's fabric has just a hint of sheen, and that creamy, dreamy trenchcoat has a super clean cut, which gives the outfit a more polished finish. The look incorporates several shades of cream, including a cute baseball hat to complement a rain-safe sporty ponytail. Channel this look to be comfortable, cute, and ready to hop over puddles with ease. 
Level-up with a show-stopping umbrella
POV: It's cloudy, rainy, and overall just a dreary sort of a day, but you're hellbent on creating a bright spot — your own little ray of sunshine as it were. One easy way to add a dash of glam to your look is with a statement umbrella. And, honestly, if you have enough closet space, go ahead and buy a few. Whether it's a bold, bright color, like this gorgeous plum version or a unique vintage umbrella from a thrift store, either way, you'll be the chicest little miss sunshine around.