The Reason 'We-Talk' Could Be The Key To Relationship Satisfaction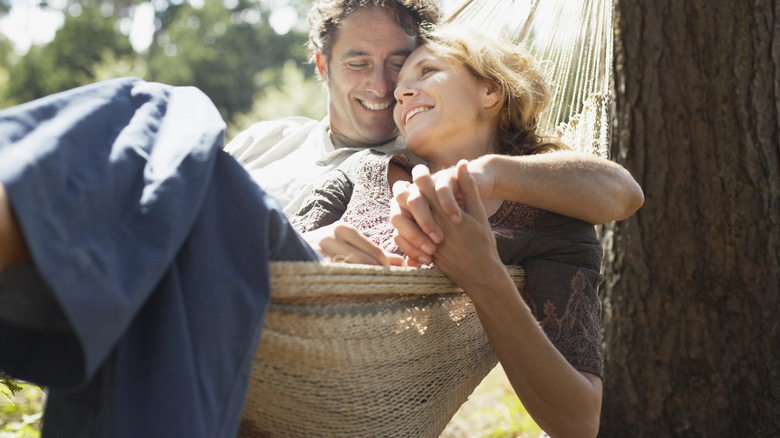 Paul Bradbury/Getty Images
Relationships take work. Anyone who's ever been in one that has lasted a while would tell you that. There are a lot of key ingredients that go into keeping it alive — communication, intimacy, trust, loyalty, kindness, respect, etc. And if you've ever been witness to a wedding (either your own or someone else's), you would've listened to marriage vows that laid emphasis on mutual interdependence. The newlyweds leave their ceremony with renewed vigor to be each other's person, to have their back, and to support one another through thick and thin. 
In a society that values individuality and autonomy, the idea of "we" in a relationship could be frowned upon and even laughed at by some. In fact, you may have cringed yourself when a friend started using the plural terminology in relation to their own partner. According to couples therapist Aimee Hartstein, however, when couples move from "I" to "we" talk, it's often a sign that things are getting serious (via Bustle). "I think it's very reassuring to both parties that we are moving from being solitary to thinking about ourselves as a couple and starting to make decisions about us as a unit together," she explained. 
In essence, a new family is being formed, one that involves two people who are committed to making their relationship last a lifetime. So you might be wondering, just how important is "we-talk" in a relationship? And what does research have to say about it? 
'We-talk' makes couples feel like a team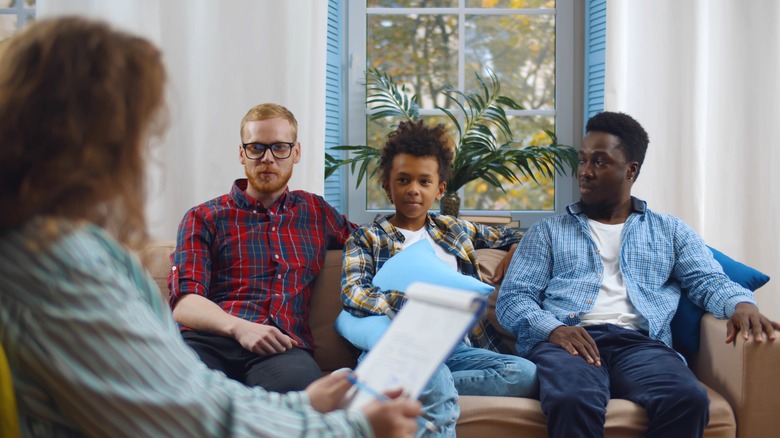 nimito/Shutterstock
Who wouldn't like a teammate to get through life's challenges — whether that's navigating an illness, financial crisis, or even raising kids? A December 2022 study published in the Journal of the International Association for Relationship Research has found that partnerships where "we-talk" was prevalent were shown to have greater relationship satisfaction as the years go by than those who don't. 77 couples who had children of preschool age took part in the survey. They were asked to rate their relationship satisfaction at the beginning of the study, then at six months, and finally in a year. Couples who saw themselves as a team (who had "cognitive interdependence") reported no decrease in marital satisfaction at the end of the study.
Another study published in the Journal of Social and Personal Relationships looked at the positive relationship between "we-talk" and how happy individuals are in a relationship. A first author of the paper, Alexander Karan, noted, "The primary takeaway is that interdependence may bring about supportive and relationship-centered behaviors and positive perceptions of the partner — especially important in times of stress and conflict" (via Psychology Today). 
Think about the time when your spouse told their parents something like, "We have decided to go in a different direction on this property deal." How did it make you feel? You probably felt validated, supported, and seen. Projecting a united front, whether it's to each other, your friends and family, or even your kids, has its benefits.   
How to practice 'we-talk' in your relationship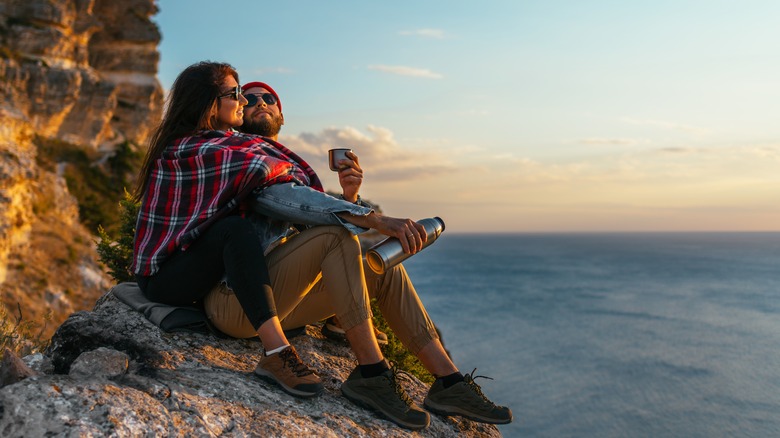 Sotnikov Misha/Shutterstock
Much like with most ingredients that go into making a successful relationship, thinking of yourself in terms of a unit, also takes time and practice. In fact, a different study has looked at the particular challenges people with different attachment styles have in this area. 
Regardless of where you're coming from, if you want the key to long-lasting relationship satisfaction, you might want to get on the bandwagon of cultivating "we-talk." According to psychologist Tamar Chansky, there are a few things you could be doing to get the ball rolling (via Psychology Today). Leading by example by saying things like, "Let's go out for a drive," or "How do you feel about us going away for the weekend?" could get your partner into the same spirit. Being accusatory and pointing fingers at your partner is probably one of those toxic relationship habits most people think are healthy. Even if you or your partner revert back to using "I" and "you" during an argument, try and take a breath, lay down your metaphorical weapons, and approach the conflict as a unit. 
"The fact is, relationships are a table for two. And if you want to luxuriate at the table with your partner, rather than one (or both) of you wanting to sneak out a window, hail a cab and be outta there, make sure that your language is the connected kind," wrote Chansky.