The Color Of Underwear That Works Best Under White Clothing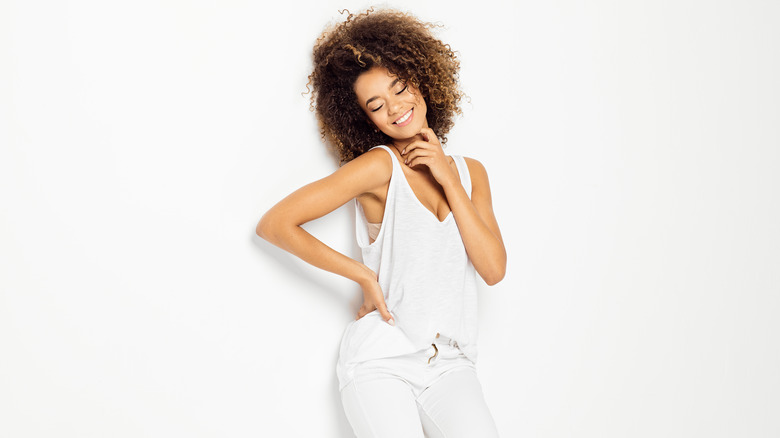 Kiuikson/Getty Images
When getting dressed to go out, color can be everything. You normally match your top to complement your bottom. Some people color-match their jewelry to their hair, their shoes to their bags, and the list goes on.
Besides personal preference, there are also unspoken fashion rules, like not wearing white after Labor Day. Yet, many of these traditional guidelines have fallen by the wayside because more people are standing up to say that they create their own sense of style, just as they should. However, a person's personal style is very individual. While one person might not be caught dead mixing silver and gold jewelry another will intentionally mix jewelry. 
Some fashion rules are created to help you look better and avoid embarrassment. One such rule is the color underwear you don when wearing a white pair of pants or a white skirt, and it may not be what you think.
Why white underwear isn't the best option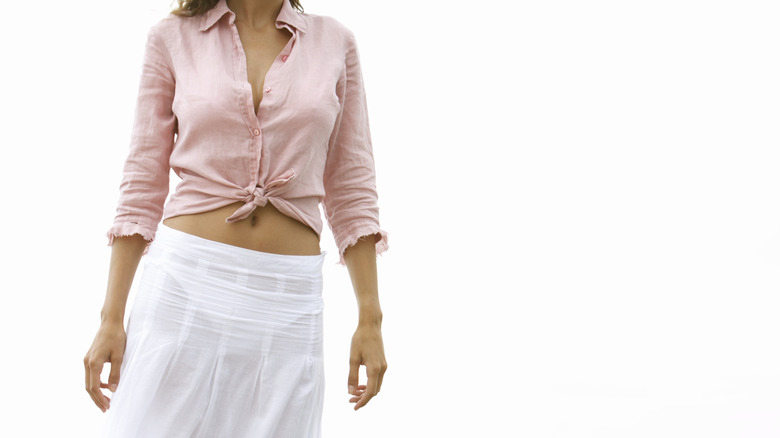 Maria Teijeiro/Getty Images
It's a bit of a no-brainer to realize that wearing blaring bright colors such as bold pinks, yellows, oranges, blues, and purples might look unsightly underneath white clothing. Though clothing material is also a factor and thick white denim masks more than white sheer clothing, anything bright and colorful has the potential to show through white clothing, and that's not the look anyone wants to attain.
It may seem like common sense to think that wearing white underwear underneath white clothing would cancel out any unsightliness but that's actually not the way to go, as per Heili Bridal. When a white skirt or pants are sheer, you can see through to what's underneath much more easily. If you wear white underwear under white pants or a white bra under a thin white t-shirt, the end result will be that you will, in fact, be highlighting those areas. So your white underwear will look more pronounced.
However, there is a way to try to hide your underwear when wearing white.
Try nude-toned underwear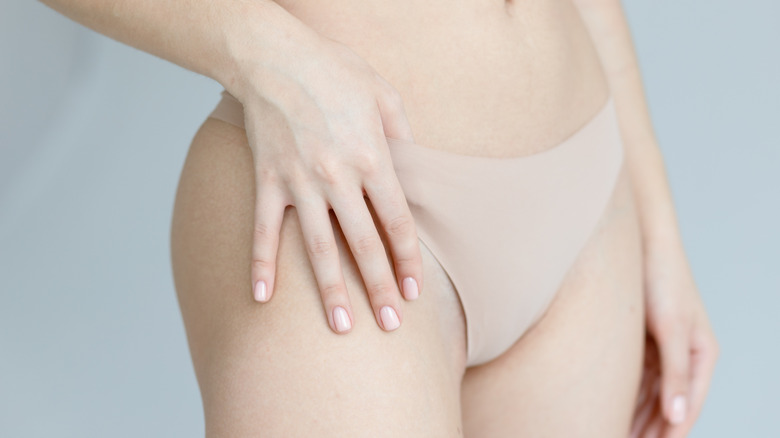 Misha Beliy/Shutterstock
The best way to hide your underwear underneath white clothing is to try to match it as close to the same color of your skin as possible. Stylist Jenny Altman told Insider, "If your goal is to keep your intimates 'intimate,' then you really need to go with a nude tone."
If you don't have nude undies, you can pick a color that comes closest to your skin. "This color could be the actual color nude, but could also be a brown, beige, or even light pink," said Altman. "Keep in mind, that no matter what your skin tone (even if you are darker skinned or super fair), the color nude will always be better than white."
The same goes for bras and t-shirts and you never want to wear a white bra under a white t-shirt or blouse, Always opt for a nude color bra to conceal it when wearing a white top.