Donald Trump's Unexpected Claim About How Queen Elizabeth And Princess Diana Really Felt About Him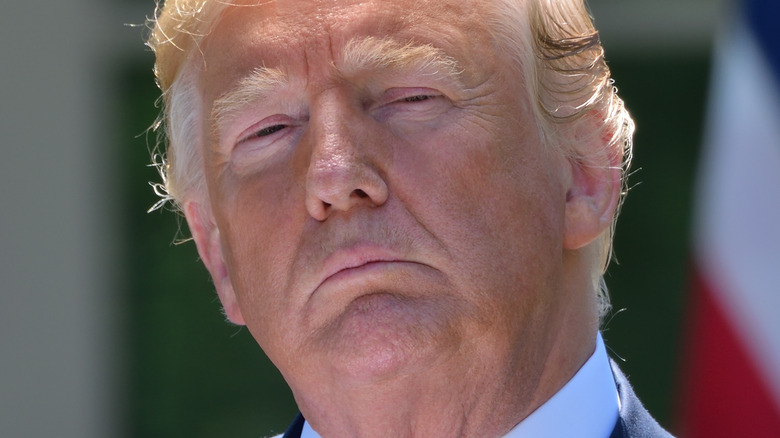 Evan El-Amin/Shutterstock
We're certainly not surprised to hear that former president and current presidential hopeful, Donald Trump, has said something shocking. But, this time around, he took things even further than we'd come to expect. As Donald Trump's 2024 campaign gets underway, he's sure to pull out all the stops to try to secure the Republican nomination for a second time. Among the political moves Trump will certainly be making as a part of his campaign is releasing a book. 
Trump's upcoming tome is entitled simply "Letters to Trump" and it's comprised of 150 missives written by public figures and addressed to the former president. Among the celebrities and presidents who wrote to him, Trump's new book will reportedly include messages from Oprah Winfrey and Princess Diana, as well as the late Queen Elizabeth II. We can only imagine what someone like Diana might have to say in a letter to the controversial politician. 
But, as far as its recipient is concerned, folks are sure to be surprised by what the People's Princess had to tell him. Trump has made some rather unexpected comments about the contents of his book thus far, especially how some beloved women allegedly treated him. 
Trump's latest crass claims will shock royal watchers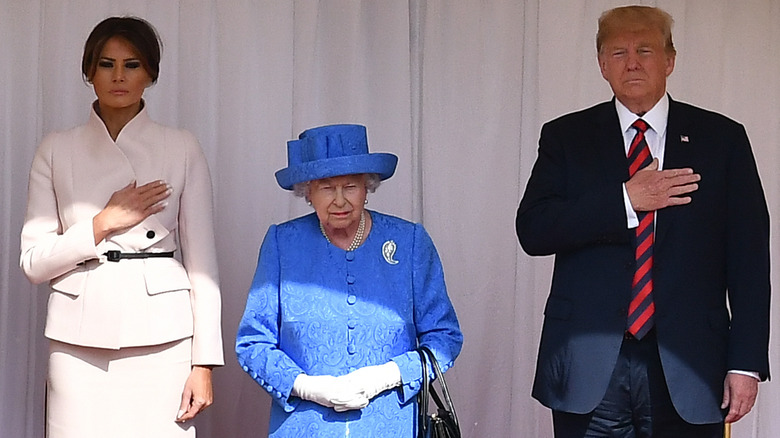 Wpa Pool/Getty Images
If you're struggling to imagine what Queen Elizabeth II or Princess Diana would have said to Donald Trump, the former president wants to put it into his own words before you can actually hear theirs. As he told Breitbart, "I knew them all — and every one of them kissed my a**, and now I only have half of them kissing my a**." Trump hopes to make the point that plenty of famous types adored him before he announced his initial presidential run. 
In the words of his son, Donald Trump Jr.: "My father has lived an amazing life and has been around some of the most interesting people in the world." He went on to add, "It's amazing how quickly their adoration of him changed when he ran for office as a Republican. 'Letters to Trump' shows you exactly how they felt about him and how phony their newfound disdain truly is." 
It's safe to say that Trump Sr. has a similar hope with regard to how his book will be received. For now, though, the presidential hopeful simply says this of the folks who will read it: "I think they're going to see a very fascinating life." As of now, "Letters to Trump" is set to be released on April 25 and will set you back $99 minimum.
Inside Letters to Trump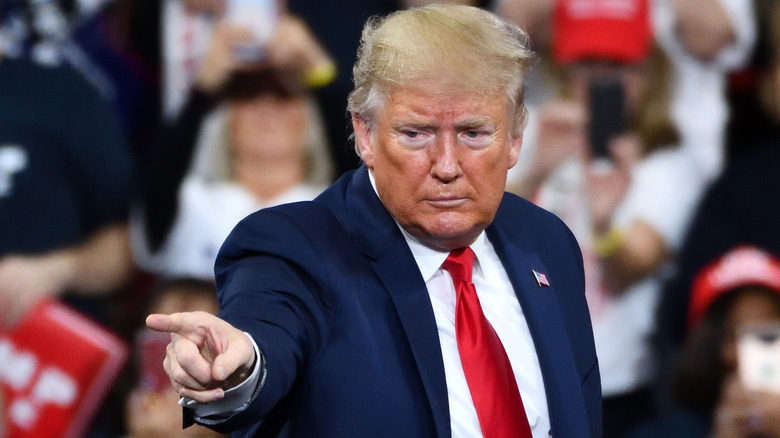 Evan El-Amin/Shutterstock
If you think that "Letters to Trump" sounds too juicy to pass up, you're not alone. This newest authorial-adjacent venture will be published by Winning Team Publishing, which is the same publisher that put out Donald Trump's coffee-table photobook last year. While you may not have known about "Our Journey Together," it managed to bring in a whopping $20 million in sales in its first two months on shelves alone, per Axios. 
As for "Letters to Trump", we don't know all of the high-profile letter-senders who will be featured just yet, but we do know that the Clintons, Richard Nixon, Ronald Reagan, Kim Jong-un, and Mario Cuomo are among them. The book also features some surprising entertainers, like Liza Minnelli, Jay Leno, and Regis Philbin, who allegedly began his letter with, "My Dear Trumpster."
What exactly they all said to the former president is unknown, but it's clear that Trump wants us to take his word for it until the book is released next month. That said, we do know that Oprah Winfrey replied to Trump's suggestion that she should be his VP with: "I have to tell you, your comments made me a little weepy." Regardless of how glowing the letters may be, plenty has changed since then, so folks will have to take his public display of former pats on the back with a rather sizable grain of salt upon its release.