The Functional Bag Trend You'll Be Seeing Everywhere In Spring 2023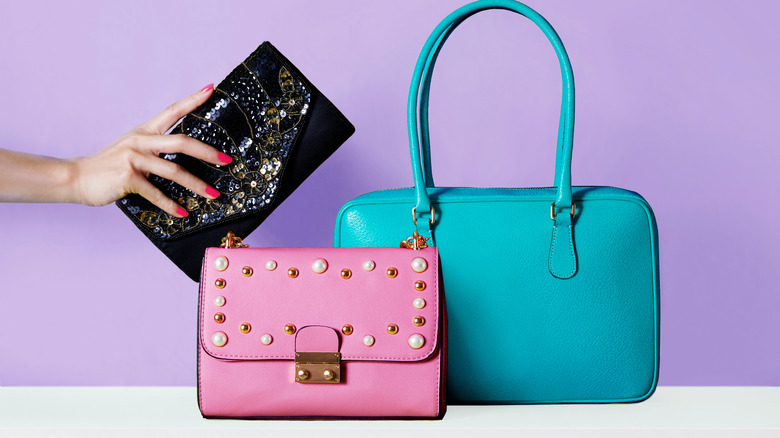 Moustache Girl/Shutterstock
Women's clothes rarely have pockets, so every day, many women rely on a purse to take with them whenever they leave the house to have what they need at hand. And this seemingly ordinary item has a long history. It goes back to before the 1790s when purses were just pouches to hold money up and were carried by both men and women, according to JSTOR Daily. Women would keep their personal effects in pockets under their skirts, but as fashion changed moving into the 19th century, women transitioned to hand-carrying small, fancy bags called reticules for what they might need in a day.
Over the next 200 years, the handbags and purses that women carried were a reflection of a woman's personal taste and status as well as the era, like during World War II, when the bags were more austere, or in the 1980s where the bags were all about maximalism and embellishments, per Women's Museum of California. And if the current bag trend is any indication, 2023 is all about function combined with fashion.
The trending tote bag will let you carry everything you need
Gone are the days of the itty-bitty bag that looks cute but doesn't really hold all that much. So If you've ever lamented having to carry the various sundries that you might need in day to day life, like lip balm, tampons, a wallet, and more, you'll be excited to hear that large bags are back in style. Spring 2023 runway shows back in November featured large handbags that venture into the size category of a tote bag, and online searches for large bags are up, per Fashionista. Big enough to hold everything that you might need in a day from a water bottle to your wallet, tote bags are no longer just canvas bags for hauling groceries from your car into the house.
You can go for an ultra-luxury status symbol for your maxi-sized accessory with a bag like the YSL Icare Maxi Shopping Bag. Made from quilted lambskin, it retails for $4900, features the YSL logo, and can be worn with the corners folded in or expanded for more room. And if you have this bag, you're in good company. It's in the closests of a number of celebrities including Zoe Kravitz and Bella Hadid, per Lyst.
You can combine 2023 trends with a tote bag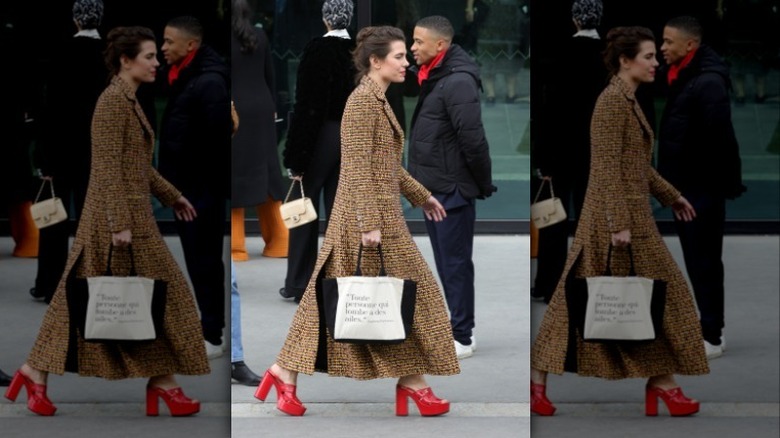 Pierre Suu/Getty Images
You can combine the tote bag trend with another 2023 trend: quiet luxury. And quiet luxury doesn't have to be expensive. Parker Clay's Merkato Signature Tote for $228 is handmade from sustainable leather, has a lifetime guarantee, and classic styling. There's also convertible options like the Marc Jacobs Leather Medium Tote Bag for $450, which has a removable shoulder strap along with handles.
One of the clear benefits to carrying a tote bag as your daily handbag is that you can easily fit everything you'll need for the day in it. The downside to being able to carry everything with you is that if you have a lot of stuff and you combine it with a heavy bag, that can cause problems with your posture if you're not careful, according to Well + Good. Don't always carry your bag on the same shoulder, and be on the look out for a bag on the lighter side, like Kokolu's Daily Plus Tote Bag, for $99. The bonus to that bag, along with its super lightweight and on-trend style, is that is made from 20 recycled plastic bottles. The Baggu Cloud Bag for $56 is another lightweight option made from eco-friendly material.