Sarah Ferguson Recalls Wild Bachelorette Party With Princess Diana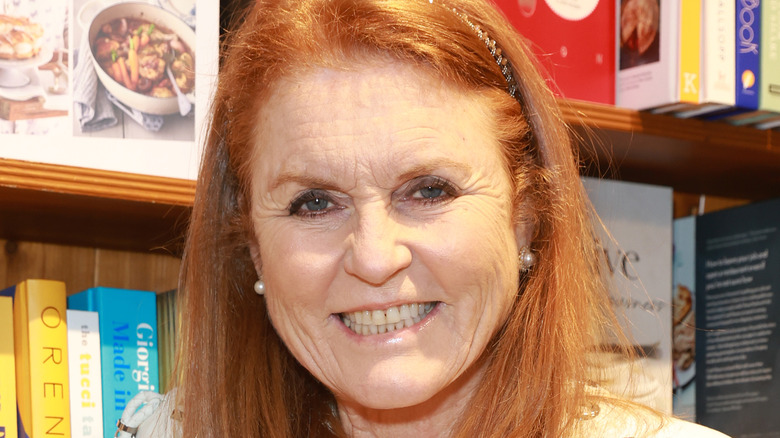 David M. Benett/Getty Images
Before they were royals, Sarah Ferguson and Princess Diana shared a close relationship. "I loved her from the minute I met her when I was 14 to the minute she passed away," Fergie told The Telegraph in 2021. "There was nobody like her and there never will be." Behind Fergie and Diana's fast friendship was a lot of common ground. Besides being 4th cousins, their mothers were best friends at school.
As they entered adulthood, the two women shared a weekly lunch date. Diana married into the royal family first, and Fergie was a loyal friend. "She was two years younger than I, and I strove to support and protect her as I would a younger sister — as I still do today, as a best friend," the Duchess of York wrote in her 1996 autobiography.
Then in 1985, Diana helped introduce her friend to Prince Andrew. Fergie and Andrew's romance began when the two sat together a Royal Ascot dinner. "I said to [Diana], 'Oh, Andrew's really good-looking,'" Fergie reminisced in a 2021 People interview. "And she said, 'Duh, Fergs!'" Diana, who Fergie called "Duch," also arranged for the new couple to enjoy time together at Prince Charles' Highgrove house. By 1986, Fergie and Andrew were engaged, and Diana helped start a new royal tradition in honor of her friend's upcoming wedding. Fergie was the first royal to enjoy a bachelorette, or hen party, and it was definitely a night to remember. 
Fergie and Princess Diana impersonated police officers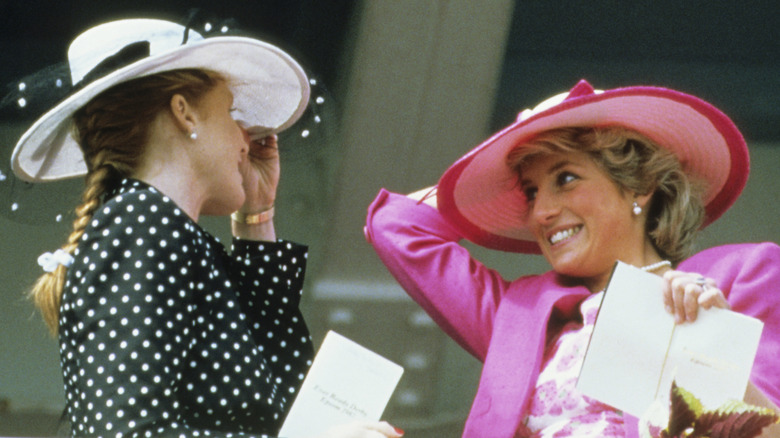 Georges De Keerle/Getty Images
Appearing on The Kelly Clarkson Show, Sarah Ferguson, Duchess of York, discussed her eventful bachelorette party in 1986. To begin the night, Fergie and Princess Diana dressed up as police officers, complete with dark wigs. Diana also donned a large pair of glasses. When they went to a nightclub, the friends were mistaken for actual members of law enforcement. "The waiter came up to us and said, 'Excuse me, this is a members club and it's for fun and we don't serve police officers here,'" Fergie recalled.
Outside the club, the costumes weren't as convincing. Fergie and Diana were arrested for impersonating police officers and hauled away in a van. To further conceal their identity, they had turned their engagement rings to hide the stunning stones. While they were driving to the station, Diana spotted some of the officers' snacks. "She just looked round and saw smokey bacon-flavored crisps and started taking them and eating them," Fergie shared. "And the policeman in the front goes, 'You can't do that.'" Eventually, the officers recognized Diana and Fergie and let them go.
According to royal biographer Sarah Bradford, officers apprehended Fergie and Diana while the women were making a fake arrest. After their release, they pranked Prince Andrew, who was heading home to Buckingham Palace after his bachelor celebration. "[The palace gate policemen] shut the gates in Andrew's face as his car approached. Fearing an ambush, he screeched into reverse," Bradford told the Daily Mail.
Both Fergie and Diana loved having a laugh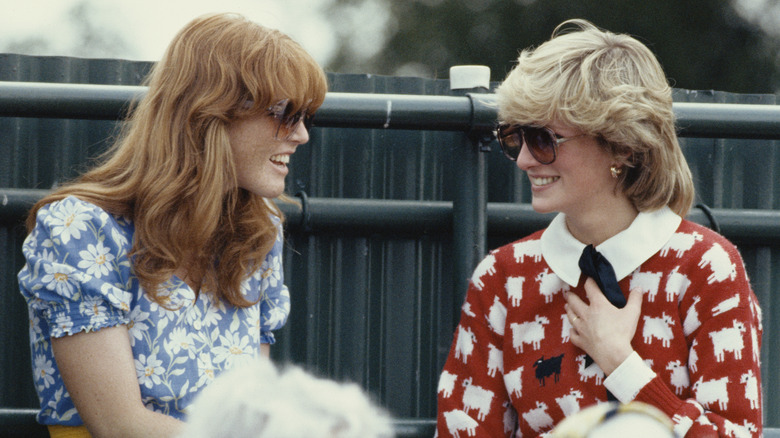 Georges De Keerle/Getty Images
Sarah Ferguson's bachelorette party pranks weren't the only time she and Princess Diana got into mischief. Both women shared a sense of fun. "She and I, we laughed a lot. We got into trouble a lot," Fergie said on The Kelly Clarkson Show. A year after the hen party, the pair got reprimanded for poking a friend in the rear with an umbrella at Royal Ascot.
The Duchess of York was sometimes portrayed as being a bad influence on Diana. "We were positioned as saint and sinner," Fergie told People in 2021. Royal biographer Sarah Bradford agrees with this assessment. Speaking of the bachelorette party incident, Bradford told the Daily Mail, "None of this would have occurred to Diana without Fergie's bad influence. A member of staff said Fergie had her own agenda and used to get Diana into trouble and then disappear."
However, Diana wasn't as innocent as some people believed. "She used to tell me the worst stories — joke stories — before I had to be serious," told Kelly Clarkson. Diana's enthusiasm for pranks and jokes was also evident in the way she encouraged Harry and William's wild antics. Speaking in the documentary "Diana, Our Mother: Her Life and Legacy," Prince Harry said that Diana had the philosophy, "you can be as naughty as you want, just don't get caught," (via Newsweek). Perhaps this motto led to Diana's reputation for being "the saint."