'Root Clipping' Is The Perfect To Keep Your Curly Hair From Looking Flat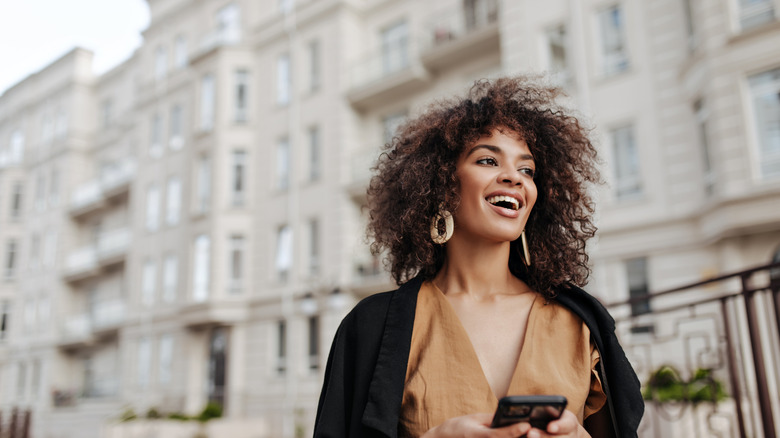 Sun Shock/Shutterstock
We may receive a commission on purchases made from links.
After the '90s and '00s obsession with pin-straight hair and silky tresses, the 2010s brought a curl renaissance, encouraging women to embrace their natural, curly hair. Ushered in by Black women, the Natural Hair Movement encouraged women to put down dangerous relaxers and embrace the kinks and coils that spring from their heads.
Ten years after natural hair was brought back into the mainstream, it led to a renaissance of curly hairstyles, Black hair care brands, and new knowledge and techniques geared toward nourishing and taking care of curly hair. Despite the increased knowledge about caring for curls, some people experience pitfalls with their curly hair that others do not.
After a wash day of deep conditioning, diffusing, and finger defining so each curl coils to perfection, the roots may fall flat once the hair is dry. Flat hair on top may seem inescapable no matter what volumizing product you use. However, the curly hair community has shared their favorite technique for achieving volume all over your head.
What is root clipping?
Although curly hair is typically classified as thick or coarse, the strand of the hair itself can actually be fine in texture. As a result, the dense quality of the overall shape of the hair isn't present at the roots, making the top of the head look thin and causing the hair to fall a bit flat. The root clipping technique involves strategically lifting the hair at the roots using claw clips in order to create more volume.
This can be done all over the head or wherever more lift is needed. Start out on wet, freshly washed hair and apply your styling products. For fine textured hair, use lightweight products that won't weigh your strands down. After applying your product, lean over, so your curls fall to the side. Grab a section at the root and use your clip to hold it up. For more volume, experts suggest using smaller sections and more clips.
Once the clips are on, diffuse your hair as normal. Ensure your hair is dry before removing the clips — curly hair stays wherever you place it, but if it's wet, the roots will be limp, ruining all your hard work.
Other methods for adding volume to curly hair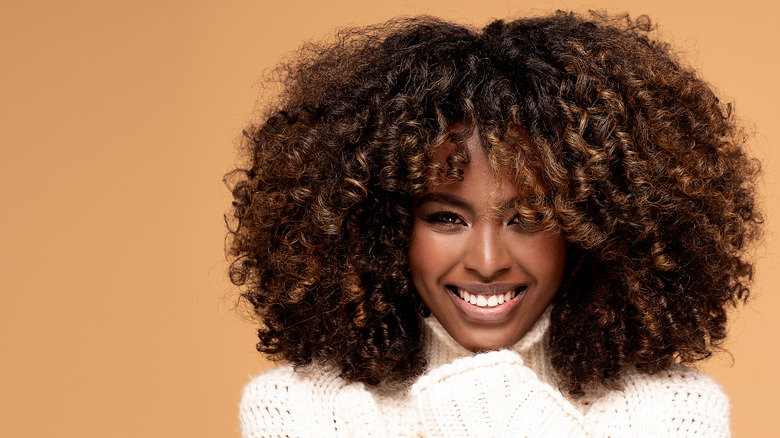 NeonShot/Shutterstock
As mentioned before, the heavier your product is, the harder it is to achieve the volume you're looking for. After using a hydrating shampoo and conditioner, a leave-in and a styling product should be enough to keep your curls hydrated until your next wash day. The Innersense Sweet Spirit Leave-In Conditioner uses honey, tamanu oil, and rice proteins to lock in moisture, keeping your curls strong and hydrated.
While the hair is still soaking wet, go in with a mousse, such as The Doux Mousse Def Texture Foam. A lightweight product, mousse adds volume to hair, and this mousse from The Doux defines curls without giving them that crunchy feeling.
When using your mousse, aim to get the roots of your hair. However, when it comes to conditioning, use it only from the middle of the hair down. As a heavy product, conditioner can weigh down the roots, especially if your scalp tends to get oily. To get more volume as the days go on, try the pineapple method and put your hair in a loose, upside-down ponytail. If you're prone to shrinkage, try the banding method demonstrated in this TikTok.