How To Get The Hyper-Chiseled 'Model Cheekbones' Look With Contour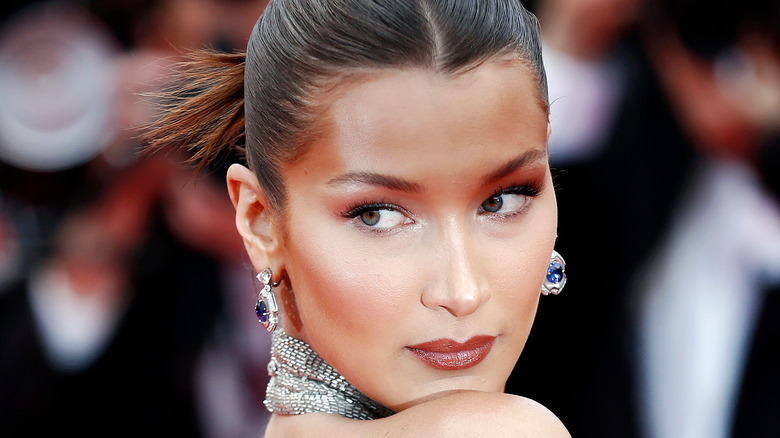 Andrea Raffin/Shutterstock
For years, chiseled cheekbones have been perceived as beautiful by the masses. While cherub-faced beauties are equally as gorgeous, sharp jawlines and contoured cheeks have always been put on a pedestal for the edgy, dramatic flair that they bring to a face. Scientifically, some experts use the Golden Ratio of Beauty to determine what features are allegedly the most beautiful.
Among the women who fit this standard, such as Bella Hadid and Beyoncé, sharp cheekbones are a common trait. They're a signature for models and celebs like Hadid and Zoe Kravitz, pairing well with their sultry gaze and perfect pout. Although some people are naturally blessed with hyper-chiseled cheekbones, plastic surgery is often used to achieve the look.
Despite the costly ways sharp cheekbones are attained, drastic measures don't always have to be taken. Thanks to the internet, there are tons of tutorials on how to get model-level cheeks with makeup. So before you get rid of your exquisite round cheeks, close out the tab on buccal fat removal and pick up a contour stick instead.
How to get the sharp cheekbones look
When learning to contour back in 2016, you were probably taught to draw an upwards line right under the apples of your cheeks. Although this is great for an everyday look, it's not going to help you achieve the model cheekbones you're looking for. However, the practice of using contour that's two shades darker than your skin tone still stands.
Going in with a contour stick, such as the Fenty Beauty Match Stix, can help you to map out where exactly you want to apply your contour. Rather than applying the contour where you normally would, apply it below the cheekbone in a downwards-slanted motion, heading towards the mouth. Once you get directly across from the corner of your lips, draw the line directly down to the jaw. For the final step, draw a line right under the cheek, connecting to the first line you drew.
Once that's on, tap it with a makeup brush or beauty blender to diffuse it, getting rid of any harsh lines. Apply your blush and highlighter above the cheekbone as normal. For a super-defined look, use a translucent baking powder like the Huda Beauty Easy Bake Loose Setting & Baking Powder in the middle of the contoured area to make it stand out even more.
The best products for hyper-chiseled cheekbones
It comes as no surprise that the man behind Kim Kardashian's makeup looks has a successful makeup line. Alongside his other products, the Makeup by Mario SoftSculpt Shaping Stick deserves all the hype. The contour stick has a blendable, creamy formula that dries down into a matte finish, perfect for all skin types. It also comes with a brush on the other end, so you don't have to rummage around for a sponge when you want to apply it.
If you like to use different shades for contouring around the face, try the elf Cream Contour Palette. Equipped with four shades, this affordable palette allows you to create a customized color to match the different hues within your face.
For a look that's equally chiseled and sunkissed, use the Patrick Ta Major Sculpt Creme Contour and Bronze Duo. The creamy, easy-to-blend contour is great for carving out cheekbones, while the pressed powder bronzer lets you set it in place.