Queen Camilla Pays Homage To One Of Queen Elizabeth's Most Cherished Pieces Of Jewelry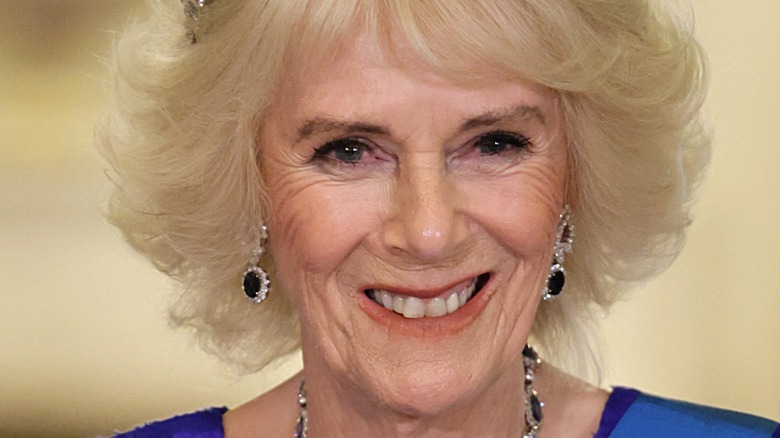 Shane Anthony Sinclair/Getty Images
It is no secret that the women of the royal family frequently pay homage to passed members by wearing similar, or even the same jewels. For example, Kate Middleton wore Princess Diana's famed Lover's Knot tiara for the first time since becoming Princess of Wales at the November 2022 state visit with the South African president, Cyril Ramaphosa. And since the passing of Queen Elizabeth II, Queen Consort Camilla has been seen wearing staples from Queen Elizabeth's jewelry collection. She wore a matching set of the queen's sapphire and diamond jewels, including a bracelet, necklace, and tiara, also during her first state visit as queen consort in November 2022. 
Camilla again paid homage to her late mother-in-law by wearing a brooch similar to Queen Elizabeth's for the March 15 Ladies Day at the 2023 Cheltenham Festival in Gloucestershire, England. The Cheltenham Festival is a horse-racing competition that spans four days, challenging some of the most decorated horses and jockeys to win the coveted Gold Cup, which entails a purse of more than €350,000, just under U.S. $370,000 at the time of writing. The brooch is a perfect match for the occasion. 
Camilla's brooch honors Queen Elizabeth's love for horses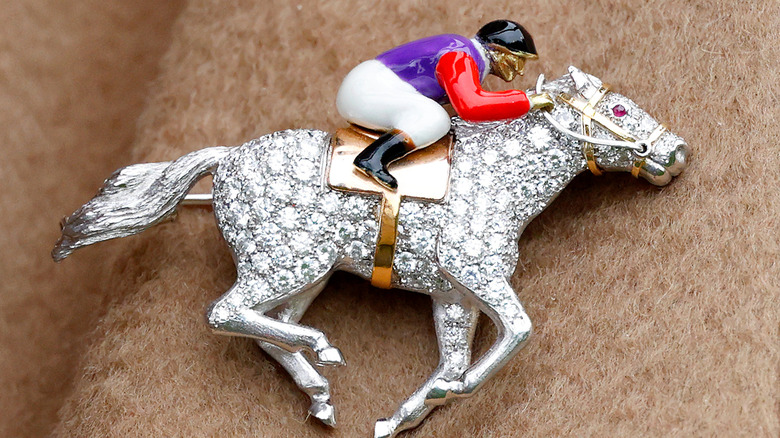 Max Mumby/indigo/Getty Images
Queen Consort Camilla sported an apropos horse brooch to the 2023 Cheltenham Festival similar to the one that once belonged to Queen Elizabeth II. The latter's brooch was commissioned by sports newspaper Racing Post and made specifically for the queen for her 90th birthday in 2016. Set in three different kinds of gold, the brooch also features 35 diamonds that decorate the racing horse in galloping forward. A jockey sits on top, leaning into the reins, wearing Queen Elizabeth's racing colors: a scarlet and purple jacket and black cap, which she also inherited from her father, King George VI. Camilla's brooch bore a near identical look, down to the color of the jockey's jersey. However, per The Court Jeweler, the horse's legs on her brooch were in a different position. 
The Guardian once called Queen Elizabeth the country's "greatest ambassador" to horse racing, as she championed the sport all her life. She bred competitive horses for decades upon decades, amassing a breadth of knowledge that was highly respected in the field. Perhaps the queen's biggest win was secured by her own horse, Estimate, which won the Gold Cup at the Royal Ascot competition in 2013. The prestige of competing in the midst of Queen Elizabeth alone has been cited as one of the biggest draws for international jockeys to race in England. 
Now, Camilla honors Queen Elizabeth's passion for the sport, bringing a small piece of the queen's legacy to the race once again. 
Correction 3/16/23: A previous version of the article incorrectly stated that Queen Camilla was wearing Queen Elizabeth's brooch.