Big Sleeves Are Having A Moment - Here's How To Make Them Work For Everyday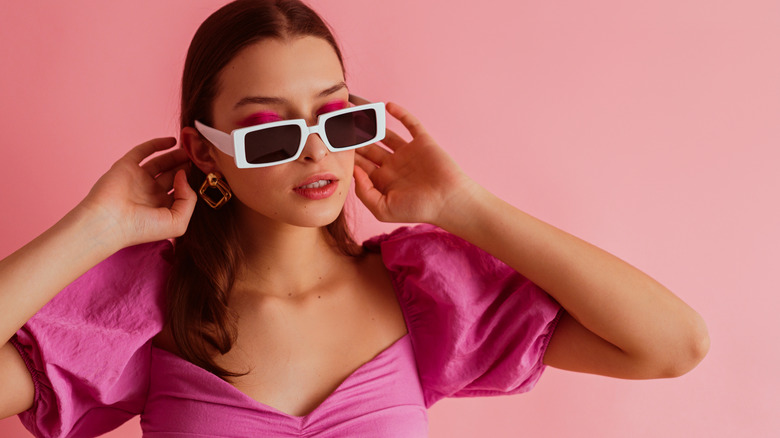 Victoria Chudinova/Shutterstock
There's a reason why London Fashion Week street-style stars rocked a variety of big sleeves in February — puff statement sleeves are super en vogue right now. This is partially because they memorialized the legendary late designer Vivienne Westwood, one of the most influential figures in fashion. She helped pioneer British punk fashion and is well-known for her rebellious touch and for her unrivaled ability to shape the future of fashion using elements of iconic looks from the past, per Vogue.
The chic Westwood touch is actually a lot more versatile than you might think. Big sleeves are fun and feminine, and they can adorably complement sneakers, beanies, dresses, blouses, jackets, and the list goes on. Yes, such eye-catching sleeves may feel intimidating or exclusively high-fashion at first glance, but anybody who wants to can totally nail the trendy look with the right attitude and the right styling. If you're feeling intrigued by the edgy London Fashion Week look, we have some suggestions for how you can show off these sleeves in an everyday kind of way.
Go cutesy in a matching set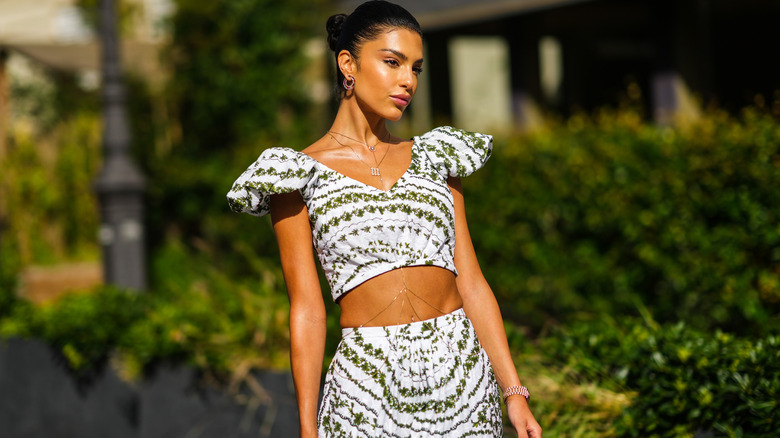 Edward Berthelot/Getty Images
A matching set can give laid-back, youthful, and fashionable energy all at the same time. Depending on the weather and the occasion, you may opt for a light or pastel color palette or a darker and more bold color scheme. Matching sets with puff sleeves look especially cute with Penny Loafers, Doc Martins, or coordinating sneakers if you're going for an everyday look. Feel free to also accessorize with a hair clip or two.
Go for a chic turtleneck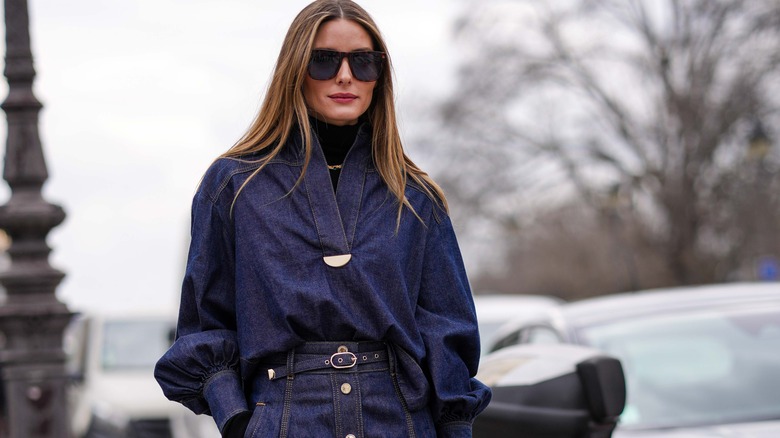 Edward Berthelot/Getty Images
Looking cute when it's cold outside can definitely be a battle. Thankfully, a chic turtleneck with oversized sleeves provides a stunning solution to that problem. Not only is this style weather-appropriate for winter, but it's also adorable and super versatile. You can rock a big-sleeved turtleneck with jeans, dress pants, leather pants, a short or long skirt, and more. The trendy top can also be easily dressed up or down depending on your shoe and accessory choices.
Keep it casual with a sweater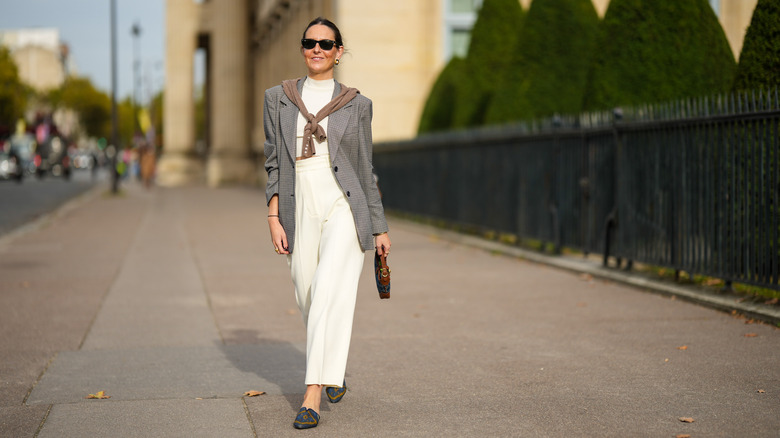 Edward Berthelot/Getty Images
Using a sweater in a slightly atypical way can instantly change the feel of your whole big sleeves outfit. If you're seeking out a cute and casual aesthetic for walking around, running errands, or grabbing coffee with friends, try wrapping a sweater loosely around your neck so that the sweater sleeves hang in front. In this case, the sweater plays the role of an accessory, kind of like a scarf. Complete the look with complementing flats or sneakers.
Have fun with a monochromatic dress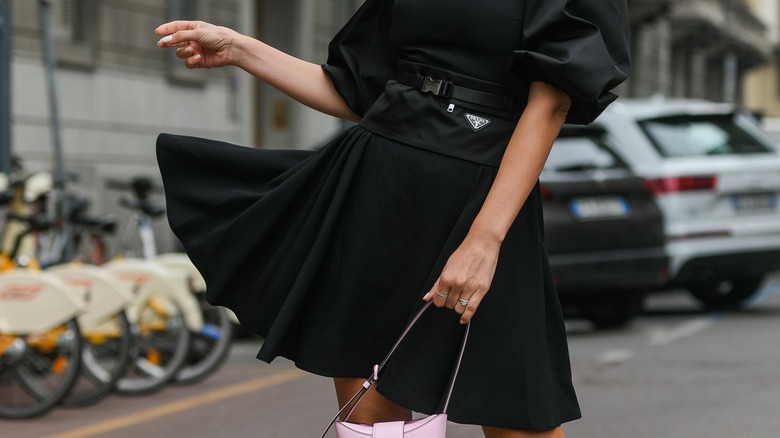 Creative Lab/Shutterstock
Monochromatic dresses are super en vogue and always fun to wear. Without a complicated pattern and color scheme, puff sleeves have their moment to shine in this look. A classic, flowy monochromatic dress is a stylish choice that can still fall squarely into the realm of "everyday" attire. You can dress up the outfit as much or as little as you want with accessories like statement earrings, heels or platform shoes, and a headband or hair clips.
Throw on a cute crop top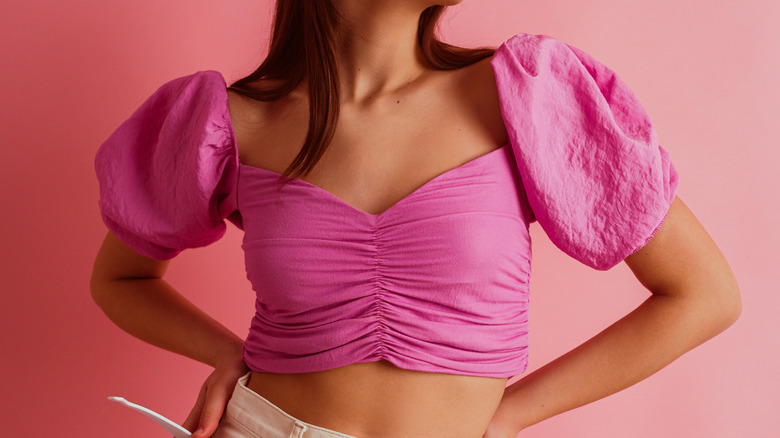 Victoria Chudinova/Shutterstock
Puff sleeves can truly be as simple as a cuffed appearance on an everyday crop top. For a classic take on this ensemble, pair your top with jeans and flats of your choosing. Platform Converse sneakers are very in right now, and they can also amplify the big sleeve style. The simplicity of this outfit makes it especially fun to try out lots of accessories; bracelets, hoop earrings, winged eyeliner, and nails with intricate designs are all great options.
Accessorize with a belt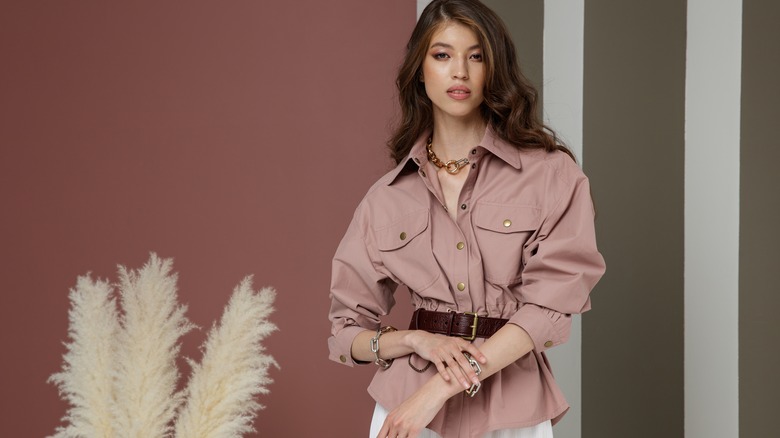 S.Bekhinov/Shutterstock
A cute belt is one of the most complementary accessories that you can pair with puff sleeves. Your stylish belt of choice will add an edgy flair to your look and also emphasize the outfit's shape in a flattering way. This combo can work especially well with a short or long simple dress, some understated jewelry, and heels or boots. Puff sleeves and belts are such powerful accessories that they can mostly carry the outfit's statement on their own.
Rock a romper
It's always a blessing to slip on your outfit for the day in just a few seconds — and to not have to agonize over what top or bottom goes best with it. That's the beauty of rompers which make for some of the most easygoing, fun, and comfortable outfits ever. Big sleeves will make your romper stand out from the crowd, and they'll also add a playful touch to your cute and relaxed look. Grab a shoulder purse and casual shoes, and you're ready to go.
Experiment with layers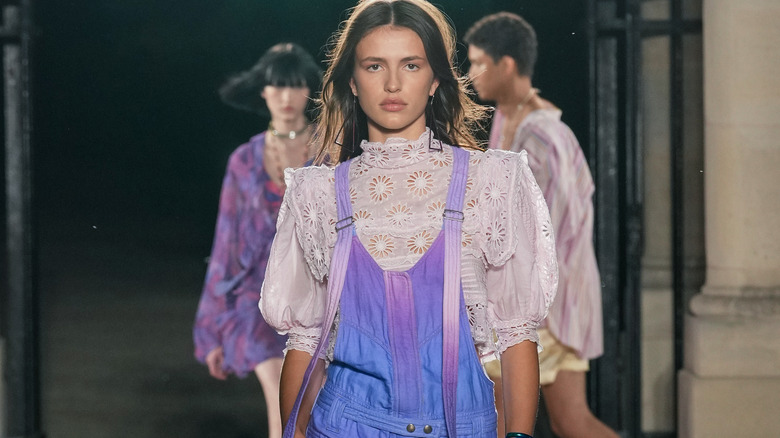 Peter White/Getty Images
Layers are all the rage these days, and they can be just the right ingredient to make your statement sleeves really pop. Try out a big-sleeved blouse paired with a long dress or overalls and a platform shoe or sneakers. Some coordinating jewelry and a claw clip bun can also bring this look to the next level. This is one chic option, but there are so many ways to style layers with large sleeves. The sleeves can also work well with a layered shirt and skirt or shirt and pants combo.
Be a beauty in a billowy blouse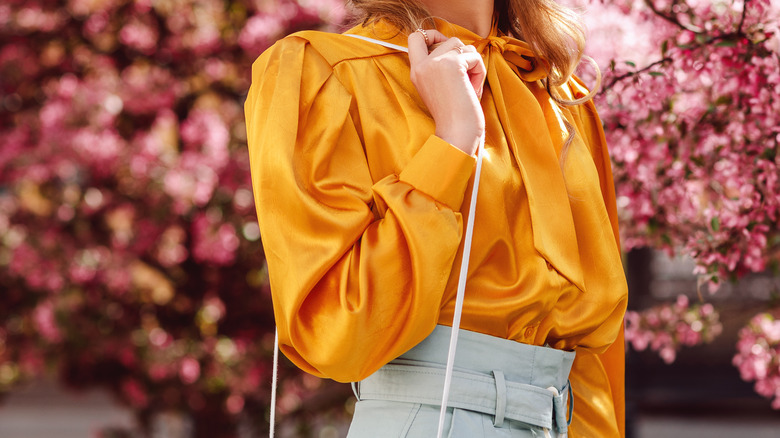 Victoria Chudinova/Shutterstock
A blouse with billowy sleeves is an excellent start to a totally simple yet sophisticated ensemble. Try a white or light-colored one for a casual, everyday effect. This kind of blouse will make you feel ultra high-fashion and elegant even when you're just out running errands or heading to the office. And of course, the best part about a blouse is that it works with pretty much any matching pants, shorts, skirts, and shoes.
Take your jacket game to the next level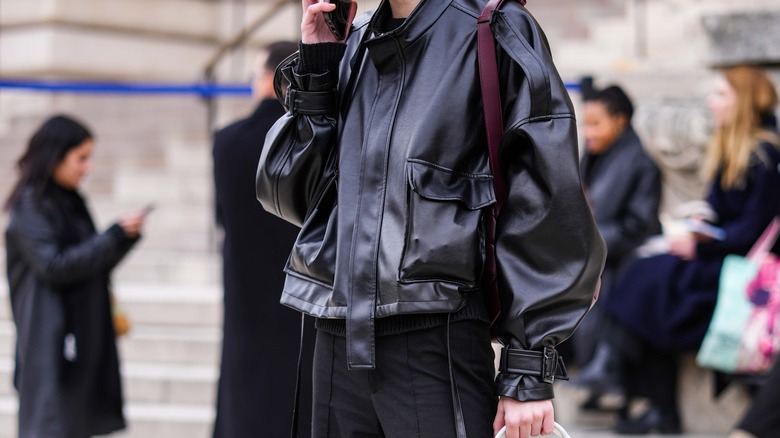 Edward Berthelot/Getty Images
Whether you're more of a denim, leather, or fuzzy person, we all have our go-to, everyday jackets. These jackets are the perfect opportunity to incorporate a big sleeve in a laid-back but also fun and daring kind of way. Experiment with a jacket that's either solid or has a simple motif, and pair it with coordinating trousers, jeans, or a skirt. Or if you're feeling especially bold, you can opt for a puff-sleeved trench coat.