Shag Bangs Are The Perfectly Low-Maintenance Version Of The Fringe Cut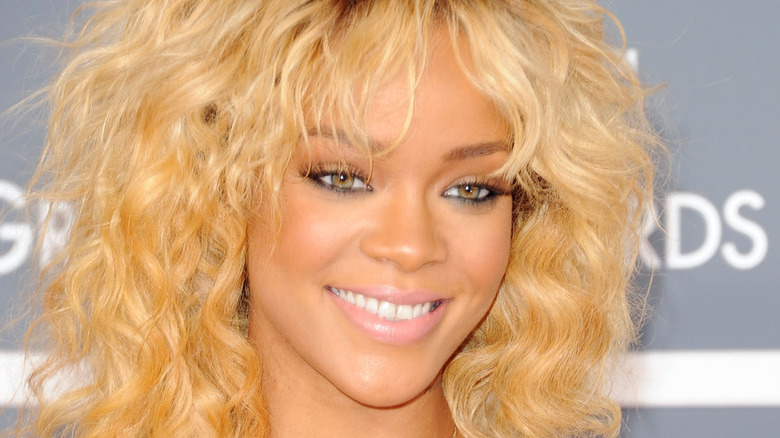 Jason Merritt/Getty Images
The shag haircut with bangs has been a much-loved style since the '70s due to its heavy face-framing effect that adds loads of volume to your hair. Shag bangs are quickly becoming one of the most in-demand hairstyles again today thanks to A-list starlets like Jenna Ortega, Billie Eilish, and Rihanna adopting the look. Frankly, we can understand why! The haircut's deliberately messy and tousled style makes it a low-maintenance option for people looking to elevate their look easily.
The shag bangs haircut adds many layers around your face with its choppy and neck-grazing cut, as opposed to fringe bangs which maintain length while cutting side-swept, whispy fringe above or at your eyebrows. While both are two of the most requested hairstyles to date, the shag haircut is famous for being easy to style. You'll want to screenshot some images and take them to the salon at your next appointment to try this next-level style.
The differences between the two hairstyles
The shag bang and fringe bang haircuts are both versatile styles that work with plenty of hair types, but their distinct styling methods set them apart. The technique for styling shag bang hair consists of treating your natural locks (curly, straight, or somewhere in between) with a mouse, milk cream, or styling jelly when damp to create curls. Once you've applied that product, you let your hair air dry and scrunch it with clips or brush it through where it needs shaping to achieve its effortlessly cool look (via Nylon). The magic of the shag bang haircut is in its simplicity. 
In contrast, the fringe bang haircut typically requires a bit more styling with a blow dryer or hot tools to achieve the bouncy, "fresh out of the salon" look that it's best known for throughout the beauty community (via Byrdie). Despite their styling differences, both haircuts are equally transformative and remarkable ways of adding dimension to your face. 
Variations of shag bangs to try out for yourself
This perfectly imperfect hairstyle is enduringly popular because of its stylish yet simple nature. Plenty of styling options will instantly elevate the low-maintenance haircut and make it your own, such as adding trendy ribbon hair highlights for extra dimension or opting for one of the newer iterations of the classic cut.
Due to its popularity, people are constantly coming up with new ways to refresh the shag bang hairstyle. Some of the latest iterations of the shag bang include the shullet (a crossover between shag and mullet), the wolf cut (an untamed and ultra-layered haircut), and the wolf cut's predecessor, the cub cut (a blunt bob filled with layers). All of the new editions to the shag bang haircut canon maintain its signature tousled style, which instantly adds texture to your hair. These choppy layers closely frame your face, making the shag haircut great for any face shape–and, better yet, anyone.